There is nothing more annoying for a blogger than plagiarism. This is because a blog can never rank if it publishes duplicate content. Thus, it is imperative for every blogger to check the content for plagiarism before publishing.
If you search on the web then you will find a wide range of online tools that claim to detect duplication quite effectively. But can you trust any other plagiarism checker? Probably not.
Read this article to find out why plagiarism checking is important in blogging and which tools are best-recommended for bloggers to detect plagiarism.
Why do Bloggers Need to Check for Plagiarism?
There's one thing that neither the search engine nor the users like and that's plagiarism. Thus, it is imperative to ensure that the content you publish on your blog doesn't match the content of any other blog.
Think about it yourself – you are writing about a topic in the same wording that has already been published on another blog. No one would like to go through your blog posts if they contain duplicate content.
For instance, you run a health blog. It is clear that you need to publish informative content about topics related to health issues, wellness, and nutrition. All the required information is available on the internet as it has already been covered by a wide range of blogs, right?
Can you copy-paste the information to publish on your blog? No.
Neither you can copy nor can you paraphrase content from any other blog. You just need to collect the information and write it in your own "unique" wording. Your choice of words, sentence structures, headings, and paragraphing — everything should be different from other blogs. The information remains the same, only the way used to convey it is changed.
In simple words, you need to change the way a piece of content is created to cover a topic for your blog. Even if you are writing on the same topic over and over again, the wording of each blog post must be different from one another.
In case you do not comply with this then the search engine will de-rank your blog and all of your efforts will go to waste.
Remember that if your blog content is plagiarized then not even a user-friendly interface or quality backlinks will be able to save it from de-ranking.
How to Choose the Best Plagiarism Checker for Blog Posts?
Indeed, not all plagiarism checkers work fatly and accurately to detect duplication. This is why whenever you need to check for plagiarism, you must choose a highly-functional tool. Or else, it will be a waste of your time and effort.
There are some factors that you need to consider while choosing a plagiarism checker for blog content which include:
Increased word limit (up to 1000)
Accurate plagiarism detection
Quick results
In-depth plagiarism report
Plagiarism/Uniqueness score
Original source links
Data privacy
Free access
If you want accurate results with the highest speed then the tool you choose to check duplication in your blog posts must come up with all of these features.
Most importantly, in case you choose to go with a premium tool then make sure that it offers all the must-have features at an affordable price. The money you spend to check plagiarism should be worth it.
Now, let's move forward to get a hold of the 5 best plagiarism checkers for bloggers.
Also Read:
What are Best Recommended Plagiarism Checkers for Bloggers?
In order to save you from hassle, we have tested all the plagiarism checkers available on the market. With the help of extensive analysis and testing, we have found the 5 best plagiarism checkers that offer efficiency, accuracy, and safety — all together.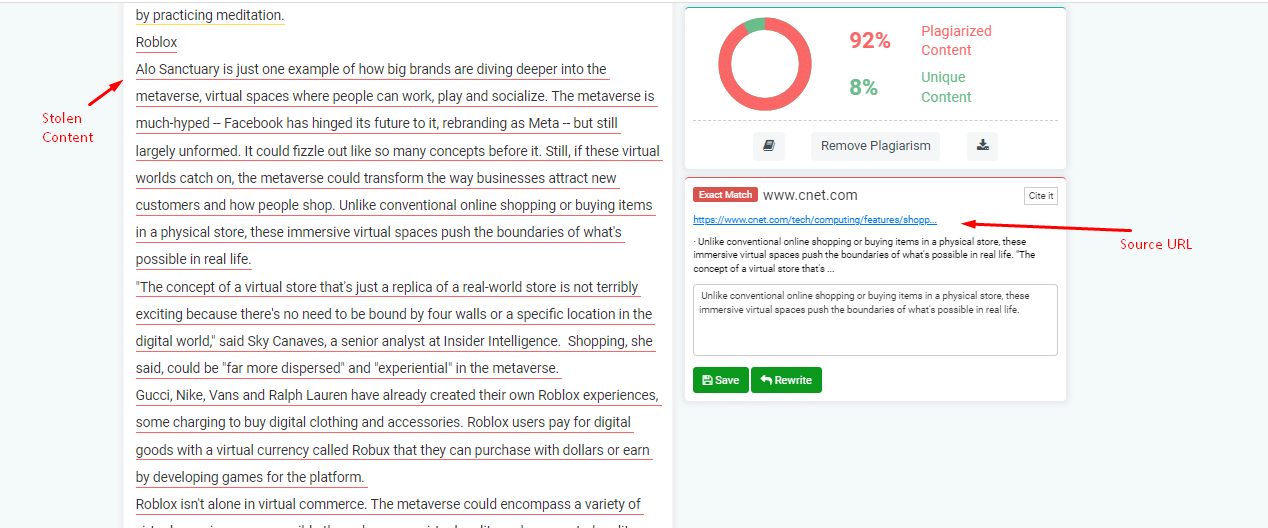 Let us provide you with the details of the best plagiarism checkers that all bloggers can use to ensure their content quality without any hassle.
1. Plagiarism Checker by Prepostseo
Prepostseo never fails to facilitate the bloggers and this is why it has developed an effective plagiarism checker. Using its plagiarism checker, you can check long-form blog posts (up to 1000 words) for duplication with just a single push of a button.
Its plagiarism checker ensures quick and accurate results — takes only a second to check if the given content is unique or duplicate. It highlights both the uniqueness and plagiarism score, making it easier to evaluate the content quality.
In case it founds plagiarism in the content, it highlights it right away. Each duplicate phrase, clause, and sentence is underlined in red color. You can click on the underlined content to check where it was copied from.
Every time you create a new blog post, make sure to analyze it through Prepostseo's plagiarism checker as it detects duplicate content without any errors or delays. It is free to use – no premium subscription is required.
2. Turnitin
Turnitin ranks at the top when it comes to quick plagiarism checking. Whether you need to check duplication in your new blog post or ensure the quality of your already published content, this plagiarism checker will have you all covered.
You can access Turnitin's plagiarism checker without any hassle — just create an account and there you go with the quickest means to detect duplication in content.
Once you sign up, it lets you check plagiarism with in-depth stats. You can easily ensure the quality of any blog post in a single go. Just copy-paste the content and run the tool to find out if it is unique or copied from another blog.
If the content is plagiarized then it will highlight the duplicate parts and provide you with the list of sources with which it matches, making it easier for you to remove plagiarism. Moreover, it will give you a similarity index and comprehensive insights to ensure content quality.
No matter how many times you use it, Turnitin's plagiarism checker will always deliver accurate results at super speed.
3. Plagiarism Checker by Article Rewriter
Articlerewriter.net features a highly functional plagiarism checker which takes less than a few seconds to highlight whether the content is unique or matches with another source.
Just upload your content and see how quickly and accurately it works to detect plagiarism — not even a single duplicate phrase can hide from it. You can upload full-length blog articles to scan against billions of web pages with just a single click.
No matter how long or short the article is, it will carefully analyze each part to check for plagiarism.
Take into account that it neither requires any premium subscription nor it has any word limit. You can use it however you want to ensure the quality of your blog posts with the highest level of precision.
4. IThenticate
IThenticate is another option for bloggers to check for plagiarism without any errors. This plagiarism checker scans the given content to find out if it is original or matches with any other source — in only a matter of seconds.
Its extensive and deep search algorithms let you compare your blog content with millions of other blogs. This way, it becomes easier to ensure whether your content is free from duplication or not.
Even if there's a single sentence that is copied from another source, it will highlight it right away. You can surely rely upon this faster, accurate plagiarism detector to check your blog content for plagiarism.
You can access it for free of cost — whenever and however required to check plagiarism. It will let you scan 1000 words in one attempt.
5. Plagiarism Checker by Plagiarism Remover
Plagiarismremover.net features an effective plagiarism checker — perfect for bloggers who publish loads of content on a regular basis. It is faster and more accurate compared to many other tools.
It thoroughly scans the content (line by line) to check if its wording is unique or copied. In case it detects duplication, it underlines the plagiarized content. Moreover, it tracks and displays links to the pages from which the highlighted content has been taken.
Using this plagiarism checker, you can detect duplication in multiple languages. Just specify the language before running the tool and it will automatically scan the content against the blog posts written in the respective language.
Directly copy-paste the content or upload it from the connected device, it will take only a second to deliver an in-depth plagiarism report.
Summary
There is no doubt that uniqueness is the most important ranking factor for every blog. The content which is published on a blog must be free from plagiarism or else, the search engine will never rank it. This is why it is important for bloggers to check their content for plagiarism and make sure that it doesn't contain any duplicate sentences. The best way to do this is by using an online tool.
There is a wide range of plagiarism checkers that take only a second to scan the given content against billions of web pages to check if it is original or copied. In accordance with our analysis — Prepostseo, Turnitin, Articlerewriter.net, iThenticate, and Plagiarismremover.net offers the best plagiarism checkers that bloggers can leverage to check for duplication within a matter of seconds.