This article covers the list of the "Best Facebook Video Downloader Extensions for Google Chrome". Facebook is one of the most used social media sites and Google Chrome continues to be one of the most widely used web browsers all over the world. Integration of a media downloader into chrome for facebook is what many people look for while browsing the social media website. Many users today feel out of place when they use other browsers to watch videos or scroll through search engine results. Hence, many people prefer to use Google Chrome while scrolling through Facebook.
Best Facebook Video Downloader Extensions for Chrome
The "Video Downloader for FB" Chrome Extension
Price: Free
Video Downloader For Facebook – With just one click, you may download videos in HD quality directly from Facebook. It is a user-friendly chrome extension and continues to be a good Facebook video downloader for chrome.
Learn to download videos by watching the video below –
Steps to Use:
Once the extension is downloaded and installed go to Facebook.com on your computer.
Locate the video you wish to save.
You will find the download button as an overlay on your video, you can click on it to start downloading the video from Facebook.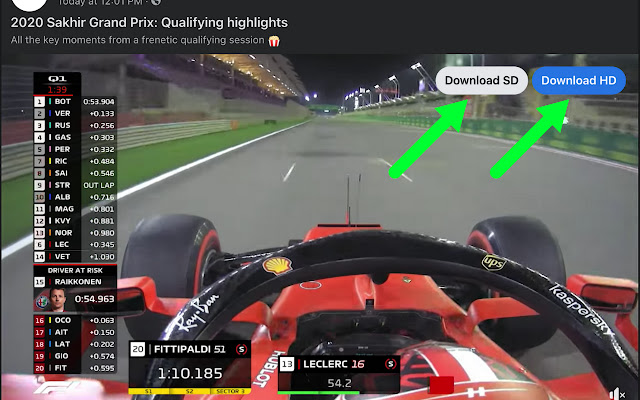 If the download button does not appear after refreshing your screen, click on the extension.
In the right corner of each video, press the download button.
Save the video as an MP4 file in HD or SD quality.
Also Read:
FDown Video Downloader Plus

Price: Free
FDown Facebook Video Downloader extension does more than only download Facebook videos, despite its name. You can get videos from all around the internet. It remains a good Facebook video downloader for Chrome. It is a reliable complement to your Chrome browser because it performs effectively. Users have a wide range of formats from which to pick. Users can also choose the video's quality and file size while downloading it. Fdown.net's private video download option allows you to save even private videos to your computer.
How to Download Videos from Facebook with FBDown Video Downloader?
To add the extension, click the three horizontal dots on the right side of your Chrome browser.
The "Settings" tab should be selected. You'll be taken to the Chrome Store as a result of this. You can use this to look for the Fdown Chrome addon.
Then select "Add to Chrome" from the drop-down menu.
YouTube ByClick Downloader
Price: Free/$19.99
YouTube ByClick Downloader is a simple programme that allows you to download videos from any website. It allows you to download videos in a variety of codecs, including MP3, MP4, and others. It is one of the best Facebook video downloaders for Chrome. YouTube ByClick Downloader may download videos that are more than 20 minutes long.
Please refer to the picture below to understand how it works.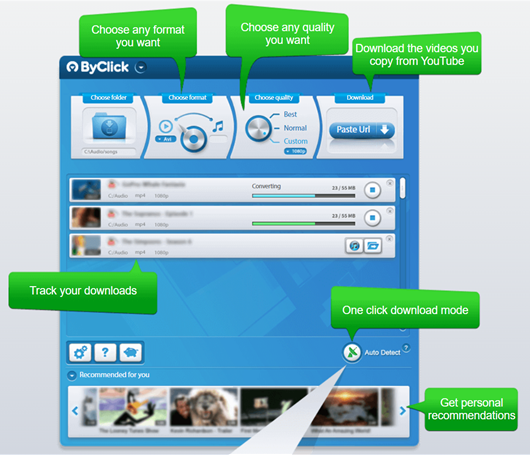 Video Downloader Professional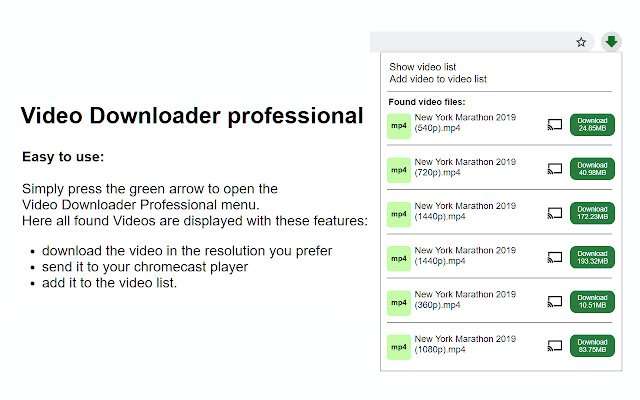 For video downloading, Video Downloader Professional is a noteworthy chrome addon. It enables people to download a video in any format they like. It's very effective on Facebook. Users can download the file in a number of formats and file sizes. Simply click on the extension to see the suggested file types and sizes. It has an integrated video player. It is worth adding to Chrome because it is free of advertisements. You can also download several videos at the same time. It guarantees that the quality of the downloaded file will be comparable to that of the original. It can be considered the most user-friendly Facebook video downloader for chrome on this list.
Conclusion
You may now download any video from Facebook using any Facebook video downloader for Chrome mentioned in the above list. Using any of the technologies listed above will provide you with near-unlimited access to any video you choose to watch for leisure. When acquiring video content assets, a word of advice is to make sure you keep compliant with any copyright issues. Happy downloading!