There are various ways on how to remove last name on Facebook in 2020 and just have your first name. We are making this list to update you about the latest working methods in 2020. Please follow all the guidelines carefully serial wise, and you will be able to remove your last name from facebook without any problem.
How to Remove Last Name From Facebook?
For removing last name from Facebook you need to switch to Indonesian IP using a VPN or a Proxy as only Indonesian people are allowed to have single names on Facebook. To switch your network to Indonesia you can follow the following two methods:
Method 1: Using Proxy Websites
Using proxy websites is very common these days. People use this website for a variety of reasons to login to websites that are not allowed in their specific country. This is one of the most common ways and quite easy to implement. The steps to remove your last name from Facebook by using proxy websites are –
The proxy website that we will be using for this process is www.proxynova.com
We need to change the proxy settings in the browser, we will be showing the process for the Google Chrome browser, although it can be similarly done for any browser.
Click on the hamburger button on the upper right section of Google Chrome
Tap on settings
Tap on Advanced settings
Click on Change proxy settings
A popup window will appear
Click on LAN settings
Use the checkbox saying use proxy server for LAN
In this option, you need to fill in the address from one of the addresses on the proxy server list page
We are using a proxy server for Indonesia and you need to take care of that. The reason for choosing Indonesia is that Indonesia allows only first name as your full name
We need to click on account settings on Facebook by clicking on the arrow button on the top right corner
You will see a language column and you need to select that option
Change the language to Bahasa Indonesia
Your Facebook version will now display everything in the Indonesian language, a disclaimer – it will be a little difficult for you to understand the options.
You need to click on the arrow button again and select Pengaturan option which is basically settings
Now you need to click on Sunting which will be present in front of Umum section
A new window will open and you will have the option to remove your last name in front of Belakang section
You must save the changes by clicking on Tenjau Perubahan
Now you can finally change back your language settings by clicking on Bahasa option appearing in settings
You will be required to click on Bahasa apakah yang ingin Anda gunakan saat membuka Facebook?
The last step is to select English US as your language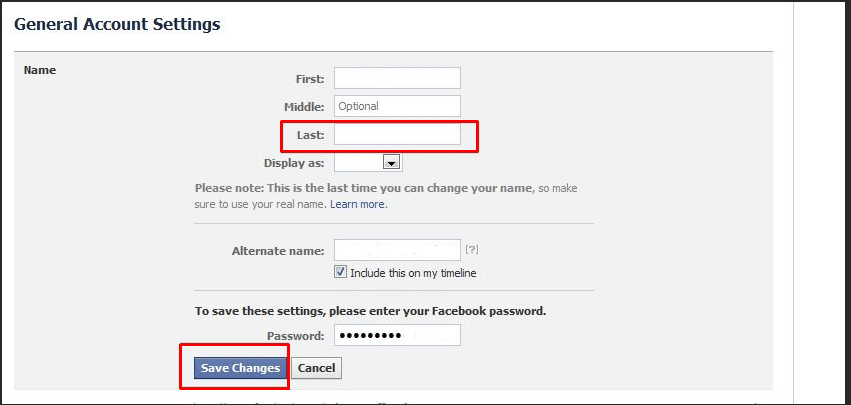 Finally, you have removed your last name from FB. Now only your first name will be visible until you change your name again by going back to settings again.
Also Read: Remove Your Last Name (Sur Name) from Facebook Account
Method 2: Using a VPN Service
If you do not wish to use the option of changing the proxy settings in your computer, you can use the option of installing a VPN Service. VPN service basically does the same process just as changing your proxy server. The only difference is that all the settings are done without having to change the settings in the browser. This is more convenient than the first method.
You can easily follow the following steps –
The first step is to download a Google Chrome extension called unlimited free VPN – Hola
After it is installed on your computer, you can click on the extension and start the process.
You will see an option of country and you can click on the option and scroll down to Indonesia
The Chrome extension will change the settings in your browser on its own and you can straightaway move towards following the steps in the last method
You need to repeat the steps 12 to 22 listed above
Finally, you have changed your full name to your single name on Facebook in 2020. You can choose any method above on How to remove the last name on Facebook in 2020.