Video content is quickly becoming the most engaging and popular form of content. In this tutorial you will learn how to make videos with pictures and music. With the boom on social media and video sharing platforms like Snapchat, TikTok, and Instagram, video content demand is growing exponentially.
But why are videos so effective?
Videos communicate a message better than photos or text alone, as they can show motion and convey emotion through facial expressions and body language. They also add an extra layer of interaction between you and your audience by making it possible for them to hear, see and visualise the message.
According to a survey conducted by WyzOwl, 93% of marketers say video content has helped them increase brand awareness and sales.
While static images and graphics have been an essential means of communication in the media world, videos provide information in an experiential form giving more opportunities for brands and businesses and a higher potential customer acquisition and ROI.
Repurposing your pictures into videos can be a great place to start and learn the process of video making.
Here are some quick insights on why making videos with pictures and music can be an efficient process:
It's easy to do. You don't need to be a professional video editor or even have advanced editing skills to make a video with pictures and music.
It can be a great start to learning video making; you can use the resources at hand and use your spare to make some videos and understand the process quickly.
It doesn't take much equipment or expensive software.
You don't need special training or experience as long as you know the tools and techniques to make videos.
How you can use pictures to make video content:
Step 1:
Your first step is to pick a video editor. Many online video editors help create professional-looking videos out of photos without much effort.
You can also download video editing software onto your computer or even use video editing applications on your smartphones.
A few applications might need to be purchased or upgraded to premium versions to get the full range of features.
Also Read:
Step 2:
Prepare a script or a goal for your video; a script helps you understand the flow of the video and enables you to choose the required photos.
Import the photos you want from your device or from stock images on the internet.
You can import pictures or videos on your mobile device or tablet. You can also use your smartphones to shoot new footage and import it directly into your video project.
Make sure the photos are arranged in the same order as the flow of the script.
At this point, also choose the dimensions of the video, as each social media platform requires a certain kind of dimensions to fit perfectly on the platform.
Some popular dimensions are:
Horizontal – 16:9
Full portrait – 9:16
Vertical – 4:5
Square – 1:1
Step 3:
Add text to the video, adding text to videos, especially that are made using photos, plays a vital role; texts help bring context and convey the message of the video.
You can add text to your photos and also as subtitles or captions.
Texts can also be used as call-to-actions which is crucial for lead generation and sales.
Step 4:
Add music to the video.
You can find free songs/tracks online that can be used for your videos; music adds a sense of rhythm and helps blend the clips without making them look monotonous.
You can also purchase royalty-free music for a small fee if you want to use music from an artist.
Also, consider using trending or popular music on specific social media platforms.
Step 5:
Add transition effects between each photo or video clip in your slideshow.
Transitions and effects make the video more exciting and appealing for viewers who watch it all at once rather than just looking at individual photos.
It makes the video aesthetically pleasing and makes it feel more professional!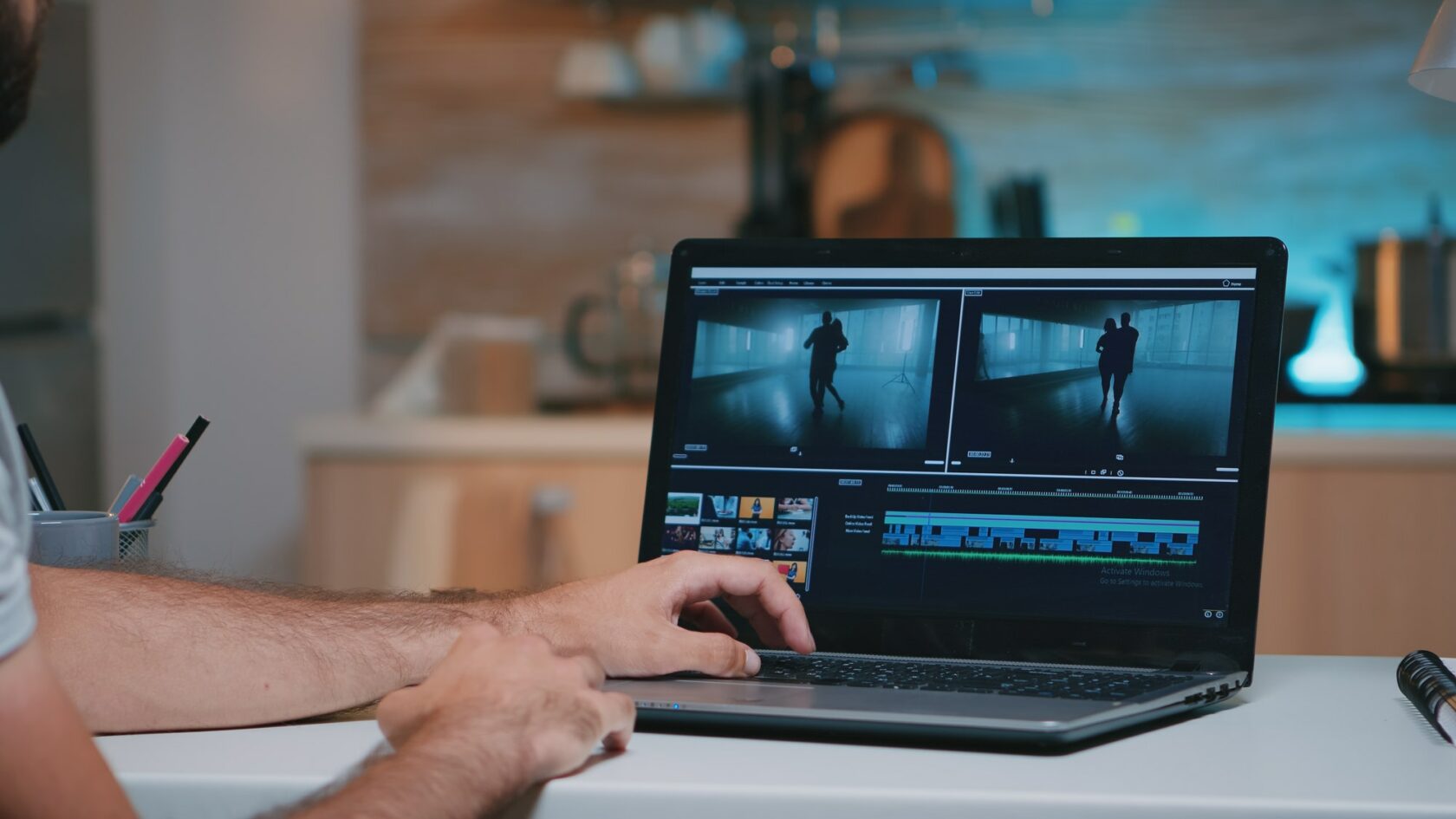 You can adjust other settings within the video editor like cropping, trimming/cutting out parts of clips or changing the speed, etc.
Step 6:
Now that you've finished your video, it's time to export it. Exporting will save the project so that you can share it on the required platform.
Here are the steps for exporting your video:
Click on the "Export" button on your video editor and choose from options to share it directly onto a social media platform or onto your device or computer.
Select the resolution at which you want to download your video; each social media platform has a base requirement for video resolutions since higher resolution videos are heavier.
Select a file format from the dropdown menu (such as .mp4), then click on "Download."
Choose where you'd like to save your video file on your computer and click save!
With the right video editing software and a few simple steps above, making videos with pictures and music becomes very easy!
Bonus Tips:
Depending on your needs, you can use any editing software, so do your research and choose one that will work for you. You'll also want to make sure it's compatible with the device or platform you plan to watch/share your finished project. Most phones and computers come with free or low-cost options that are perfectly fine for beginners; if not, there are plenty of paid options that offer more advanced features and support if something goes wrong while using them.
Import the media (in this case, pictures) into the editor program by following its instructions on how to do so. Some programs require exporting existing files from other programs like Photoshop. In contrast, others will let people upload images directly through an online browser window without needing any additional software installed first.
You can use your pictures to create many different types of video content. Here are just a few examples:
How-to videos
School or college presentations
Music videos
Product demos
Family and vacation videos
Personal vlogs (video blogs)
Finally, creating videos can seem like a daunting task if you are just getting started; it can often feel expensive.
However, using your existing media like pictures to create videos can be an easy and effective place to start producing video content for your brand. As seen above, videos made with pictures have many use cases and can make your content creation work less burdensome.