When bloggers and marketers need to extract text from images, it can be a time-consuming and challenging process to transform the text from visuals manually. Fortunately, there is a method for turning images into text that is more effective. With the use of these online image-to-text converter tools, it is easy and quick to convert your photos into editable text forms. It could be challenging to select the most suitable tool given the vast array of image-to-text converters available.
This article will teach you about five of the best OCR programs.
Let's get started!
Table of Contents
What Is Optical Character Recognition (OCR)?
Using optical character recognition (OCR) technology, text may be extracted from pictures like photographs or manuscripts. Although achieving 100 per cent accuracy is unachievable, most software aims for a close approximation because this is what the majority of users require. The productivity gains offered by OCR software may be advantageous to academics, office workers, and students. So try to use a picture-to-text converter to convert data from images to text.
Top Free OCR Tools to Extract Text from Images
OCR.best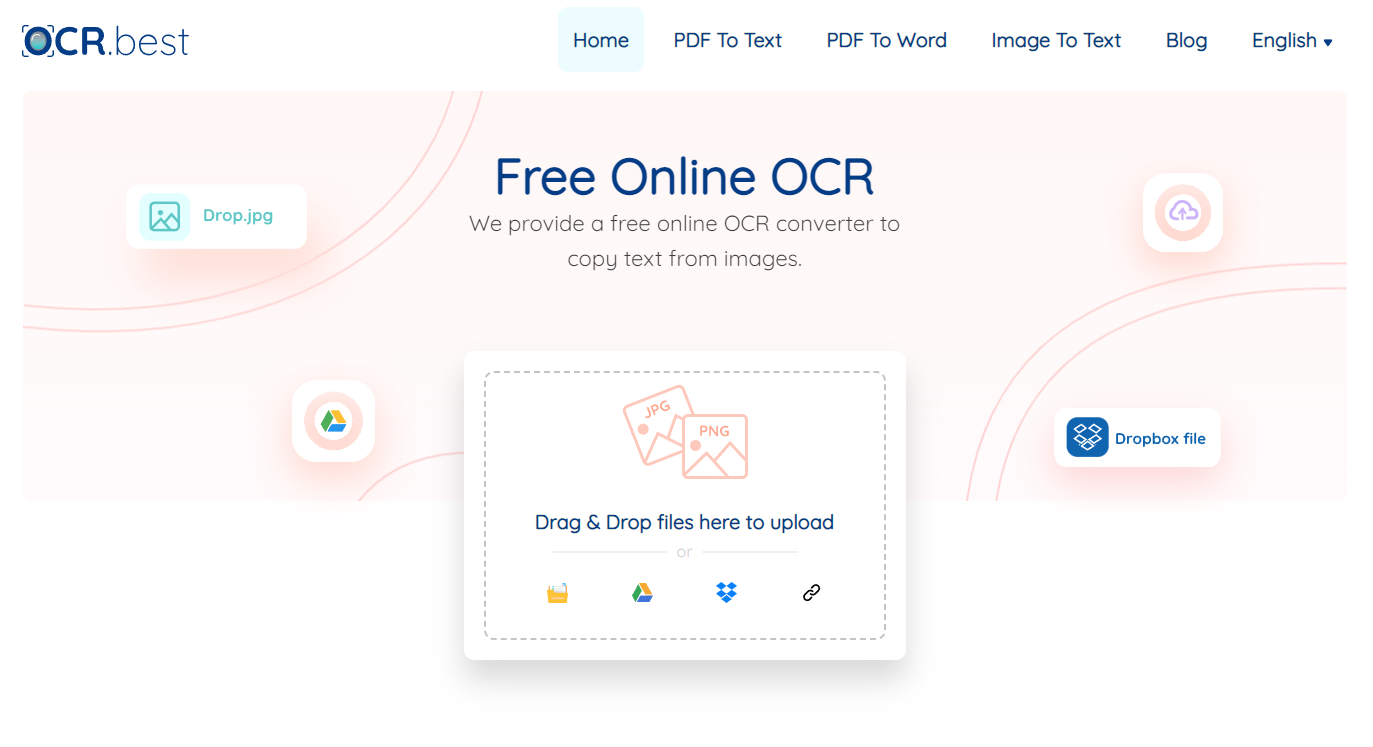 Ocr.best Text allows you to extract text from low-resolution images, mathematical problems, and even pictures. You can copy text from a photo to your computer or download a word document with only one click. It has the capacity to turn an illimitable number of photos into text without a daily cap. Additionally, it allows you to edit sentences and paragraphs, as well as the overall appearance of the text.
SimpleOCR
SimpleOCR is a popular optical character recognition (free online OCR) program that is available as freeware and has thousands of users all over the world. It is geared for enterprises and offers advanced batch scanning, an online OCR server, and data collecting features, all through an easy-to-use interface and at a reasonable cost. You can rapidly and accurately identify words in your documents thanks to its extensive vocabulary, which includes over 10,000 terms. A further feature of the text editor is the ability to add new words.
Editpad.org
With Editad.org bloggers can accurately and hassle-free transform their images, infographics, and scanned documents to text by using an edit pad. You may import photographs by dragging and dropping them into the software, and it supports a number of picture formats.
Additionally, it allows you to import photographs by simply pasting the image URL into a website input box that can be accessed from any device you want. No registration or installation processes need to be finished in order to use this picture-to-text converter. It extracts text from submitted pictures in a matter of seconds and is completely free.
Also Read:
Image to Text – by CardScanner
Free Online Image to Text Converter by cardscanner.co is an online tool that enables you to quickly and easily convert text from documents, EBooks, digital invoices, screenshots, and images into readable and configurable text in a number of formats, including DOC, TXT, and PDF.
There is no registration or software to install on your computer in order to use the service, which is totally free. Selecting an image file is as simple as clicking the Convert button.
The resulting paper will be available for download immediately. Maintains the security and confidentiality of your information.
Online OCR by SodaPDF
Online OCR is a tool for extracting text and data automatically from scanned documents. It also uses optical character recognition (OCR converter) technology to automatically extract text from images online. The entire set of rows and columns of data from a database is extracted using a preset schema. You can edit and add comments to the document after it has been converted or scanned.
Final Words
With the help of these OCR programs help to convert your data into digital form. If you use image to text converter then you can change your data pattern from image to text quite easily.