Academic writing refers to a formal style of writing in which the writer presents a topic in an unbiased, well-structured, well-researched, and concise way. Here are 5 best free online text summarizing tools for academic writing.
This style of writing is mostly utilized in research papers and universities. University students are expected to do all of their assignments, papers, and essays in the academic writing style.
These students usually write 10-15 essays each semester on average. And these are not small 500–1000-word essays either. They tend to be quite large and span from three to four pages long.
A lot of academic writing relies on research and using the works of others to prove or disprove arguments. Typically, this involves summarizing those works so that your own essay does not become too long.
Keeping this type of use in mind, we will be looking at five, free text summarizers that can be used for academic writing.
5 Free Online Text Summarizing Tools
These tools were chosen based on their effectiveness at summarizing and the fact that they are free to use. Some of them have more features than others, but they are all good tools in their own right.
1. Summarizer by Paraphraser.io
Paraphraser.io is an online platform that provides various content optimization tools. The text summarizer is one of them.
This is an AI-based tool that utilizes NLP (natural language processing) to understand the text and find out which sentences are the most meaningful.

This is an extractive summarizer, which means that it uses sentences verbatim from the source to create a summary. It has quite a lot of features, considering that it is free to use. Some of them are listed below:
Support for eight languages
Support for uploading and downloading
Has integrations with other tools on the platform
Does not have an input word limit
Provides shortcut buttons for clearing, copying, and downloading the output
Does not require registration
The summarizing capabilities of this tool are quite good. It can create proper summaries that do not have grammatical mistakes. The sentences are also connected coherently.
A few cons of the tool are as follows:
Has advertisements
Does not have an option to change the summary length
2. Summarizer by Monkeylearn.com
The Summarizer by Monkeylearn.com does not come with a lot of advanced features. Nevertheless, it is still included in this list because its results are pretty good.
This tool is also an extractive summarizer; which makes it good for summarizing texts in academic writing. Any papers or essays that are summarized using this tool will maintain their formal style.

There are no options to upload a file, so you are limited to writing or copy-pasting your content in the input section. Upon pressing the "Extract Text" button, the summary will be generated.
The right-side box shows the summary. The text is green and can be copied directly to your clipboard. Unfortunately, there aren't any options for downloading the results.
The summary itself is very good. Its qualities can be listed as follows:
Concise (almost 80% reduction in size)
Accurate
The tool does not have any ads and it also does not require any registration prior to use.
3. Summarizer by Summarizingtool.net
Summarizingtool.net is an online platform that provides multiple tools for content optimization. One of the tools that they provide is the summarizer.
The summarizing tool is completely free to use and it comes with a lot of features. You can customize the way your summary is generated by setting the summary length and by specifying the language.
The features offered by this tool are:
Can summarize the text in eight languages.
Supports file uploading and downloading.
Has a slider for changing the length of the summary
Shows word count for both input and output
Can show summary in three different ways (as a paragraph, bullets and "best sentence")
Does not require registration
Does not have any word limits.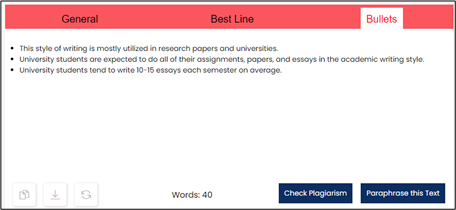 The file format for uploading and downloading is DOCX, which is the default format of Microsoft Word.
The slider has only three preset options i.e., 25%, 50% and 75%. The numbers tell how much the size will be reduced when the text is summarized.
There is only one real downside to this tool and that is the presence of ads on the webpage. However, ads come with free tools so it's an acceptable trade-off.
Also Read:
4. Summarizer by Huggingface.co
Huggingface.co is an online platform for hosting machine learning models. A variety of creators post their models that perform some kind of specialized task. Text summarizing models are also available freely on this platform.
Since there are many different summarizers available on this platform, we'll just be working with a specific one. The uploader of this particular tool goes by the username of 'razakhan'.
The model we have chosen is quite simple. It takes some text as input and produces a summary. Unlike the other tools that we've looked at in this list, there are not a lot of fancy features in the summarizer by Huggingface.co. It has a plain and simple working but with good results.

The best aspects of this tool can be summarized as follows:
It does not require registration
There are no usage limits
The output is accurate and correct
There are no ads
Like the others, this is also an extractive summarizer, so it is suited for summarizing academic writing as it will preserve the formal style and tone of the text. Students can get a lot of use out of this tool.
5. Summarizer by Editpad.org
Our final tool on this list is the Summarizer by Editpad.org. Editpad is a completely free online platform that provides many different types of tools. There are different types of writing tools, calculators, and of course, content optimization tools.
The summarizer offered by Editpad comes with some good features that make it useful for academic writers.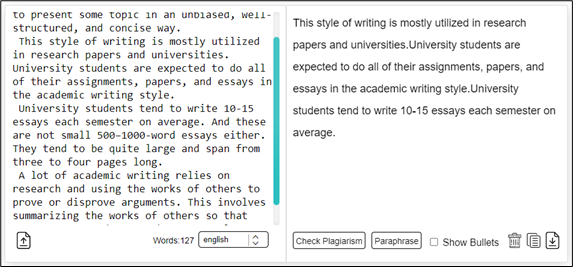 The best features of this tool are as follows:
Multiple language support
Integration with other content optimization tools
File uploading and downloading are supported
Users can see the summary as bullets or as a paragraph
There are shortcuts for deleting and copying text
Does not require account creation or logging in
As you can see from the features, it is a pretty well-rounded tool. However, it does have some missing elements. The key feature missing in this tool is the option to change the length of the summary. Another thing that may annoy users is the presence of ads.
Overall, this is a good summarizer. Students and professors alike can utilize it to summarize pieces of academic writing.
Conclusion
Academic writing is a very formal method of writing. When summarizing academic articles/papers, it is essential for the writing style to remain unchanged. Extractive summaries do not change the text in any way so they are a good fit for this type of writing.
All the tools discussed in this list are extractive summarizers. They also utilize AI and NLP to understand the context and pick out the best lines to use for a summary. They provide good results and as such, they are very helpful in summarizing academic content.