If you're looking to launch an eCommerce website using WordPress, choosing WooCommerce makes your effort more productive and convenient. It gives you the flexibility to add products, services, and even payment gateways to create a fully functional eCommerce website.
However, with all its impressive features, WooCommerce has limited default payment options. Fortunately, there are many free and paid WooCommerce payment gateway plugins available on the market, which you can integrate to offer new payment options such as Credit/Debit cards, Stripe, Amazon Pay, or even Cryptocurrencies to your customers.
Before diving into today's list of the 5 best WooCommerce payment gateway plugins, let me briefly explain what they are and how they work.
What is a WooCommerce Payment Gateway Plugin?
To understand the payment gateway plugins, firstly, we've to establish an understanding of how payment gateways work.
In a nutshell, payment gateways transfer customer payment details to the respective merchant. And in the world of the internet, payment gateways are cloud-based software designed to connect customers with merchants to process payments.
Similarly, WooCommerce payment gateway plugins enable merchants to receive online payments without any hassles.
5 Best WooCommerce Payment Gateway Plugins
Now you've got a good understanding of payment gateways and plugins, so let's dive right in with our list of top WooCommerce plugins to accept payments.
1. WooCommerce Square Up Payment Gateway Pro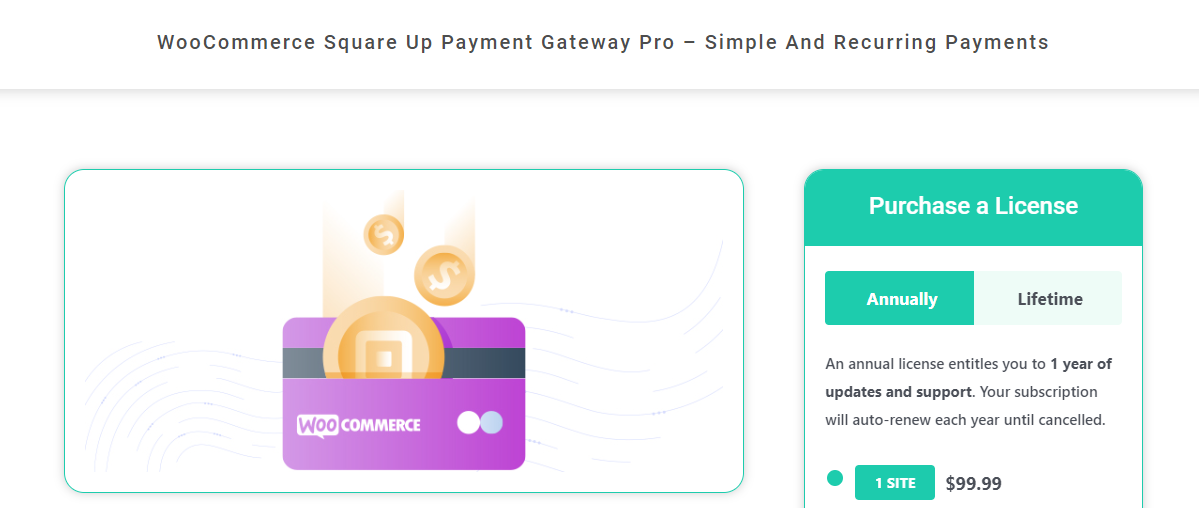 The best plugin to receive Square payments
WooCommerce Square Up Payment Gateway Pro is the most powerful WooCommerce payment gateway plugin allowing you to accept simple and recurring Square payments.
With this plugin, you can easily handle payments and process refunds seamlessly between WooCommerce and Square. Also, collect payments for your one-time and subscription products through Square card checkout, Square Gift Card, Apple Pay, and Google Pay.
One of the benefits of using this plugin is that it supports a variety of payment methods, including credit cards, debit cards, and ACH bank transfers. This allows you to offer your customers a range of payment options, making it easier for them to complete their transactions.
Overall, WooCommerce Square Up Payment Gateway Pro is a highly secure and useful plugin for anyone looking to accept simple and recurring payments with Square.
Some of its most prominent features are:
Easy to process one-time and recurring payments
Automatic email receipts for successful payments
Users can easily save card info for later use
Card Authorization to protect fraudulent transactions
Process multiple subscriptions in a single transaction
Installations: 100+
Price: $99 annually for one site and a single payment of $299/year for 30 sites
2. Payment Plugins Braintree For WooCommerce

The best plugin to receive Paypal & Credit Card payments
Using this plugin, you can conveniently receive Paypal and Credit Card payments on your WooCommerce store. Likewise, installing this plugin on your WooCommerce store enables users to pay with their Credit Card or Paypal to make quick purchases.
Braintree For WooCommerce utilizes Hosted Fields to make it highly secure to sell your products online in addition to giving you the flexibility to integrate and customize your checkout process with ease.
Some of its key features include:
Assists with Braintree's comprehensive tools for preventing fraud
Support for 3D secure transactions
Allows preorders and subscriptions for WooCommerce
Provides express checkout options on product pages
Enable customers to connect their Paypal or save Credit Card details
Installations: 30K+
Price: With all its great features, this plug is completely FREE!!!
Also Read:
3. WooCommerce Stripe Payment Gateway

The best plugin with extensive payment options
It's a fantastic plugin for any WooCommerce store owner with customers from different countries. It allows you to receive user payments across 26 countries via Visa, MasterCard, SEPA, Discover, JCB, Diners Club, American Express, Sofort, Alipay, iDeal, Giropay, and many more.
WooCommerce Stripe also supports mobile digital wallets, allowing customers to pay store owners directly from their smartphones.
Moreover, this plugin works with WooCommerce Subscriptions extension and card reusing. Whenever customers make a payment, their details are stored in Stripe. So, when they place another order, they can reuse the same card to complete the purchase, a massive time-saver for repeat customers.
Its most noteworthy features include:
Web Payment API compatibility to enable Mobile payments
Allows payments with Apple Pay
Compatibility with WooCommerce subscription extension
Extends greatly the capabilities of WooCommerce to process payments
Installations: 900K+
Price: Free to use.
4. Cryptoniq For Cryptocurrency Payments

The best plugin to take cryptocurrency payments
If you want to take cryptocurrency payments so you can attract the customer base who prefer to pay in cryptocurrencies, then Cryptoniq is the best WooCommerce payment gateway plugin on the market.
It is designed in a way that makes cryptocurrency payment processing more accessible and convenient. With this plugin, you can easily connect your crypto wallets to your eCommerce store for secure crypto payments.
For now, it only supports five cryptocurrencies: Bitcoin (BTC), Bitcoin Cash (BCH) Ethereum (ETH), Tron (TRX), and DogeCoin (DOGE). And the best thing is that there are no transaction fees or third-party charges associated with this plugin.
The admin dashboard allows you to configure the plugin, add your wallet addresses, product prices, the coins you prefer to receive payments, and much more.
Its unique features include:
Support for multiple languages is available
Decentralized payments
No third-party service charges
Supports 169 currencies such as (USD, EUR…)
Easy to use Admin Dashboard
Installations: 30+
Price: $27 for the regular license & $399 for extended license
5. Amazon Pay

The best plugin to enable fast checkout for hundreds of millions of Amazon users globally
It is a payment gateway plugin that allows merchants to accept payments on their WooCommerce store using Amazon Pay easily, which makes it easy for customers to check out with the payment information they already have stored in their Amazon account, eliminating the need for them to enter their credit card details on your site. Which also helps increase conversions and reduce cart abandonment.
One of the key benefits of using Amazon Pay is that it is a trusted and secure payment option for customers. Amazon has a strong reputation for protecting customer data, which can help increase trust in your store. Also, Amazon Pay is PCI DSS compliant, which means it meets the highest standards for credit card processing security.
Another benefit of Amazon Pay is that it is available in multiple countries, including the United States, United Kingdom, Germany, France, Italy, and Spain. This means that it can be used by a wide range of customers, regardless of their location.
Overall, Amazon Pay by WooCommerce is a convenient and secure payment gateway plugin that can help improve the checkout experience for your customers and increase conversions on your WooCommerce store.
Among its most notable features are:
Multi-currency support
Automatic decline handling
Amazon Pay A-to-z Guarantee
Built-in support for SCA (Strong Customer Authentication)
Recurring payment support for WooCommerce Subscriptions
Installations: 10K+
Price: It's 100% free
Final Thoughts
Choosing the right payment gateway plugin for your WooCommerce store can boost your overall revenue significantly. And I hope that the list of Best WooCommerce Payment Gateway Plugins mentioned above is enough for you to choose the right plugin for your eCommerce website.
Also, which plugin do you use, and how is your experience so far? Let me know your thoughts in the comment section. Cheers!