VestaCP is one of the most popular, simple and convenient panels for managing sites. In addition, it is absolutely free (if it's not about technical support), so a fully functional will be immediately available to anyone who decides to start working with it. This is its main advantage, a compromise that many like – it is free, but often wins even in comparison with its commercial "brothers."
The author and developer of the panel are Sergei Rodin. He has a valid account on GitHub, where you can see files including Vesta, and an account on Habrahabr (new articles have not been published for a long time, but old materials also deserve attention).
As usual, all the basic information about the panel can be found on the official website. It's a bit strange, but there's no Russian language on the site (it's generally only English). But the Russian section is on the forum: Russian (Russian) . This, of course, is not technical support, but it's also not bad, especially the questions are answered by skid himself (Sergei Rodin).
In June, Timeweb added the option to put VestaCP automatically on VDS when creating a server or reinstalling the system. Let's put it bluntly, it's not hard to install VestaCP yourself (again, you can check the instructions on the site), but this process automation still pleases.
VestaCP – the panel is free, which means that it is distributed under the GPL v3 license. So you can just load the source code and change it the way you want. Free distribution is always welcome, while open source is not, because this gives some advantages to hackers and burglars. But you can customize the panel exactly the way you need it – is not this the most important thing?
Features:
apache and nginx
php – you can choose different versions for different sites;
e-mail package Exim4 and Roundcube;
free IMAP-, POP3-server server Dovecot;
antivirus software ClamAV;
FTP server Vsftpd;
Firewall in the form of fail2ban and iptables
scheduler cron jobs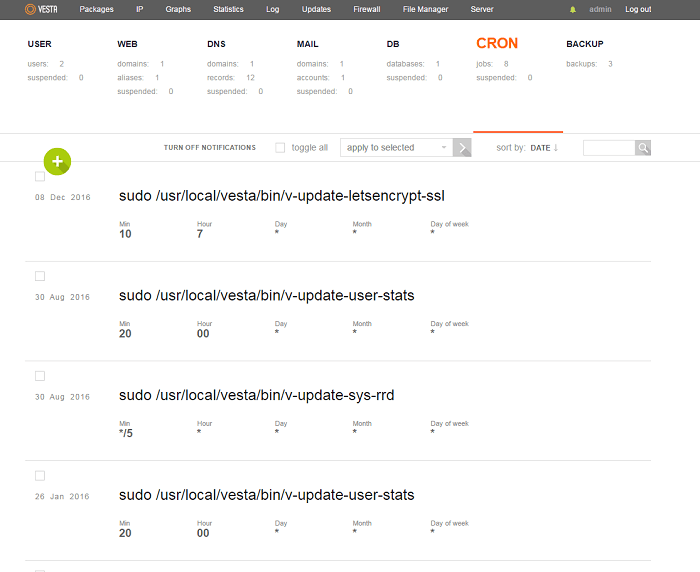 Naturally, the choice of what you need – or do not need – is yours. You can install the database: MySQL or PostgreSQL.
Advantages of VestaCP
The main advantages of Vesta I already mentioned above, but for completeness of the picture I will note them again.
1. Free Distribution
Not the only one, but one of the reasons why this panel has become so popular. Many people opt for free open source software (instead of proprietary and commercial). Free software has one fat plus – if you do not like something, it's easy to remove it, and you do not pay a penny for it.
2. Open Source
I noticed that people are divided into two types: those who like everything ready (fans of Apple), and those who like to pick themselves up in everything (Android devotees). If you are of the second type, then VestaCP will appeal to you. However, if there is no desire to dig deeper, then Vesta can be left in its original state. Therefore, open source code can be considered an additional bonus (although someone can notice – but can it be different? Yes, on Linux?).
3. Simplicity and Convenience
This is important, for which Vesta fell in love with users – it is easy to learn and easy to use. This lightweight panel contains a lot of useful functions for working with the server. Vesta is working quickly. No less quickly you will understand the interface – it is convenient to work with databases, and with the crown, and with DNS.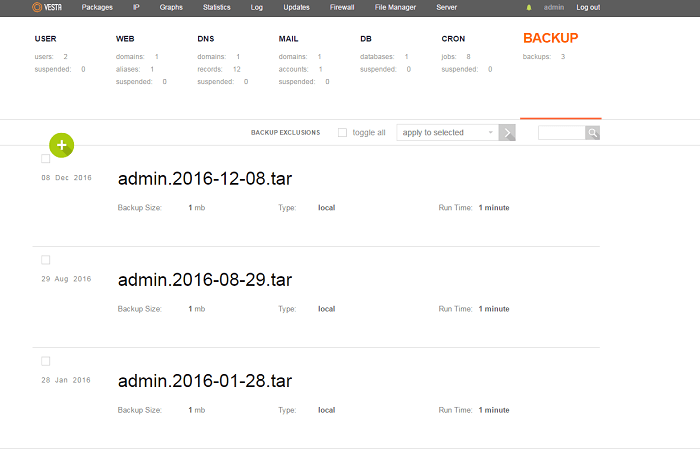 In principle, VestaCP can be advised on a dedicated server, even with basic parameters.
4. Ready to Work Immediately After Installation
After installing VestaCP, you basically cannott configure anything – everything is ready to use, all necessary settings have been set. Therefore, the next step will be only adding sites, working with databases and users.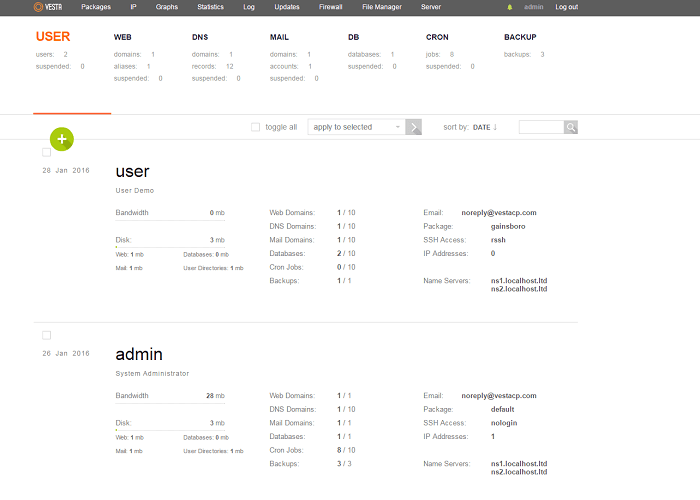 Disadvantages of VestaCP
1. Paid Technical Support
The cost of support depends on the time: 1 hour costs $60, 5 hours – $180 (that is already $36 per hour), 15 hours – $540 (the same $36 per hour).
It would be strange to expect that free support will be supplied along with the free panel, but still, the cost is rather big, therefore, when setting Vesta, you either need to be confident in your abilities or have a knowing acquaintance. Well, either buy a support clock.
2. Paid Additional Options
Be ready to pay for additional services. For example, VestaCP does not have a built-in file manager – but you can purchase it separately for $3 a month (or by paying $50 once).
However, you can find other free workflow solutions for a file manager (for example, using net2ftp or sprut.io).
3. Using the Console
Not that there is a serious disadvantage for experienced users (and for some, and in general, plus), but this panel assumes that you also know how to use the console to perform different tasks because at some point of time you will need to switch to console to make some changes.
4. Not Suitable for Resellers
This might be not a disadvantage with normal users but for resellers, this is a major drawback. The lack of proper plugin for connecting your VestaCP Installer server with Billing Panels like WHMCS is a major setback. There is WHMCS plugin available for VestaCP but the last time I used it was buggy and there was lack of proper functioning with the Billing Panel.