Almost everyone you know is active on Facebook these days. How to Write in Hindi on Facebook is an important question with a lot of people because Hindi language is used a lot in Facebook by its users. A very big chunk of India's regional population is online on Facebook and other online platforms, which has led the platforms to start providing users the option to Converse in Hindi and other regional languages.
We often require the need to type in Hindi but are not able to do it. In this article, we are going to give you various ways by which you can write in Hindi on Facebook and these methods can also be used to type in Hindi on other platforms. These are the same methods which has been used by other users who post in Hindi.
Some of the ways by which you can know how to Write in Hindi on Facebook are –
1. Within Facebook Only
This is the option available in the desktop version of Facebook. You just have to log into your profile and then click on the settings. After doing that, you need to click on "language and regions". You will then see an option of "Multilingual posts"just turn it on.
In case you do not see the option of Hindi keyboard you can use the option of "add button" to edit manually and then you will get the option enabled while typing and you will be able to convert all the text you wrote in English to Hindi right away.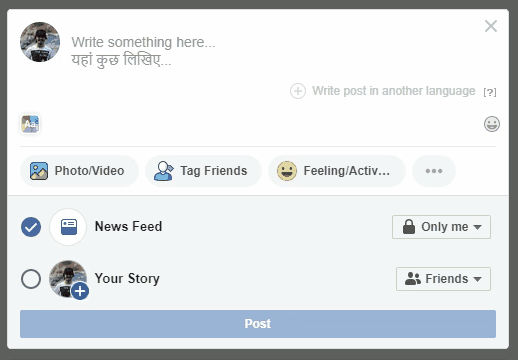 After you have enabled this feature whenever you type something in a post or a comment, you will get to see the option of a Hindi alphabet at the lower right-hand side of the text box. After clicking that button, all the text that you have written in English will be translated to Hindi.
Also Read: How to Write, Post or Comment on Facebook in Hindi
2. Using the Google input Tool
This is one of the oldest and easiest methods to type in Hindi. You just need to Google for the "Google input tool" and you will land on the input tool page. You can type whatever you want to in English, and you need to select the option of "convert to Hindi".
After your text is processed, which takes hardly a second, you will receive the whole text in Hindi and you can easily copy-paste the text wherever you want to in Facebook. One of the easiest ways on How to Write in Hindi on Facebook.

3. Typing in Hindi in the Facebook Mobile App
The first step for enabling Hindi typing in the Facebook mobile app is to have the latest version of Facebook. So, if in case you haven't updated Facebook in a while, the first thing that you should do is update the app in the Play Store.
After you have updated the application, you need to click on the three lines present at the top right section and select app settings. Under the app settings, you will find an option of Hindi keyboard and you need to toggle the button in front of it to turn it on.
Now, whenever you will type anything in a post or a comment, you can use the option of Hindi keyboard at the bottom right corner of the screen.
4. Using the Gboard on Android and iOS
Gboard has everything you love about Google Keyboard—speed and reliability, Glide Typing, voice typing, and more, the app is officially offered by Google on both Play Store and iOS Store.
Using the Gboard you can add multiple language keyboards including Hindi and simultaneously switch between different languages. Gboard can be used to type in Hindi on any app including Facebook, Twitter etc.