Google has just released an update for its Stock Camera App which comes pre installed in Nexus and Google Play Edition Devices, with this update Google has also made it available for another devices on through Google Play Store.
Currently Play Store Version of this app only supports Android 4.4 KitKat Devices but if you are a Jelly Bean user then you can also install its Modded version from here :- Google Camera App Port for Jelly Bean Devices
The new version of Google Camera has included various new features like refreshed UI but one of the most awaited and awesome feature of that is Lens Blur which was commonly Found in Nokia Lumia Camera Apps.
Google Camera Vs Nokia Camera :-
Features :-
| | |
| --- | --- |
| Google Camera | Nokia Camera |
| Lens Blur | Nokia Refocus |
| Photo Sphere | Panorama |
| HD Video Recording | HD Video Recording |
| HDR and SLR | HDR and Location Services |
Google Lens Blur VS Nokia Refocus :-
Let's see which Platform Performs Better while manipulating the focus.
We tested Lens Blur on Moto G and Moto X and Refocus on Nokia Luma 920 and here are the results :-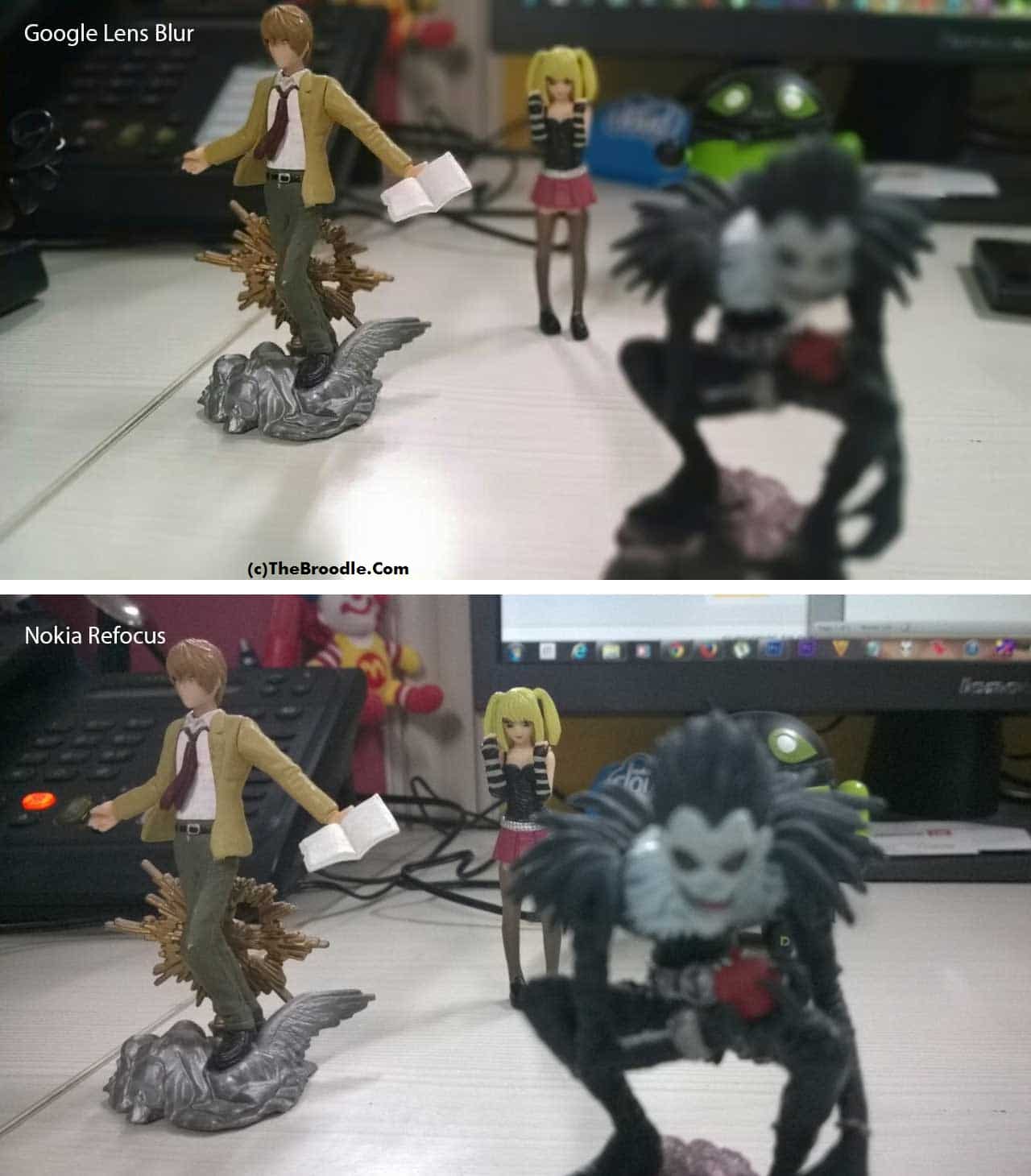 Here Google Camera App scores well only because we manually focused on the subject. Without that, it's tough to get a clear picture with multiple subjects.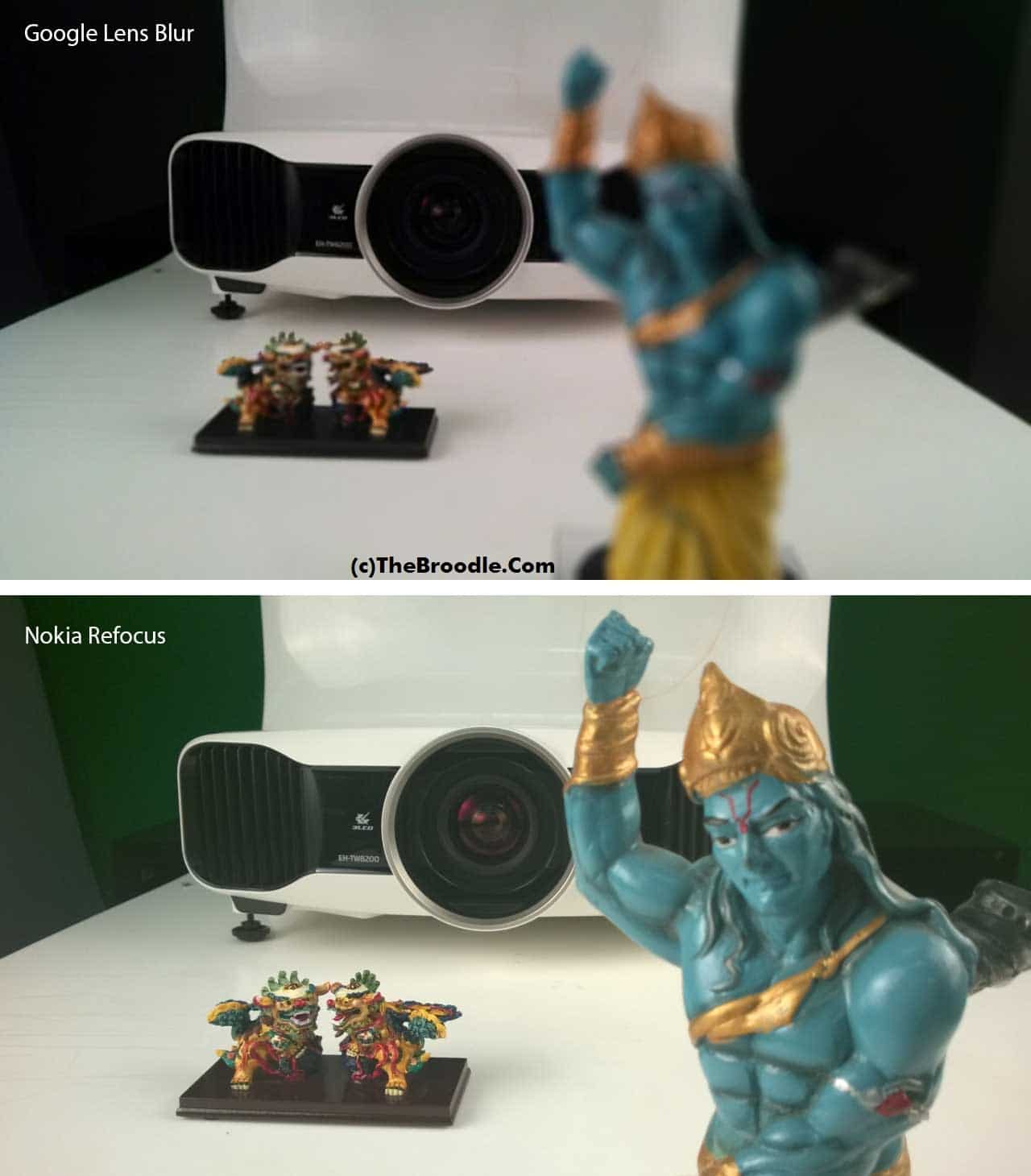 Here Once again, the projector looks sharper in Lens Blur because we can vary the intensity of the blur.
Google's Lens Blur has one neat feature that's missing from the Nokia's Refocus app and that's the ability to play around with the blur intensity for the background or foreground. The images shot with Google's Lens Blur looks a lot more striking due to this fact. However, in terms of the number of focus points that are available to play with, Nokia's Refocus app does a much better job here. Google's Lens Blur is unable to get the full scene in focus accurately, due to which only some areas are sharp while others remain blurry despite shifting focus to them in post.
In the end, both apps perform pretty well although we feel Nokia has a slight edge when it comes to the capturing multiple focus points. It's nice to see Google learning a thing or two from Nokia and hopefully they can add more functionality to this first effort.
(Lens Blur and Refocus Test Credits :- Tech2)
So, if you haven't downloaded any of these apps then you might be interested in trying these.
Download Google Camera for Android from Google Play Store.
Download Nokia Camera for Windows Phone from Microsoft Store.
Features of Newly Launched Google Camera App :-
While, Lens Blur is the most exciting feature of this update to Android's stock Camera app, the refreshed UI and enhancements to Panaroma and Photosphere shots are great as well. Check out the official Announcement by Google below:
Today we're launching Google Camera, a new app for your Android phone or tablet that makes it easy to take quick photos and videos. And being behind the lens just got more fun with new creative picture modes.
Sleek Design: The 100% viewfinder gets out of your way while capturing the maximum resolution of the scene (no dropped pixels). And the extra large capture button is easy to press so your eyes never lose sight of the subject.
Lens Blur: Emphasize the subject while blurring the background for an SLR-like shot with shallow depth-of-field (or bokeh). You can even change the subject in focus after taking the shot.
Improved Panorama: New higher resolution panoramas capture the full width and detail of a scene.
Photo Sphere: Immersive 360 degree photo spheres let you look up, down and all around…now at up to 50 megapixels! For the first time available on non-Nexus devices.