With the launch of their revolutionary folding phone, Samsung has undoubtedly shaken up the smartphone market. Not only did they launch a bendable screen but along with it, the Galaxy S10 smartphone series.
The revolutionary change made by Samsung and other tech giants such as Huawei and LG who are following suit in the folding tech department is creating a steep mountain to climb for competitors such as Apple, who it's safe to assume, have their work cut out for them.
The battle between Apple and Android competing for the titles may be a thing of the past now if Apple cannot match the level of tech supplied by Android companies. As the argument goes, Google phones seem to have better cameras like the Pixel 3 XL. Motorola and LG are also producing budget-friendly smartphones which cost less against Apple's budget aimed smartphones. As we have seen too, the Huawei was the first to launch a triple camera phone and now Samsung with ist foldable phone and upcoming 5G phones.
Focusing on these advancements from the Android corner, Apple will need to keep innovating and introducing new technology if they want to keep their customers loyal. Let's take a look at why Apple might be losing ground and what they can do to pick themselves up again.
Launch 5G, fast
It is thought that in 2019 the launch of 5G will be a real game changer for the smartphone market and its users, allowing users to download bigger files much quicker, HD movies in under 5 seconds to be exact.
However, it is thought for Apple there won't be any phones that will be compatible with the 5G tech until about 2020, at least. Even handset prices for 5G compatible technology will be high in the immediate as they release; it seems as if though this is not a piece of the pie apple are leaping to grab a piece from.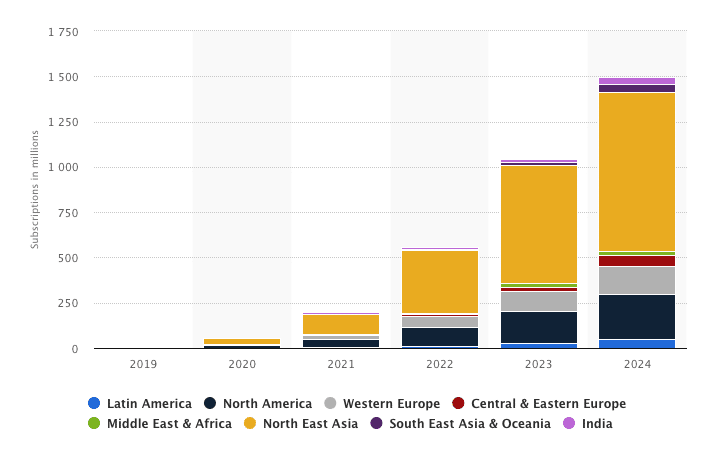 Get with the Foldable Revolution
Arguably Samsung is not the first company to bring out a foldable phone but out of the two companies, they are the first, which puts them many more steps ahead of Apple, who need to catch up fast to make any type of imprint on the market.
Although the Fold is a premium phone at a premium price, this will still give Samsung a more considerable margin of leverage with this one product in comparison to Apple products when consumers do a value for money comparison.
Make OLED the norm
The main difference between cheaper iPhone models and their high ends models is the less detailed LED screens they have compared to the OLED displays on the higher range of iPhones.
OLED (organic light emitting diode) is a more modern screen with brighter colours and darker dark colours offering sharp image quality. Although Apple has this technology on its premium smartphones, Samsung has included AMOLED (active matrix OLED) screens on the whole of its S10 range, which included their budget S10e.

Because of this move from Samsung, Apple will need to up their game and offer quality screens across even their budget phones as Samsung has included it in their cheaper phones.
Rethink the Headphone Jack
Apple rocked the market when they announced their iPhones would be released without the traditional 3 mm headphone jack, and on the back of that, although their AirPods have been quite the hit, their rivals Samsung, having just launched their own wireless headphones has addressed the need for a headphone jack as some users still prefer it which is why they have kept this humble feature with their premium phones making Apple seem snobbish. Apple could simply win over more customers by bringing back the headphone jack, offering users the choice to use it or not as Samsung has.
In-Screen Fingerprint Reader
Although Apple uses quite smart and intuitive technology with its Face ID tech which unlocks phones, it lost its fingerprint reader from all of its 2018 models which has no home button to act as a fingerprint reader like its previous models, leaving users feeling a bit behind.
Samsung however, has created a fingerprint reader on the S10 range that's hidden under the screen. This proves the tech is available, and so Apple will need to come up with something new or dare I say, adopt their ingenious technology from Samsung.