Choosing the right web host is never an easy task – especially since many of the rankings are based on general criteria. And the truth is, we all have different requirements. Some people might have a very limited budget and just want to experiment while others are looking for managed machines capable of serving thousands of visitors per day.
That's why in this ranking I've decided to briefly introduce web hosting providers that are "Best" in their respective categories.
However, there are a few types of hosting that are not mentioned, such as reseller web hosting. If you want to take a look at the best provider for this hosting, check out Verpex.
1. Hostinger – The Best Unmanaged VPS Offer
Even though the company has a great offer of shared and cloud hosting packages, it's their unmanaged VPS where it really shines. With the prices starting as low as $4.99 for a tier-1 VPS and as little as $65.56 for the highest one (with 8GB RAM and 6TB bandwidth!) their offer is hard to beat. On top of that, every tier comes with as many as six different Operating System templates, excellent support, and fully dedicated hardware resources. But, in my opinion, it's the introduction by Hostinger of Burst RAM that's probably my favourite feature of their VPS servers, which puts it way ahead of its competitors.
Basically, anytime you expect your servers to be flooded with an extra amount of traffic, you can just set it to double your allocated RAM. This allows you to both provide your customers with great user experience even during a surge of visitors and significantly cuts down the cost of server fees. How come? It's simple – you don't have to upgrade the whole server just because your server gets busier from time to time.
And if you were to upgrade, their tiers structure is very clear and straightforward, making it easy to forecast the server usage and plan to scale – no matter if you are just starting out and want to learn everything about virtual private servers or are looking for a highly-efficient machine ready to serve thousands of visitors.
2. SmarterASP.net – The Best ASP.NET Hosting
Established back in 1999, SmarterASP.NET is one of the key players when it comes to ASP.NET hosting. Their Windows server offer is separated into 3 different tiers (+1 extra – a very generous 60 days free trial). All three main plans come with unlimited bandwidth, disk space, as well as an unlimited number of FTP accounts and domains which can be hosted.
What distinguishes the ASP.NET plans are their very affordable prices. The plans start at $2.95 per month for a three-month commitment ($4.95 and $7.95 for the upper tiers respectively) and the price gets discounted by 10% and 15% for 24 and 36-months contracts.
On top of the basic ASP.NET hosting the company has special semi-dedicated plans which range from $29.95 to $129.95 per month and include services such as Remote Delegation, Isolated Application Pool, ability to run multiple .NET versions, schedule cron jobs & tasks, and 10GB of MSSQL 2016 (30GB in the highest tier).
On top of the other services, a big advantage of their offer is the 24/7 support and their SLA. The company guarantees 99.9% uptime and promises to credit one full month of service for every hour of downtime. Considering the low prices and great support, it's a no-brainer for anyone looking for reliable ASP.NET Windows hosting.
3. Siteground – The Best Managed WordPress Offer
Siteground is a very well-known company, popular, especially among Internet marketers and bloggers and praised for its specialized managed to host packages, designed for users of one of the most popular CMS platforms – WordPress. While, as of now, Siteground offers standard shared & cloud hosting plans too it's their managed WordPress solutions that stand out. What makes it so competitive?
First, it's designed specifically for that particular CMS (content management system). On top of the standard hosting offer, it comes with a list of hand-picked features essential for high WordPress performance. These include free WP installation and migration, free SSL and HTTPS, a free backup (daily), WP automated updates, and 24/7 WP support.
While some of these features are sometimes included in shared hosting offers of other companies, it's the WordPress-specific support that makes this hosting provider so popular among beginners and those who manage their websites using WP. No more solving problems with plugins or themes manually – at Siteground, you can always contact the team to help you out. So how much does it cost?
There is one catch – their advertised prices of $3.95, $5.95 and $11.95 for the plans are the so-called special price. After the discounted period, they cost $11.95, $19.95 and $34.95 respectively – quite a big difference, especially if you consider that the first tier allows you to host just one website. Still, if you want managed WordPress hosting, you can't go wrong with Siteground. And if you think that's way too expensive, the next hosting provider is all about the low price.
4. iPage – The Best for Beginners on a Budget
The "budget" category winner is quite popular among beginners who are looking for an inexpensive yet reliable web host that would allow them to make their feet wet and test various things such as different content management systems or simply learn to create their very first website. At $1.99 per month, it's one of the cheapest hosting offers that's actually giving you some flexibility and extra features.
There is just one thing you need to keep in mind – the hosting is available at less than $2 per month only if you sign up for a three-year contract upfront (renews at $7.99/mo.). Due to that increase in renewal price, it's no longer that affordable long-term, but if all you want is to explore, $71.64 (this is how much you need to pay upfront for three years) doesn't sound like much.
And what do you get for the price? Everything a beginner might find interesting – a free website builder (drag-and-drop), thousands of free templates, and multiple one-click install applications. All that is topped by generous ad credits and other extras (altogether worth over $500). And the best is, you can give iPage a test ride and not pay a single cent – thanks to their 30-day money-back guarantee.
5. Liquid Web – The Best Managed Dedicated Hosting
Have you outgrown all shared hosting and VPS hosting plans? Then it's time for the ultimate hosting environment – a dedicated server. While I believe dedicated servers are to be found in the offering of many web hosting companies, not many of them are worth looking at, not to mention paying a dime.
This is because, when you rent a dedicated server you are expected to either hire someone to oversee it for you (not the most cost-effective move, unless you have multiple servers) or get a managed one. And it's the latter category in which Liquid Web excels and outperforms its direct competitors.
The reason for that is simple – they treat support as something in their offer. Unlike many companies which offer support as an add-on, taking care of their customers is the utmost priority of Liquid Web highly-trained and experienced staff. And they do so over the phone or online chat 24/7, 365 days a year. How much does it all cost?
There are three main pricing tiers, starting at $123.38, $185.38, and $247.38 per month respectively ($199, $299 and $399 after four months when the promo period is over). While it sounds like a lot, it gives you access to highly-qualified professionals and provides you with lots of resources available exclusively to your business.
And what if you would like to take advantage of their team and a 100% uptime guarantee without having to pay $199 per month, as you don't think you need any of their main dedicated server tiers just yet? In this case, you can choose one of their "Special Entry Level Servers", priced at $79.98 and $98.58 ($129 and $159 after discount) which come with more than enough dedicated resources to get you going.
Choosing the right Web server is never easy. If you're a beginner, it's best to go for the cheapest host out there, just to learn the ropes. But, once your business starts growing, it's recommended to move your website over to a VPS. A well-maintained virtual private server can last you for months or even years while teaching you a lot about hosting, managing resources, and running an online business.
*Bonus: Broodle Hosting – The Most Affordable Hosting Provider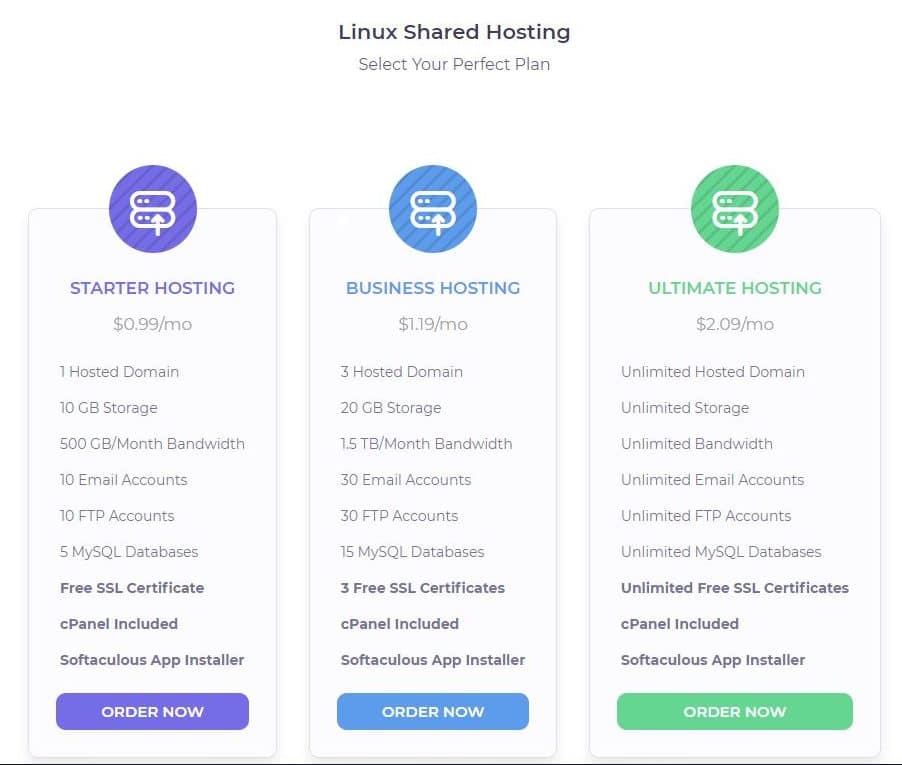 Broodle Hosting offers superior, reliable and affordable Web Hosting to individuals and small businesses. We've designed our entire process and products around providing everything a small business needs when they're starting out – ensuring that working with us is always a quick, easy and hassle-free experience. We give our clients full control of their website without a ridiculous price tag, and our friendly team offers their expertise even after your website is live.