If you are a Website Developer then you must have heard about the CometChat and what it is capable of doing, well CometChat is a Facebook-style footer chat written in PHP and MySQL for your website which enables your users to interact and chat with each other in real-time. One of the great thing about CometChat is that it can be used on any platform whether you are on Android, iOS, or WordPress, it can be integrated everywhere.
So, let's start the list with Top Free and Paid alternatives:
1. ArrowChat
ArrowChat is a jQuery based live chat software that uses PHP and MySQL. It is placed at the bottom of your website similar to Facebook Chat. ArrowChat is currently the biggest alternative and rival for CometChat.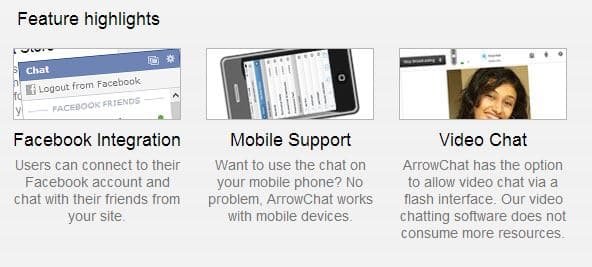 Features:
Video Chat
Chat Rooms
Applications
Notifications
Popup Chat
Themes
Full Admin Panel
Real-Time Support
Multi-Device Support including SmartPhones
Guest Chat
Group Chat and lots More
Pricing: $45 Starting (10 days Free Trial)
Visit ArrowChat Official Website (Get $5 Off)
2. Ajax IM
Ajax IM ("Ajax Instant Messenger") is a browser-centric instant messaging framework. It uses AJAX to create a real-time (or near real-time) IM environment that can be used in conjunction with existing community and commercial software, or simply as a stand-alone product.
Pricing: Free
3. Pusheo
Pusheo is an agile and steadfast service which lets you blend real-time communication into any application, without any extra burden on your servers. It paves the way for transparent communication across all major platforms.
All this in just 10 lines of code. Pusheo has massive, treasured and organized libraries for all the prime web and mobile platforms.
Pricing: Free and Paid (Free for 10-user concurrency)
Visit Pusheo Official Site
4. BeaconPush

BeaconPush is a Push service that enables you to reach your users on real-time without requiring them to constantly poll your website.
Pricing: Free and Paid
Visit BeaconPush Official Site
5. PhpFreeChat
PhpFreeChat is a Completely Free Chat Service which offers public and private chat rooms to your visitors. In addition, the interface is customizable on desktops, tablets and smartphones to fit your website design.
Pricing: Free
Visit PhpFreeChat Official Site
---
If you have any better alternative then these then please share it by commenting below.