The choice of control panels for server administration is no easy task. It may confound anyone who begins his journey in network administration. If you do not know what a control panel is, for which purpose they are used, and whether to use them at all and most importantly which control panel to select, then this article will definitely help you to understand these and other questions.
What is a Control Panel
Control Panel – A Control panel is a special software with a graphical user interface through which you can administer a server: view server logs, e-mail settings, add domains, work with the database, configure FTP access accounts, and much more.
Control Panels are designed to simplify the user's work with the server; even users without deep technical knowledge can use these panel to monitor and manage their servers. All necessary actions can be performed without the use of the console and the knowledge of any computer language.
It is stipulated that the control panel is not recommended for complex server configurations, but in all other cases, it can greatly ease your life.
Now there are over 20 different variants of the control panels available out there. They differ from each other by a plurality of parameters from the spread code and ending with transparency and a method of producing a remote access to support multi-servers. So in this article, we want to focus on two control panels which available for free on the market, and these are ISPmanager and Vesta CP.
ISPmanager
ISPmanager – is a licensed control panel with broad management capabilities. With the help of ISPmanager, you can manage accounts, domains, files, and databases. You can work with e-mail, security settings, backup and monitor the state of the server as a whole. It is therefore quite natural that now it is one of the most popular web hosting control panel.
ISPmanager is a product developed by ISPsystem. It supports multiple languages. The first version of ISPmanager appeared in 1997, and since then, the control panel is continually updated: regularly come out with new versions and updates are released every week, adding new functionality and optimizing the work of the panel itself and the server.
The latest version ISPmanager 5 can be installed on servers with CentOS and Debian operating system; Lite version can also be installed on a server with Ubuntu. Using the panel, you can specify the required version of PHP for each site separately (PHP from 5.2 to 7.0). It has a built-in support for Softaculous which allows you to install hundreds of web applications in a single click.
ISPmanager is chosen by those who want:
Quick and easily installable web panel on their server
Use the product with user-friendly interface
Start a Reseller business or wants to manage their own server
Expand functionality with additional plug-ins
---

Vesta CP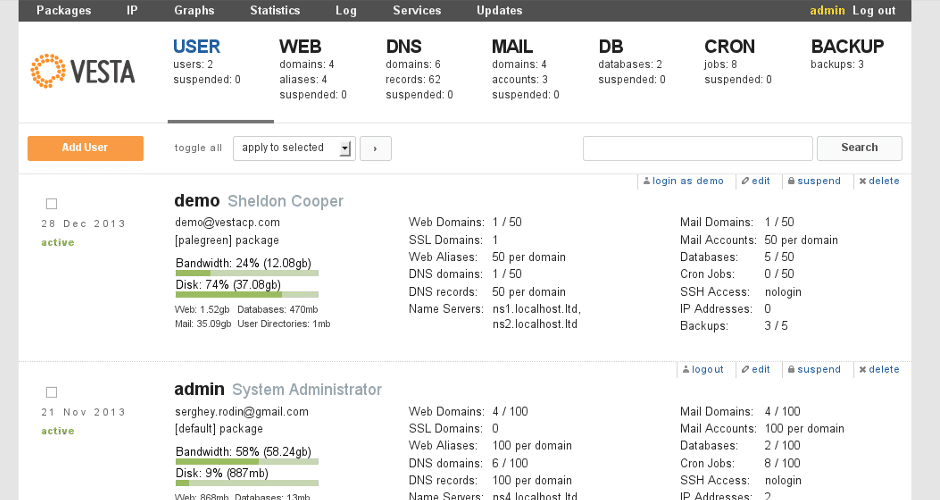 Vesta CP is a freeware and open source control panel, the first version of the panel appeared in 2012. Along with Ajenti and Webmin is one of the most popular as well as a simple and lightweight panel for server management. It has everything needed to create and manage server functions, you will be able to work with users, domains, and databases. Vesta Control Panel can be an excellent choice for your server it runs quickly, is easily installed and is being constantly improved with regular updates and a wide range of community support.
Vesta CP has a compact and user-friendly interface that makes it easy to understand how to set up a database or work with cron. Vesta CP supports a pair of Apache + Nginx, as well as the SSL protocol, SNI, and DKIM. Besides Vesta CP has a fast backup and restore functionality.
---
Comparison
We now turn to a comparison of the two control panels.
The ISPmanager – ISPmanager is available on a 14 days trial after that you have to purchase a license for it which costs $4.35 for the lite version and $13.05 for the business, the lite version have fewer features as compared to the business one, while Vesta CP can be used absolutely free of charge.
The cost of ISPmanager is much lower than the cost of other fee-based control panels (for example, cPanel). In addition, you have the opportunity to choose the suitable option, based on the functional: Lite or Business.
As for Vesta CP , the free distribution and open source code of the control panel are both its advantage and its disadvantage. In the case of the ISPmanager on the product developer responsible for the timely update and eliminate any flaws – and therefore the product is stable and reliable.
Working in ISPmanager 5, you can perform all the actions from the browser. Vesta CP requires knowledge of the console because in some cases you have to switch to the command line, which uses Apache mod_ruid2 module, which works directly with mod_php.
Developers at ISPmanager are constantly working to expand the panel capacity, which includes expanding not only the refinement of packaged functionality but also supports integration with popular third-party solutions and services. For example, through the panel, you can easily install the free SSL-certificate from Let's Encrypt, which is automatically updated every 3 months. If you suspect that your site has been infected by a virus or malicious code is present on it, you can install the add-on anti-virus and cure Virusdie site without disrupting its operation.
File Manager: Unfortunately, Vesta CP initially no file manager, its integration can be purchased separately for $3 per month. The ISPmanager file manager built in, free and very intuitive. The file manager which the Vesta CP team provides is up to the mark with all the functionality that you need from a file manager with a beautiful user interface and an easy to use file editor.
Support & Documentation: Both the Vesta CP and ISPmanage have excellent documentation, a large amount of background information and even video tutorials. If you have not worked in any of the control panels, and want to be sure that you can understand the management then these documentations will surely help you.
It is necessary to say a few words about the support service. Despite the fact that Vesta CP is a freeware product but for the use of technical support services you will need to pay 60 to 540 USD – depending on the number of hours required for consultation, and a package of support provided.
In the case of the ISPmanager you can contact the technical support, where its cost is much lower than the cost of supporting Vesta CP professionals.
One Click Application Installation: ISPmanager has a built-in supports for installing Softaculous package directly from its dashboard while Vesta CP does not have any one-click application installer available. Vesta CP is said to be providing Softaculous inside its admin panel by the end of March 2017. Softaculous is one of the most popular and widely used application installers with support for thousands of web applications.
User Interface: Both the Vesta CP and ISPmanager provides a graphical user interface for the user but the UI of ISPmanager is outdated slow as compared to the Vesta CP. Vesta CP has a beautiful user interface which is easily understandable by the user and is pretty fast.
Finally, the ISPmanager is available in two versions – Lite and Business – and depending on your tasks, you can select the appropriate version. ISPmanager Lite is used by those who are setting up a server for their personal use, but Business is perfect for organizing and automating shared-hosting and has several important functions, for example, the ability to use value-added resellers who resell hosting services and resources. ISPmanager lacks the support of operating systems where only the lite version can be installed on Ubuntu.
Vesta CP is free to install and supports all the major operating systems like RHEL / CentOS, Debian, and Ubuntu. The complete web panel is absolutely free except the file manager where you have to pay $3 each month in order to use file manager.
Both the control panel should be installed on a clean server with an appropriate operating system. The minimum server requirements in ISPmanager Lite is the same as that of Vesta, so both panels can run on entry-level servers.
---
Conclusion
The ISPmanager – ISPmanager has a wide range of functions to manage the server, has a multilingual interface, as well as a very detailed documentation also provides third party plugins like the letsencrypt and softaculous.
The Vesta CP – Vesta CP is a lightweight and freely distributed control panel with a concise design and broad functionality, which is being constantly improved. It is suitable for experienced users who know how to work on the console. The control panel is amazingly fast and the UI is absolutely fantastic.
So which control panel do you think is better, leave your thoughts in the comments below, share this post with your friends and don't forget to follow us on facebook and instagram.
Credits: Timeweb Community