From the last two years WhatsApp has grown this much that it almost removed the trend of simple textime. With over 700 million monthly active users WhatsApp is one of the most popular instant messaging service available for all platforms except desktop PCs, but now with the latest announcement in WhatsApp blog users can also be able to use WhatsApp from their computers.
WhatsApp has announced the launch of a new service called WhatsApp Web.
"Today, for the first time, millions of you will have the ability to use WhatsApp on your Web browser," the messaging app said via a blog post. "Our Web client is simply an extension of your phone: the Web browser mirrors conversations and messages from your mobile device – this means all of your messages still live on your phone."
How to use WhatsApp Web?
To connect your web browser to your WhatsApp client, simply open https://web.whatsapp.com in your Google Chrome browser (as fas as now only Chrome Browser is supported but we can expect support for more browsers soon).

You will see a QR code, scan the code inside of WhatsApp, See below image on how to scan qr code inside WhatsApp (Make sure that you have letest version of WhatsApp installed on your device).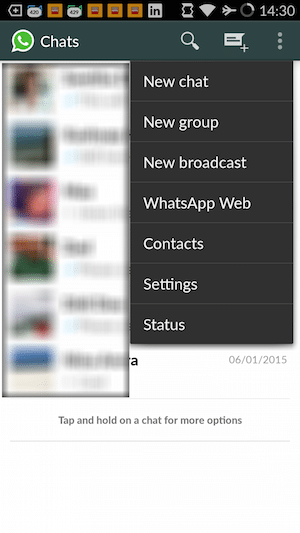 You have now paired WhatsApp on your phone with the WhatsApp web client. Your phone needs to stay connected to the internet for our web client to work.
Note :- For Now WhatsApp Web Service is not available for Apple iOS Devices due to limitations but we can assume its arrival in ios soon.
At the time of writing this post, the version of WhatsApp for Android that supports this feature of capturing QR Codes was still in the process of being rolled out, so it's possible you may have to wait a while to get your hands on this feature. If you are amongst the lucky few who'v been able to get in then do let us know your experience so far via comments.