WhatsApp is to human being what food is to human being. It has been the necessity of communication nowadays. Flurry statistics showed that people would spend at least half an hour on WhatsApp. Nevertheless, not many people are WhatsApp geeks to master all its tricks and some features are never used. In this article let's discover these tricks together.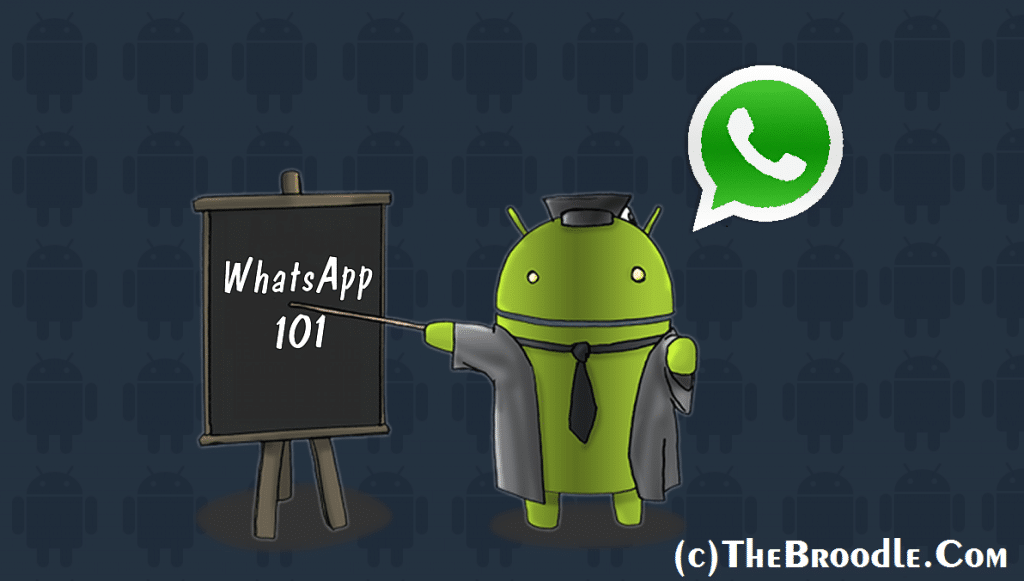 ---
#1 – Run two WhatsApp on one phone
WhatsApp not only incorporates into people' life but also work. However, if life and work is messed up in one WhatsApp account, we will feel tired. Most people will be eager to have two or more WhatsApp on one phone and change roles casually. There are many ways to run two WhatsApp on one phone. And Dual Whatsapp, Ogwhatsapp, GBWhatsapp are the most popular choices you can find online.
---
#2 – WhatsApp enables users to check the message read time
Sometimes you just send hello messages to our friends or sorry messages for forgiveness. You hope for replies but none.It will make you embarrassed or upset. In fact, it is easy to check if people have read your messages.
Just go to one of your WhatsApp chats, and hold on one of the messages, then you will see the Info option, tap and a new window will show you the exact time of delivered and read messages. You may also try this trick in your group messages.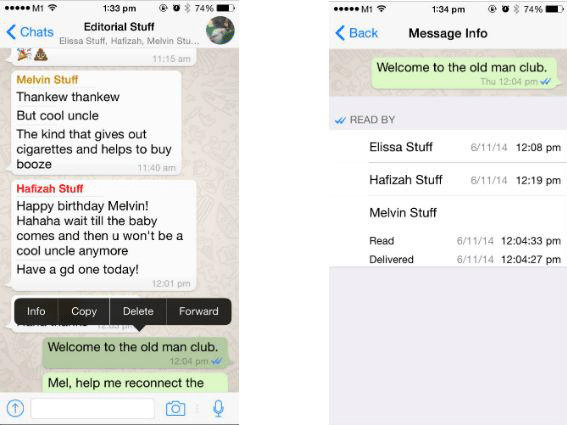 ---
#3 – Mute group chats if you get bored
As more and more friends are listed in WhatsApp contacts, you will be added in new groups at any time and by any friend. Before long, you will get bored with constant message notifications as someone are always active in the group to share something. This case is more serious if you are working on something urgent. In WhatsApp, you can prevent yourself from getting distracted by these messages. Find the group chat, and tap the group name to get the group info and then go to Mute settings to mute group chat. Or you can exit the group as well.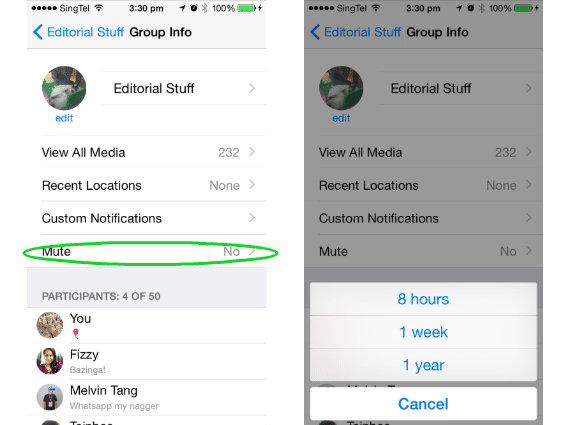 ---
#4 – Backup messages in WhatsApp
As WhatsApp has replaced some communications, some important messages are saved in WhatsApp. WhatsApp has backup settings for users to prevent messages from being lost.
For Android users, go to Settings and then Chats and Calls,select Chat Backup option to set up a Google Drive backup. When you change a new Android device, just restore and copy the Google Drive backup to your new device.
For iPhone users, go to Settings,Chats and Chat Backup to enable Auto backup with Daily, Weekly, Monthly. And your chats will be back up on iCloud.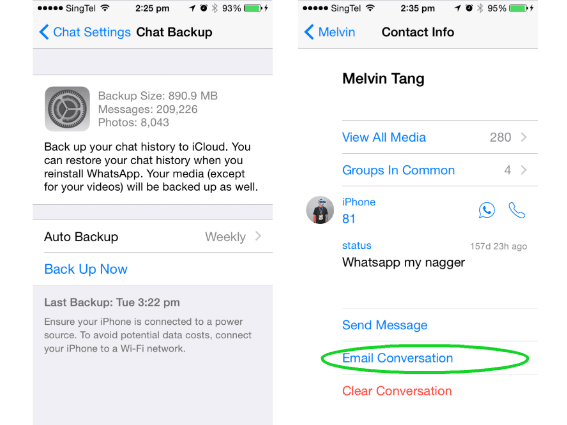 ---
#5 – Tie WhatsApp to your mobile number
Especially for some businessmen, business travel is often the case. And a new SIM card may be required for communications. Some people may faff about adding contacts one by one. In fact you can make it simple.
When you changed to the new SIM card and activate WhatsApp, it may ask for registration with the new number. You can ignore this popup and use WhatsApp with the old number while your phone is inserted with the new number.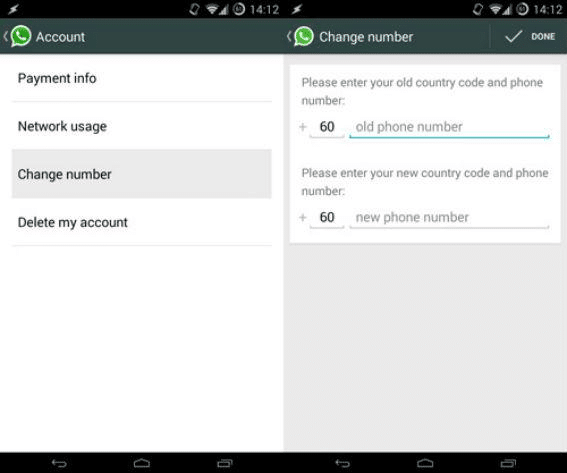 ---
#6 – Star your messages for later use
Most often that you have made an appointment with our friends for dinner in advance. When the dinner time is approaching, you have to confirm the restaurant place in the long chat. It will make you go nuts to scroll those messages for the place. Happily, WhatsApp has such an feature that you can star the specific message for later access.
Double tap any message and tap the star icon to mark it. To find the star messages, tap the chat name and find Star Messages to check all the star messages.
If you want to go back to the context of the communication, tap the arrow and you will be brought back to the exact place in the chat.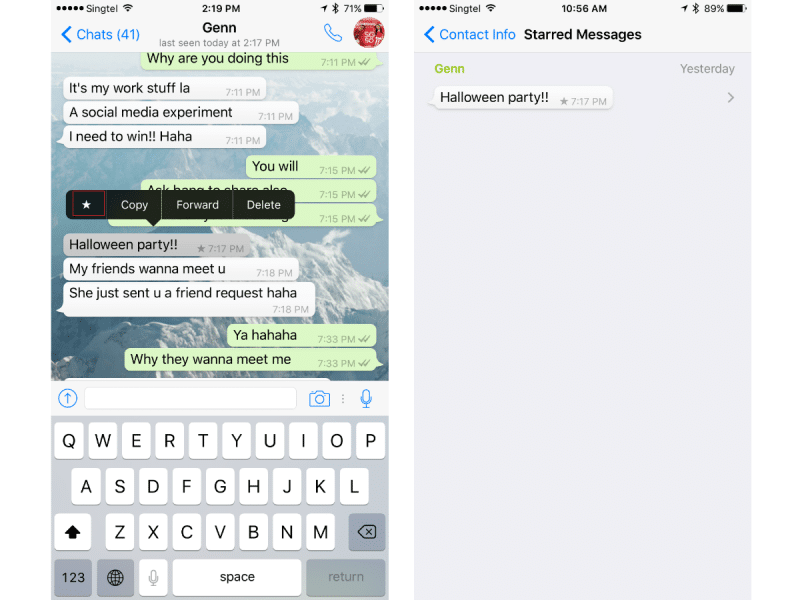 ---
#7 – Save mobile flow when making calls
As we all know, making calls is the most popular feature in WhatsApp. But it will consume much mobile flow. Luckily, there are settings in WhatsApp to help you save it greatly.
Go to Settings and find Chats and Calls, on the interface and you will find Low Data Usage. It will help you to save mobile data when making calls with WhatsApp. This is mostly used when you are on a expensive and limited data plan. It is recommended that you only use calls with WiFi connected.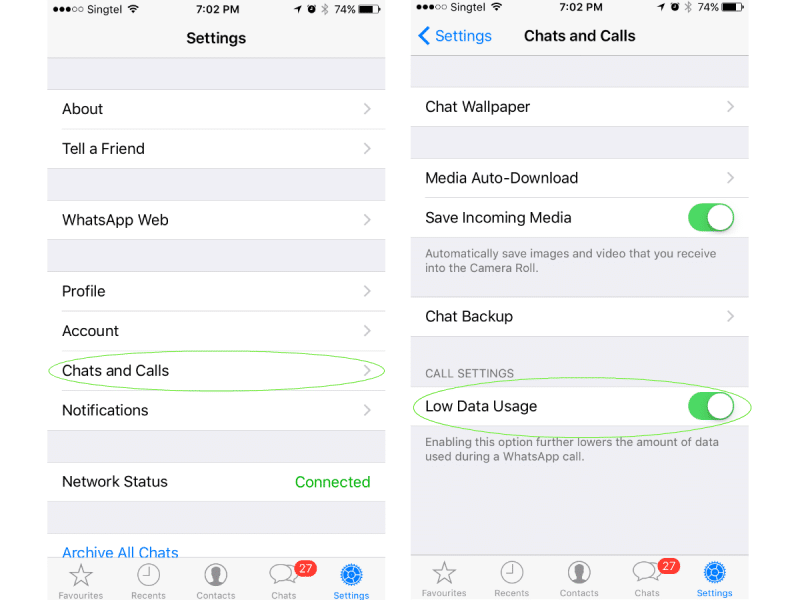 ---
#8 – Mark messages as unread for later access
We hardly miss any message but easily forget to reply the message. With WhatsApp unread feature, you can mark messages as unread with a blue dot and check later.
Swipe any chat to right and Unread will show on the left. Tap to mark as unread and a blue dot will appear on the right. And once you read the messages, the blue dot will disappear.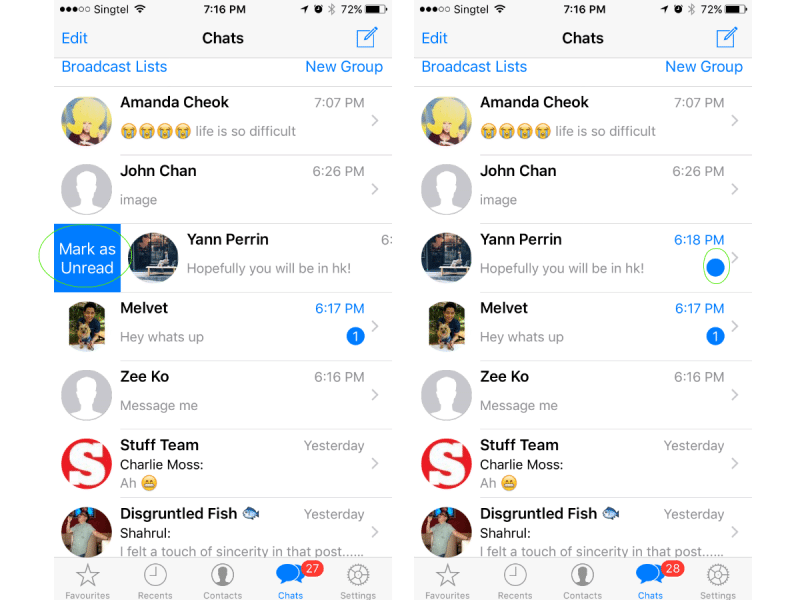 ---
#9 – Protect your privacy by disabling Preview
When we are commuting, our private messages are easily peeped by people around us . In case of privacy leaks, WhatsApp has added the feature of disabling Preview so that your message details will not be disclosed.
Go to Settings, Notifications and disable Show Preview. Then no one can accidentally read your private messages by glancing on commute.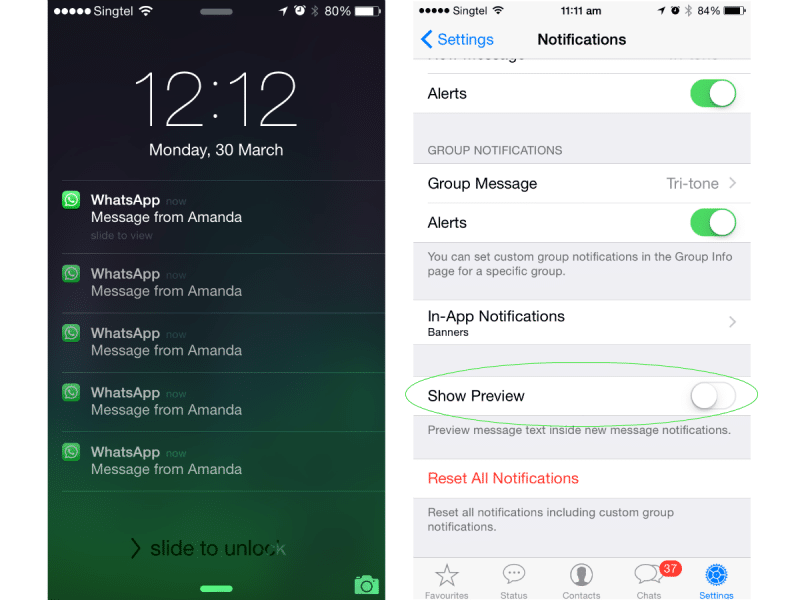 ---
#10 – Easy access on desktop
Compared with desktop computer, mobile phone is not that convenient when referring to typing messages. And some WhatsApp addicts may not want to miss any message even during work. Login WhatsApp on computer will fulfill all the hope.
Just go to Settings, and WhatsApp Web, and visit web.whatsapp.com on your computer. Scan QR code and login.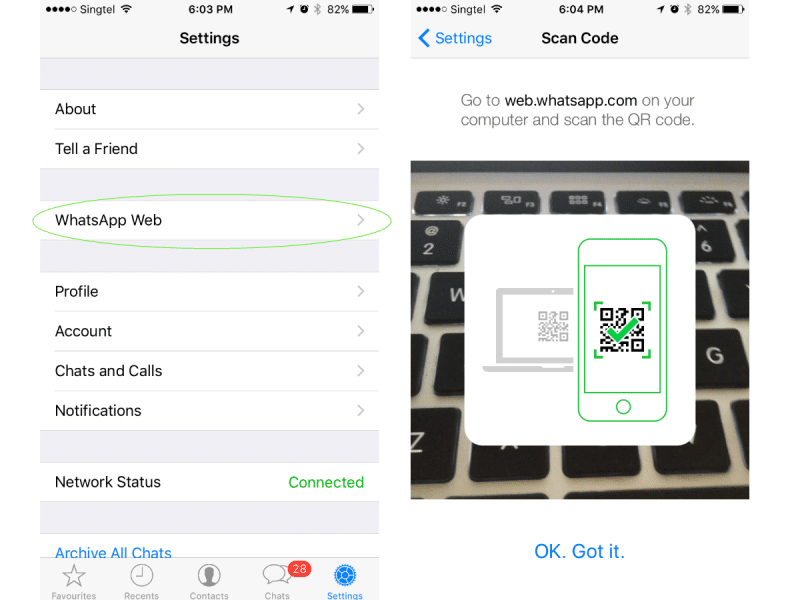 ---
Reference – Lifehacking