Now a days almost every user who owns a smartphone uses WhatsApp for instant messaging, Although everything is quite handy and esily accessible in WhatsApp, but What I don't like is we can't Schedule WhatsApp Messages.
Think of a situation, you are feeling sleepy early tonight and need to wish Birthday to your loved one at 12 a.m sharp. Certainly, you need to stay awake. What if I say, you are all set to Schedule WhatsApp Messages now? Feeling excited? Probably Yes. Just sit back and relax, as we are here with this awesome WhatsApp trick for you.
Note :- This Trick is only for Android Devices.
How to Schedule WhatsApp Messages ?
Step 1 :- There are many app available for scheduling Messages in WhatsApp, i have posted some of the apps that are currently working, you can try any of them.
Download Scheduler for WhatsApp from Play Store
or
Download WhatsApp Scheduler from Play Store
or
all these apps are for scheduling whatsapp messages.
Step 2 :- After downloading install then in you device.
Step 3 :- Now select your contact, date and time and then type the message to schedule it.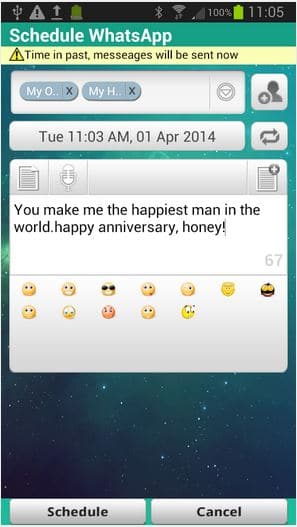 If you face any problem then please comment below.