Have you ever think of making prank on your friends by creating fake conversation on WhatsApp, well then i have a best app for you, its WhatSaid, it lets you create Fake Conversations on WhatsApp by any contact.
So, install WhatSaid on your Android device and Start creating fake Conversations and Make Pranks on your friends.
What WhatSaid do?
The basic function of this app is that it creates fake Conversation on your WhatsApp with any contact you want. It only works with WhatsApp. So by creating fake conversation messages on WhatsApp you can make prank your friends.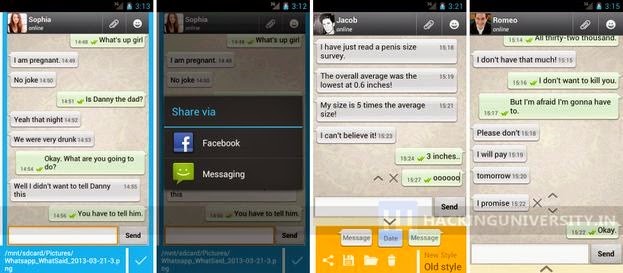 How to Download and Install?
Step 1 :- First Download WhatSaid apk file from the below link.
Download WhatSaid APK from XDA
Step 2 :- Now Install it on your Android Device.
Step 3 :- Once install, open it from the app drawer, and follow the on screen instructions, and create Fake Conversation.
Step 4 :- Now show those conversations to your friends and make pranks on them.
If you like reading this post, subscribe to our mailing list and please do comment.