Every marketer aims to produce ads and content that snares their target consumer's attention amid the clutter. However, very few extraordinary ads make it to the top only because consumers find them so likable that they make them go viral, which solidifies a brand's connection with the masses.
Since social media has seeped more into our lives, courtesy of affordable smartphones and high-speed internet plans such as that provided by AT&T service, we are glued to our phones all the time. Mobile usage has changed content consumption, as consumers scroll through their social media on the go, they want quick and concise content to laugh at and share with their friends.
That's where memes come into the fold. They are created by users to convey their state of mind, lifestyle, and values with a group to connect with them. It is a highly consumed satirical and amusing content all over the web, which is taken from popular culture or the current trend.
Must Read: 10 Ways Social Media Marketing Can Help Your Business
Infusing Memes into Marketing
The idea is not new and is gaining more and more traction as it's obvious that meme currency on social media isn't going anywhere anytime soon. Since customers spend an average of an hour and a half every day on these platforms so marketers may as well use memes to connect with them and build a community, just like consumers use it to connect with other users. Plus, it's way more cost-savvy than other advertising content used to engage with the audience.
However, not all marketers know how to go about with meme marketing, so here are a few tips to nail your meme game:
1. Get to Know Your Audience First
Marketers don't always nail their meme game and can sometimes even put off their audience by using the wrong meme. Whoever is your target market, create memes about things and topics they are interested in and can relate to.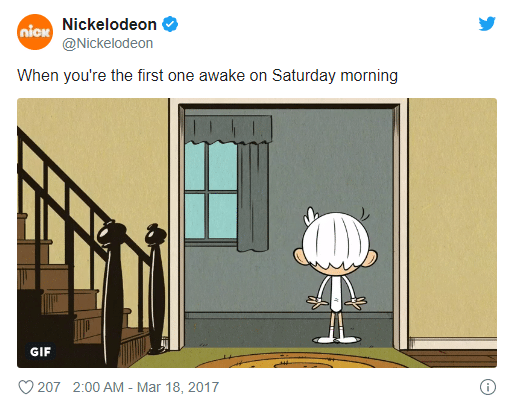 Nickelodeon utilizes snippets of its popular characters from its shows to create a meme, which touches upon relatable topics to its audience and these people, of course, are invested in these characters and programs.
2. Memes and Brand Voice Go Hand in Hand
You may know a lot about popular culture references and what meme your audience love, but are they consistent with your brand voice? Does the meme incite an emotion that is in contrast with your brand? That's where you need to deep dive, sift through memes, and summon your creativity to instigate the emotion your brand demands with an insightful yet hilarious meme.
Your meme content must be genuine and not too conservative so as to come off as a generic and bland ad. The idea here is to involve in commentary along with your audience, which gives your brand a singular and down-to-earth personality, setting it apart from other competitors.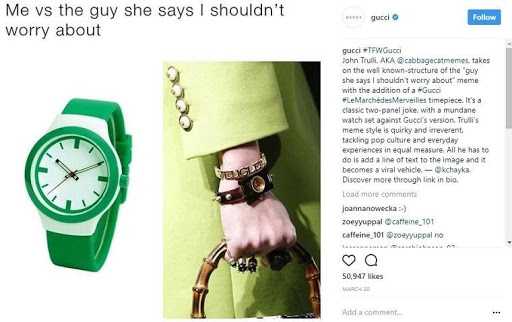 Luxury brands usually steer clear of dabbling in viral trends and humor, but Gucci doesn't think so. Instead of going for fancy visuals that portray exclusivity and sophistication in its #TWFGucci campaign, the luxury fashion house utilized popular memes to draw attention to its high-end watches.
Remember that memes don't appeal to everyone even when they are aimed for millennials or the younger generation, there will still be division. It happened with Gucci when some considered the high-end retailer is encroaching on internet culture, while others applauded it for its refreshing and candid approach.
But the discordant nature of meme marketing shouldn't put you off from incorporating memes into your strategy as they help you strengthen your ties with a specific group and niche.
3. Memes are Not Ads
Memes are aimed at delighting and engaging with your customers, rather than selling them something directly. There is no call to action (at least a direct one), no buy and subscribe option, no pricing, etc. inducted in the content. Do not ever structure them like you would do an ad. Even Gucci commissioned different artists and meme creators, not its marketing team, to create those memes.
HipChat put up a huge billboard using the popular 'Y U NO guy', yet there was no blatant CTAs or any other ad paraphernalia. The simple picture worked like a charm and reports indicated that the traffic to HipChat rose by a whopping 300%.
4. Be Original
Everyone is utilizing and sharing that meme, and you cannot simply re-post the meme as you are in essence, still marketing your brand. So add your brand flavor to the meme to distinguish yourself.
You may be using popular meme formats taken from the internet to entertain your audience, but you need to be creative and original with how you disseminate your brand voice while also make your audience laugh.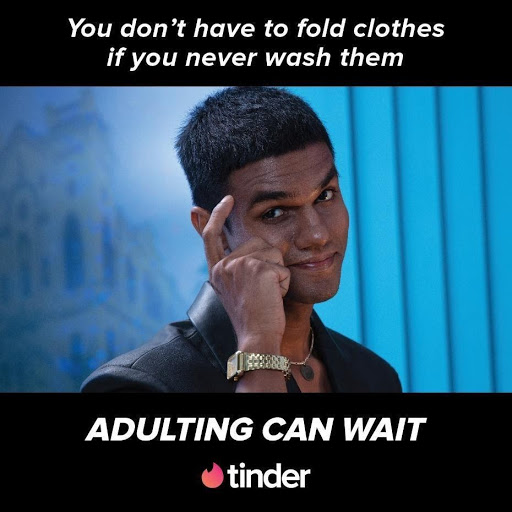 Tinder employed one of the viral memes to add flavor tor their campaign #AdultingCanWait to relate with its young adult audience about their quandaries as a grown-up.
If you run out of content, you can still re-post relevant memes by giving credit to the creator's account as long as they are relevant to your brand. You can also screenshot a tweet from Twitter and post it on your Insta, even add your reply to the tweet. Make sure to always give credit to whoever created the content.
5. Keep up With the Trend
Always post your memes on time when it's trending, if you want your meme to gain eyeballs or even go viral. Trending memes are usually fads, which stem from current events on the play, holidays, product launch, scandals, movies, or TV shows, so you better act quickly and conjure a relatable content.
If you are even a little bit late, your meme will only gather some lukewarm attention.
To Finish With
Meme marketing is always a hit or miss. To avoid any embarrassments like McDonalds UK faced, acquire a decent knowledge of your audience and popular culture. If your marketing team is unable to create relevant meme content, then get meme creators for that purpose. When you nail your meme game, the social media world is going to embrace you with laughter, increased engagement, and popularity.

Author Bio
Baldwin Jackson is a vivacious writer and digital marketing consultant, involved in taking businesses a notch higher. Since I am a part of the digital marketing industry for over 6 years, I know exactly how to use creativity and analytical abilities to assist a variety of online businesses. Also, I can proudly say that I have helped different brands improve their online visibility and create great lucrative opportunities for them. Well, in my spare time when I'm not working which is not often, you will find me engrossed in playing online games– thanks to my stable and steady Internet for giving me a lag-free gaming experience!