The question of which CRM tool is the best is likely to be arisen because of so many options. Marketers today require a system that helps to manage many campaigns, measure, evaluate, and create information on how well they are working overtime. Marketers frequently use a variety of software and platforms to manage their campaigns and track their results. Marketers can select from a variety of alternatives. If you're reading this, you're probably perplexed about the situation. Well! Don't be concerned! An in-depth comparison of HubSpot vs ActiveCampaign vs EngageBay is provided in this post.
Must Read: How Information Technology is Important for Marketing
First CRM that we will talk about in this comparison between HubSpot vs ActiveCampaign vs Engage Bay is EngageBay. EngageBay is a sophisticated, feature-rich marketing tool that can easily compete with HubSpot and Active Campaign. This has marketing automation features that enable email follow-ups and lead nurturing, as well as monitoring, connecting, and converting visitors to leads. Email sequences, automated workflows, landing pages, live chat, forms, pop-ups, and social media tools are all accessible to you.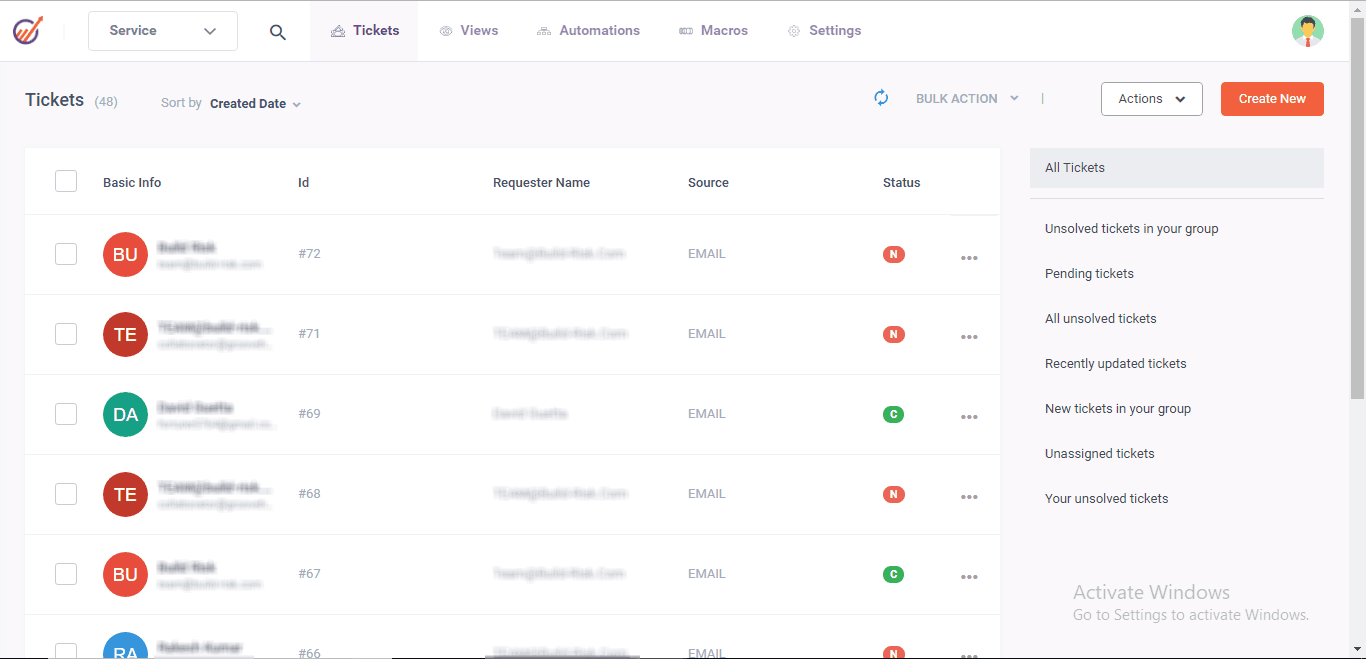 The service desk and 360-degree customer view are what set EngageBay apart from the competition. What makes this apart is the capability to automate across all EngageBay tools. This allows you to manage your support tickets as well as your support department.
What sets this apart is the ability to automate across all EngageBay tools. This implies you can automate your customer services in the same way you can automate your marketing department. Moreover, you can use automation to improve your team's efficiency and productivity across marketing, sales, and support.
Pricing:
There is a free plan that includes all of the necessary features. Pricing starts at $8.99 per month per user and goes upwards to $47.99 per month per user.
Pros:
• Automates marketing and advertising tasks, sales and service workflows, lead generation, and lead nurturing.
• Email marketing: Improves the strength of email marketing campaigns by providing Email templates that are amazing
• With a simple drag-and-drop email builder, you can create email templates in no time.
• Appointment scheduling software that is automated
• Contact management software makes it easier to control track of tasks, deals, and contacts.
Cons:
• Automation tools are not included in the free plan.
• There are some added features that are lacking.
HubSpot is a marketing, sales, content management, and customer service CRM platform. Each of our different Hubs connects to a single database, whether you use just one or the whole platform, as it was built from the ground up as a single system. HubSpot offers you a foundation of connected data to build a truly engaging customer experience at scale as your business expands.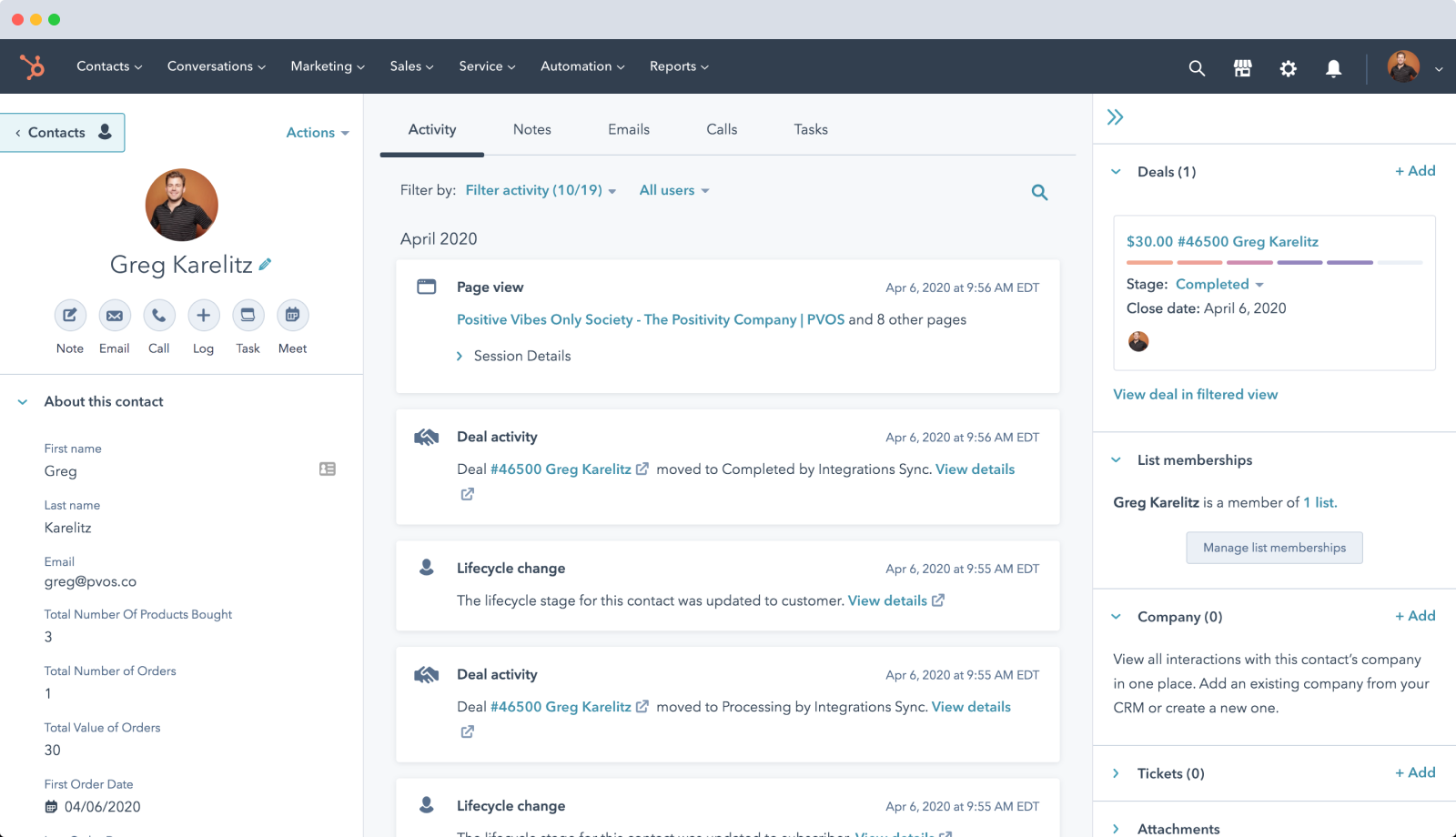 With an unlimited number of users and half a million contacts, their free CRM subscription is quite extensive. You can integrate it with Gmail and Outlook, create forms and newsletters, and give tasks and goals to your team. This CRM is second in our comparison of HubSpot vs EngageBay vs Active Campaign.
Pricing:
HubSpot's CRM is always freely available. On the surface, this appears to be a good deal, but things are not as they look. You see, in order to benefit from HubSpot's CRM features, you must pay for their services. With the free plan, you get a limited variety of forms, 2,000 emails per month, $1,000 in ad spend, five list segmentation choices, one discussion inbox, and limited chatbot abilities.
Nevertheless, as your business grows and you need additional features, you'll be forced to subscribe to at least the Starter plan, which charges $50 a month per user. That may not seem bad, but changing to the Professional plan will cost you $800 per month per user.
Pros:
• HubSpot is a cloud-based platform that offers a variety of services to assist you with marketing, sales, and other parts of your company.
• You'll like how HubSpot can assist you with customer service because it makes incorporating your marketing strategy into your help desk much easier.
• Make use of ticketing and shared inboxes among your staff to keep track of every client question and complaint.
Cons:
One of the first questions to ask while choosing HubSpot CRM is, "How complicated is your sales process?" HubSpot CRM is probably not the best choice for businesses with advanced or complex sales processes.
With over 150,000 customers worldwide, ActiveCampaign is recognized as one of the top CRM tools. One of the most appealing features of ActiveCampaign is its automation services, which allow you to automate follow-up campaigns, update multiple conditions, and so on. The 3 in comparison of HubSpot vs ActiveCampaign vs EngageBay is Active Campaign.
In contrast to HubSpot vs Active Campaign vs EngageBay, Active Campaign's standard reporting features are superior. In addition to conventional campaign reports, you may construct automation reports, communication pattern metrics, interaction reports, and goal-based reports. Ecommerce reports are also provided.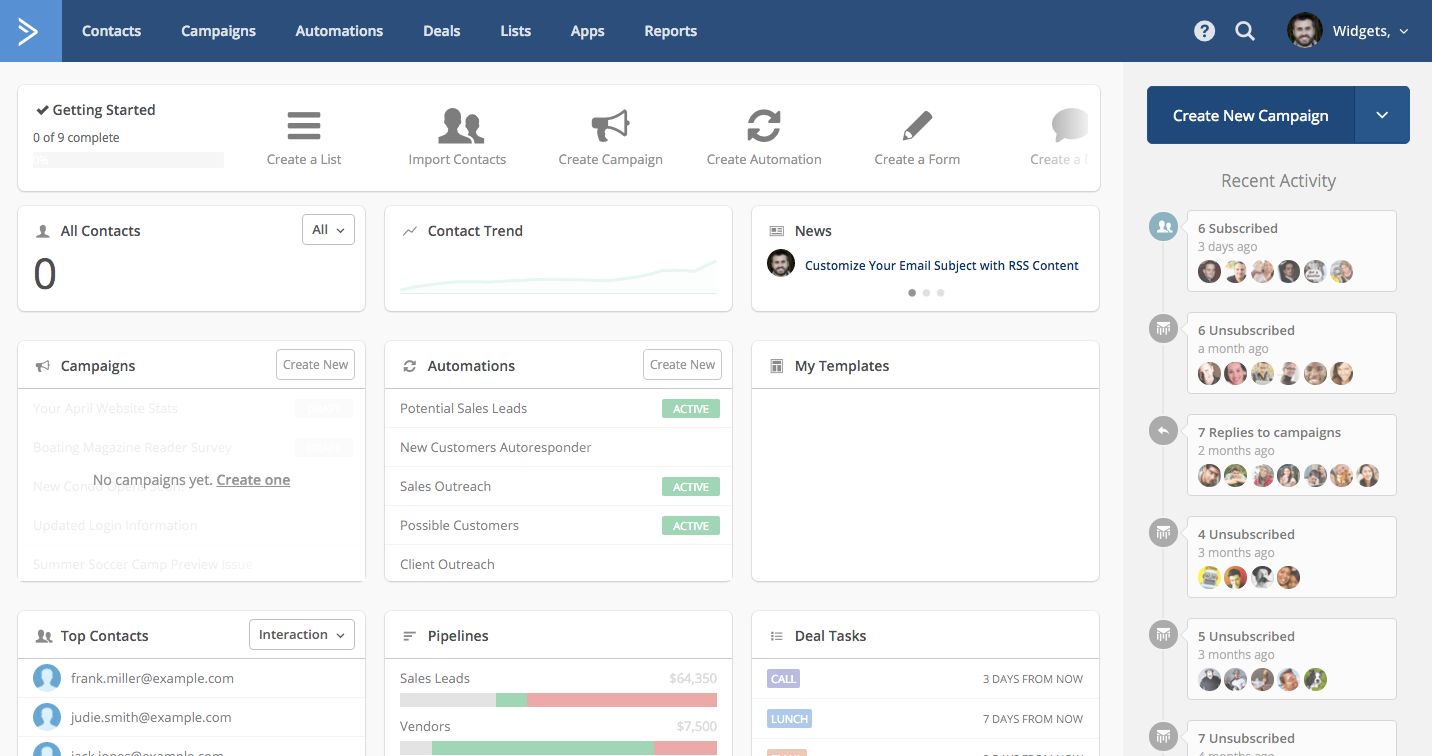 ActiveCampaign is a major competition in HubSpot vs EngageBay vs Active Campaign. If you migrate to Active Campaign, they'll throw in free data migration, training, and onboarding to sweeten the bargain. ActiveCampaign also allows you to sync calendar tasks from Google Calendar, Outlook, and Apple Calendar to your CRM.
All business sizes can benefit from signing up for ActiveCampaign because of its premium features and affordable starter plan. You may personalize your email marketing based on purchasing behavior, order data, and retrieving abandoned shopping carts if you run an e-commerce business.
Pricing:
• Lita costs $9 per month.
• Plus, it's only $49 a month.
• $129 per month if you're a professional.
• $229 per month for Enterprise
Pros:
• Automation tools that are at the top of the movement
• Excellent analytics and statistics
• Migration of your account is totally free.
Cons:
• Beginners may find it a little confusing.
• There is no free plan and the free trial period is limited.