A few months back Facebook released a new android launcher called "Facebook Home".
Basically Facebook home is launcher + lock screen that connect with your Facebook, Instagram, Pinterest, Tumblr and Flickr account to show you news feeds and photos directly into your lock screen with Notifications, comments and much more, with this you can also set changing home screen wallpaper from your facebook photos.
But till now Facebook Home is only supported on a few phones: Samsung Galaxy S4, Samsung Galaxy S III, Samsung Galaxy Note II, Nexus 4, HTC First, HTC One X, HTC One X+ and HTC One.
Facebook Home Features :-
Lock screen: Get time, weather and notifications.
Cover Feed: Browse photos and posts from Facebook, Flickr, Instagram, Pinterest and Tumblr right from your lock screen
Wallpaper: Choose whether to customize your wallpaper with Facebook photos
App launcher: Get to favorite apps quickly
How to Use Facebook Home on any Unsupported Android Device :-
Step 1 :- Firstly visit Play Store and check whether you device is supported on not, click on below button to visit Google Play Store.
Facebook Home in Play Store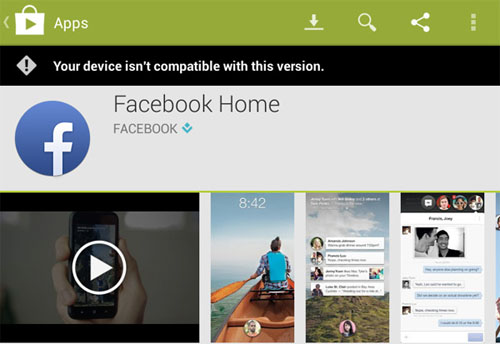 Step 2 :- If your device is not supported then follow the below procedure.
Step 3 :- To install Facebook Home firstly download the modified APK of Facebook Home with fix for unsupported devices from the below link.
Download Facebook Home for UnSupported Devices
Step 4 :- Once downloaded, top on the apk file and choose install.
(Before Installing make sure that you have the latest version of Facebook App and Facebook Messenger App.)
Step 5 :- After Installing start the app from your app drawer and when it says that your device is unsupported just click on use anyway button, that's it now will be able to use Facebook Home App.
If you face any problem then please comment below.