Xiaomi Yi XiaoYi Action Camera Review
The all new Xiaomi Yi XiaoYi Action Camera is a top class all-rounder. Few cameras offer this level of versatility in such a compact, lightweight package.
The camera looks almost exactly the same as its predecessor. There's not much visual flair in the design. The buttons and other controls are also nicely chunky, particularly the mode.we generally Want to see manufacturers making new improvements every year, we can't claim to be overly disappointed here – because this lens is really quite something.
Xiaomi Yi Xiaoyi Action Camera line of point & shoot cameras consists largely of low and mid-range models, but the recent addition Wi-fi of cameras adds higher-end cameras to the mix.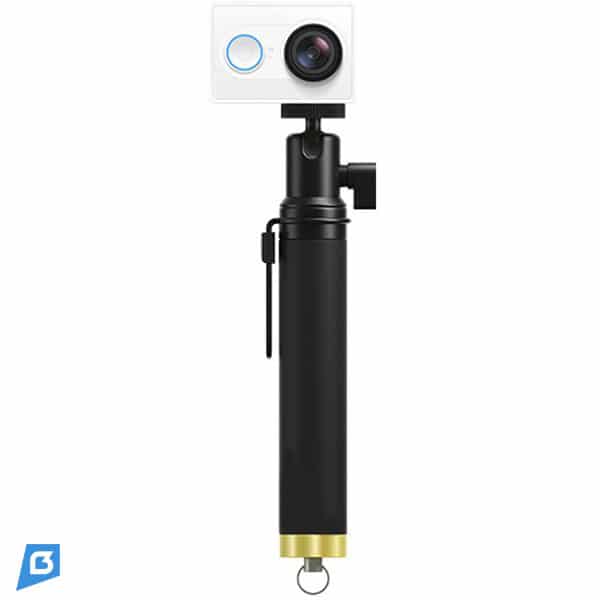 The specifications of the camera are very highly impressive. It uses an high improved Ambarella A7LS Processor and Sony Exmor R IMX206 CMOS of sensor which allows it to record HD 1080p at 60fps. It also comes with WiFi.
At launch, this camera is selling for under $90, Because of its very low price given and the high specification (initial reports indicated that this will sell at $65 but we have not seen it at this price). In comparison between both, the SJ5000 Plus is using same processor and Panasonic CMOS sensor but it has a selling price $170 in the market (but includes accessories). The Xiaomi Yi is likely the most affordable 1080p 60fps camera available today.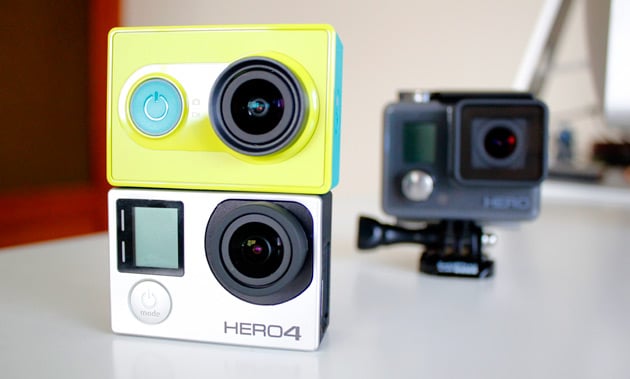 ---
Main Features:
72 Grams and made from PC + ABS and metal composite materials
Ambarella A7LS Processor
Sony Exmor R BSI CMOS 16 million HD pixel sensor
155 degree (Mobile Phone 89 degree) wide angle lens
3D noise reduction
Wi-Fi connectivity upto 100 meters disance, directly transfer video and photos to your smartphone
BLE ultra-low power consumption
WI-FI and remote App control to your phone
4 Operating high modes include: Photo, time-lapse photo, timed photo and video
Share your photos and videos In social media within 10 seconds using the smartphone APP
HD digital motion video recording device
Ultra compactable and light weight design
Support micro SD card up to 64GB (not included)
Detachable battery that is easy to remove and place in your cameras service life
Perfect for outdoor sports, extreme sports, home security, car DVR, etc.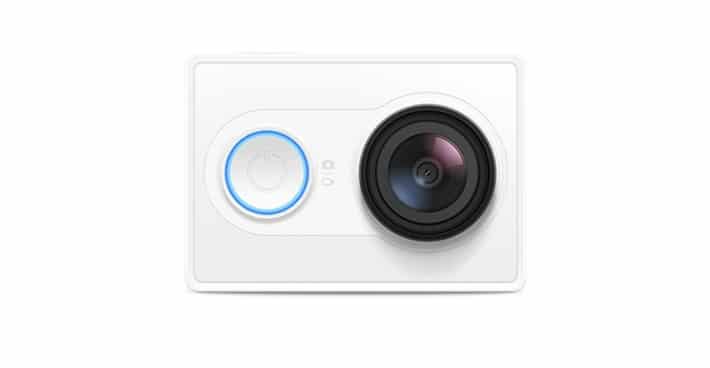 ---
Xiaomi Yi vs. Go Pro Hero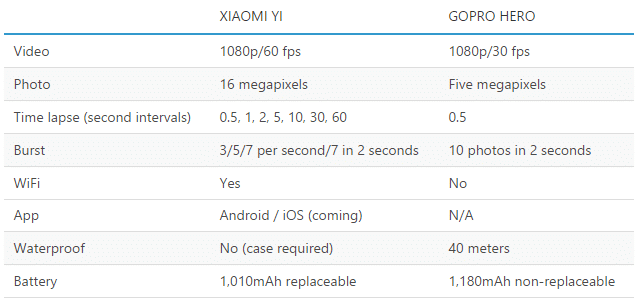 If you are a tech person and want to buy some more cool gadgets than also check more products.