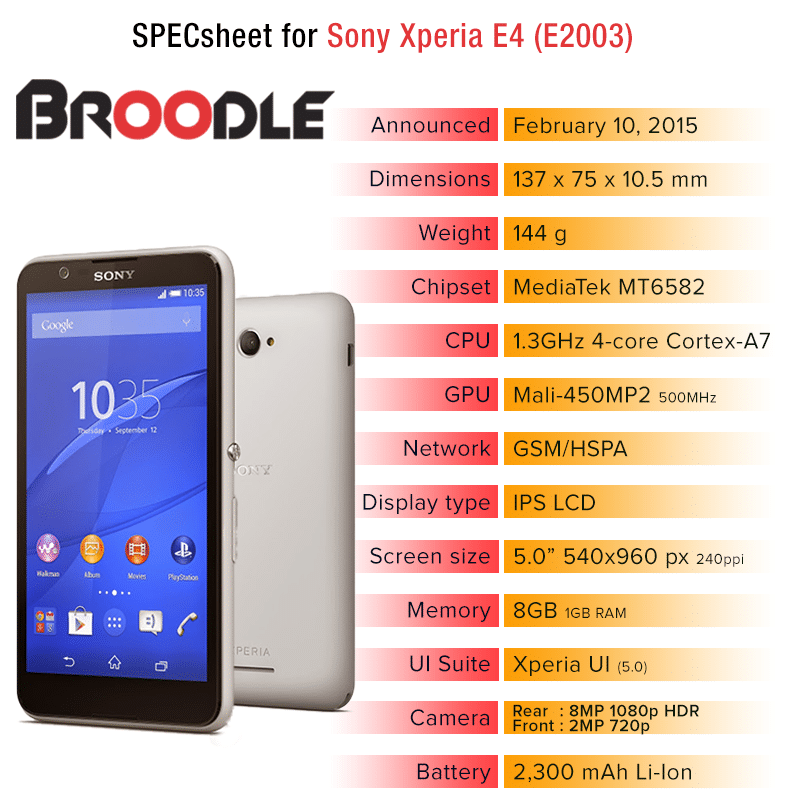 Description :-
This is Sony first phone that was launched in 2015. Sony Xperia E4 will be available in two variants; the single SIM (E2003) and also dual SIM (E2033) version. Both version will be powered by MediaTek quad-core processor running at 1.3GHz, supported by 1GB of RAM. This phone will be the first from Sony to be running Android Lollipop (5.0) out of the box.
This phone is essentially an upgrade to its Xperia E budget series; Xperia E1 & E3. The screen size was bumps up to 5-inch, compared to 4.5-inch on Xperia E3. The storage was also double in this newest iteration, up from just 4GB in E3 to 8GB in this E4.
Camera wise, it got a 5MP back shooter with 1080p video recording capability, plus a decent 2MP front selfie camera (720p video), a serious improvement over the VGA front camera on E3. This phone will only supported 2G and 3G HSPA bands, with no LTE support. There will be two color options to choose from: White and Black. No pricing or availability information was given, as the phone was 'silently' announced by Sony.
Video :-
[youtube http://www.youtube.com/watch?v=Phmu_Vra_bw]