The Qualcomm Snapdragon 820 is the fastest processor on the market: The Antutu benchmark database has published a top 10 of the CPUs with the best performance. Qualcomm's current high-end chipset thus tops the list but in Apple A9 and Samsung Exynos 8890 are also not too far behind.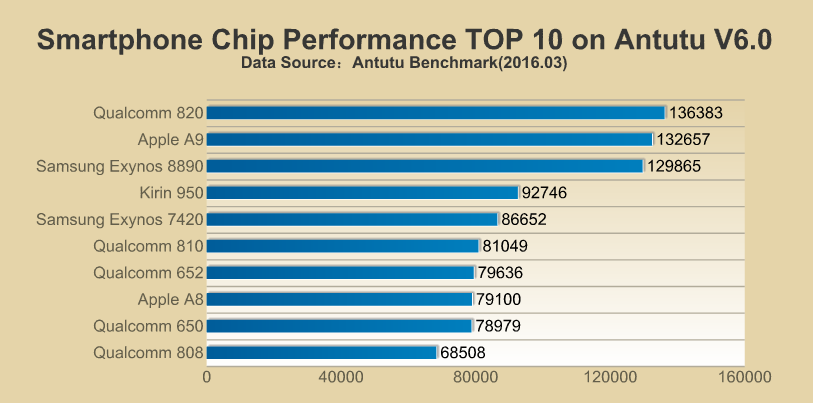 In the list Antutu did not incorporate the highest values of the respective processors, but determined averages. The tetranuclear Snapdragon 820 from Qualcomm ends with a score of 136,383 points for the first place, which the Galaxy S7 and the LG G5 hosts. Apple's A9, who performs in the iPhone 6s, comes with 132 657 points to second place. In third place, the Exynos 8890 which reached 129 865 points and is in this country built into the Galaxy S7. Far behind lands of Kirin 950 with 92,746 points in fourth place, which is, for example, the heart of the Huawei Mate.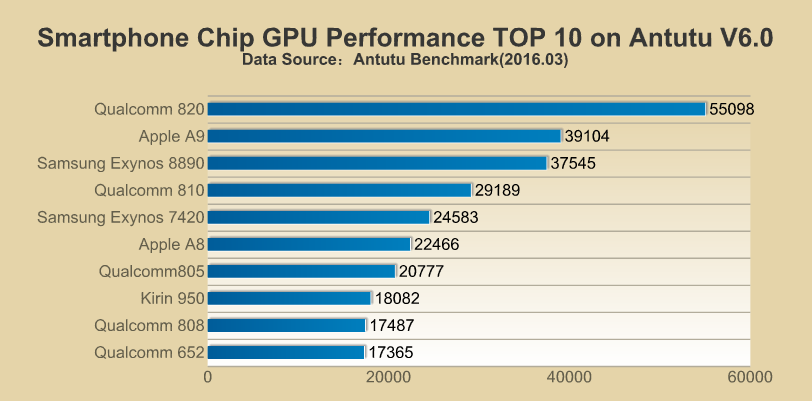 Regarding the graphics performance of the Snapdragon 820 lands with the Adreno 530 graphics unit as more clearly in the first place: The GPU Qualcomm reached in test 55,098 points. The iPhone 6s chip with the M9-motion coprocessor comes with 39.104 points to second place; third place takes 37,545 points also in this ranking of Exynos 8890th Noteworthy: The Snapdragon 810 lands in fourth place, while Kirin 950 comes in this category only ranked eighth. Qualcomm claims the 530 will achieve graphical performance that is 40% faster and up to 40% lower power consumption over the Adreno 430 in the Snapdragon 810. The unit will supports 4K video resolution at 60 frames per second. Apple's PowerVR GT7600 is a six-core graphics engine in the A9 and Apple claims 90% faster graphical performance over the iPhone 6 in marketing the new phones. The A9′s graphics performance is 25% faster than the next highest performing phones, which are the Galaxy S6 Edge, S6 Edge+ and the Note 5.
Have something to add to this article? Share it in the comments.
Source: AnTuTu