Movavi Video Converter for Mac Review
Fast and Easy to use Video Converter for Mac
Do you need to convert your videos to a particular format so that you can watch them on your smartphone or tablet? Maybe you want to also optimize it when you do so – to make sure that it doesn't consume too much space? Make no mistake, it will come in handy to be able to convert the formats of your videos as well as alter their settings, but you need the right software to do so.
The Easy Option for Video Conversion
One of the main reasons why most people don't ever convert their videos is the fact that it has developed a reputation as being a difficult and complicated process. It is easy to see why that is the case – considering you need to know not only what format would be ideal, but also what other settings you should or should not alter. The good news is that with the Movavi Video Converter for Mac you don't need to worry about all of that. Instead, you'll be able to utilize the hundreds of presets that come with it to automatically configure and optimize the video format and settings. The presets that are available include support for mobile devices as well as online platforms such as Facebook and YouTube too. In short, all that you need to do to convert videos with this Mac converter is add your video to the software, pick a preset, and start the conversion process.
---
Icing on the Cake
Sometimes you may need to do a bit more than just convert the video format so having additional features as part of the software you're using would definitely help. In this regard the Movavi Video Converter for Mac certainly doesn't disappoint and it will let you cut and join video segments, enhance the video quality, crop and rotate the video frame, as well as add captions and watermarks. If you want you can also regulate the sound, extract the audio from your videos, add new audio tracks, or convert your video clips into animated GIF files too.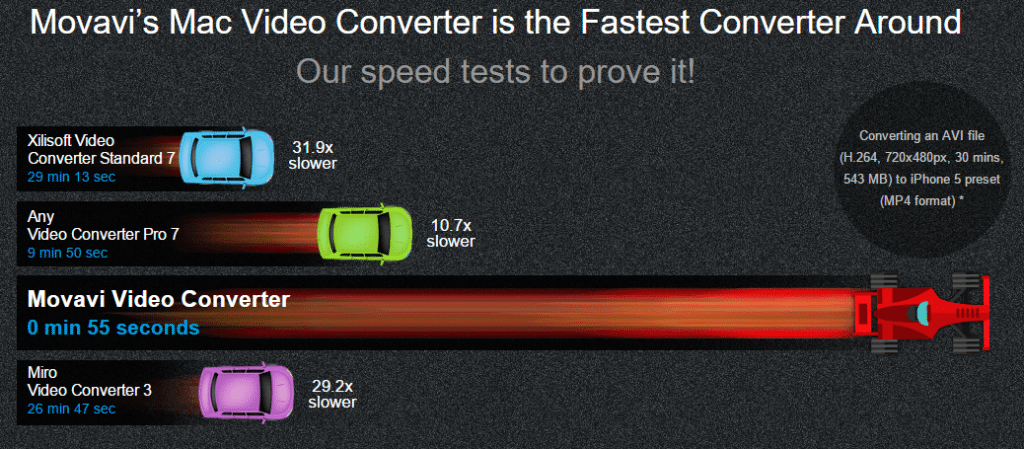 All of these features have the same user-friendly and intuitive approach that the Movavi Video Converter for Mac emphasizes so strongly. It should be no trouble figuring out how to use its features, even if you have absolutely no prior experience whatsoever and don't know the first thing about videos, video formats, codecs, or anything else for that matter.