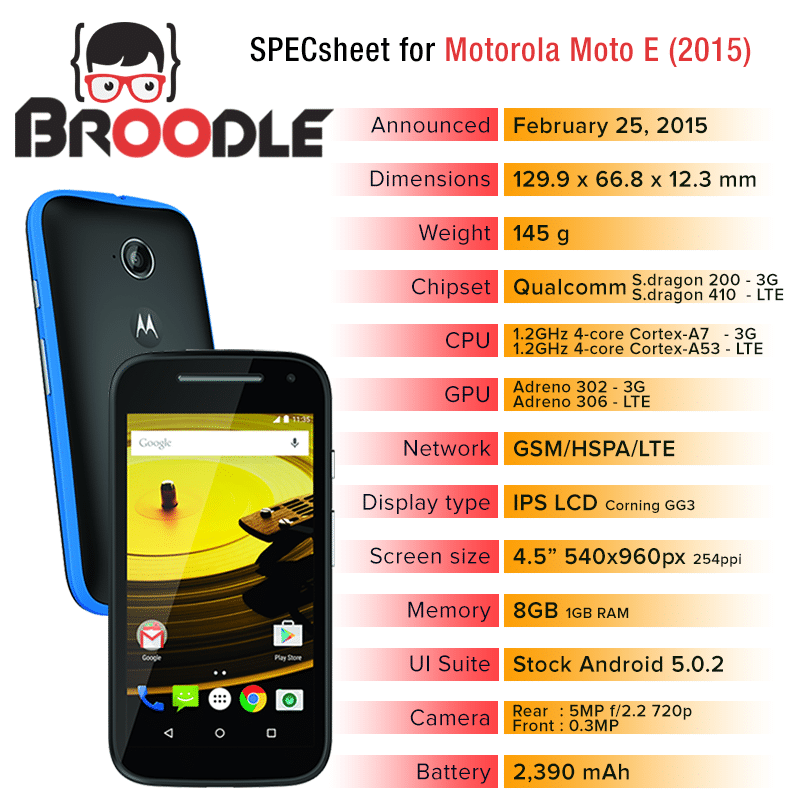 Introduction
In May last year, Motorola has announced its first most affordable phone, the Moto E, with a price tag of only €100. The mid-range Moto G has got a tremendous acceptance in the smartphone community, and the Moto E join the crowd at the best possible moment. Now Motorola has introduced the updated 2nd generation Moto E with tons of welcomed updates.
Design
Motorola continue the clean and sleek front design from the first generation Moto E onto this second generation. The first thing to be noticed when looking at the front of the device is the fact that the bezels were significantly reduced. This new Moto E is only 5mm taller than the old one but sporting a larger 4.5-inch IPS screen compared to 4.3-inch on the original model. However the screen resolution was still stuck at qHD (540x960px) making the ppi to decreased from 256 ppi on original to 245 ppi on this 2015 version. The speaker position has been moved to top and integrated with the earpiece, leaving the lower bezel thin, mirroring the one on the Moto X. On the back, this phone adopted the design of that the Moto X (2nd gen) and the Moto G 2014, with big camera ring on top along with the M logo slightly below. What interesting with this newest iteration is that Motorola introduced colorful swappable bands specifically for the Moto E. The phone looks sturdy and not cheap at all.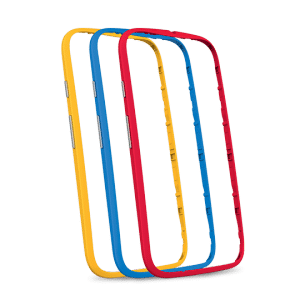 Under the hood
Motorola announced two main version of the new Moto E, one with the quad-core Qualcomm Snapdragon 200 (3G version) and one with the 64-bit quad-core Snapdragon 400 for the LTE version (XT1527). The 2014 version is powered by dual-core Snapdragon 200. The 3G version will be available in two variants; XT1511 for the US GSM (850, 1700, 1900 MHz) and the XT1505 for global bands (850, 900, 1900, 2100 MHz). Moto E will only be available with single SIM option. Both versions will get an 8GB of ROM and 1GB of RAM, up from just 4GB of ROM in the original model. Removable storage is supported, up to 32GB via microSD card. The battery is hugely bumped up to 2,390 mAh from just 1,980 mAh.
Cameras
Motorola also updated the camera module for this phone, with a 5-megapixel auto focus main camera with f/2.2 aperture, compared to a fixed focus one on the original model. A VGA front facing camera also has been included in this updated moto E, while it is absent on the 2014 version.
This phone is readily available in the US for $149.99 for the LTE variant in two color options: White and Black. In India, only the 3G version will be available starting from Rs. 6,999 via Flipkart with no availability date is mentioned. Moto E is launched with Android Lollipop 5.0.x out of the box.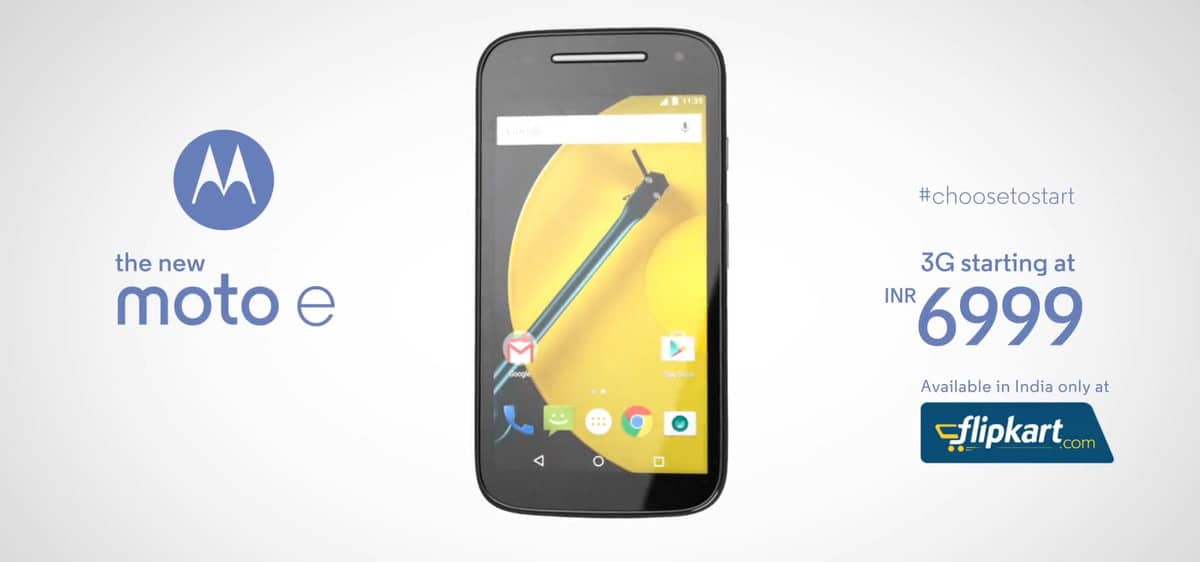 [youtube http://www.youtube.com/watch?v=tAr7WwnFwjk]