WhatsApp is a widespread app which is used by billions of people. Its popularity is incomparable when it comes to messaging.
You all must be aware that Mark Zuckerburg, the owner of Facebook has bought WhatsApp for $19 Billion. It all happened when the WhatsApp app became more popular than the Facebook messenger app. Mark Zuckerburg himself said, "WhatsApp is a great company and it's a great fit for us. Already almost half a billion people love using WhatsApp for messaging. It's the most engaging app that we've ever seen that exists on mobile by far. About 70 percent of people who use WhatsApp use it every day, which kind of blows away everything else that's out there." Facebook messenger app and WhatsApp app are no more the competitors but are compliments. Many mods like gbwhatsapp are also available for WhatsApp users.
But even now when it comes to the users as which message application is better, there are some points in which Facebook messenger app wins and other in which WhatsApp messenger app wins.
So go on reading this article to find out which one is your favorite.
We will go on comparing them point by point: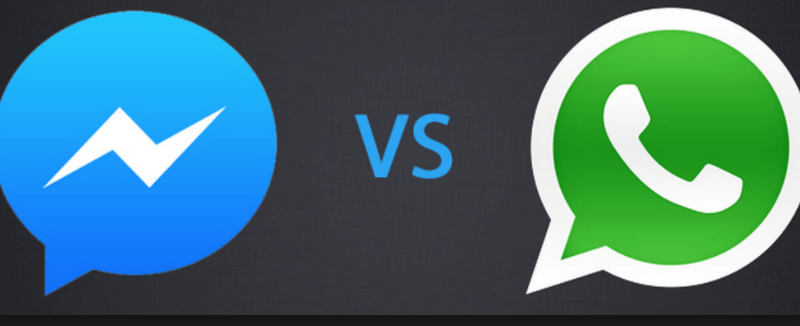 1. USER INTERFACE
When it comes to the user interface, WhatsApp has a very easy to use interface as compared to Facebook messenger application. But the people who are techy might love the messenger user interface. So overall the WhatsApp user interface is such that any new user who is new to using the app and stuff, can get to use WhatsApp app quickly and easily as compared to the messenger app.
2. SENDING CONTACT FEATURE
WhatsApp feature which I personally like is that you can send the contact available in your contact list directly to some other contact without noting down the number first. All you need to do is select an option to send contact and then choose the contact from your contact list and just click on the send button.
So here, WhatsApp message app wins, leaving Facebook messenger app behind.
3. DEVICE SUPPORT
WhatsApp is not made only for smartphones like Android, windows but also for feature devices like Nokia S40 etc.
4. EASY LOGIN
With WhatsApp, you don't have to remember your login credentials but with Facebook messenger app you have to remember your login credentials.
5. SIM CARD
To create a WhatsApp account you need a sim card as WhatsApp verifies your mobile number while creating an account.
6. SECURITY
There is the end to end message encryption of all the messages in WhatsApp. Facebook messenger also has this feature but the encrypted messages have a certain time limit after which they disappear and not all the messages are encrypted. Hence WhatsApp app wins in this feature as well.
7. LOW BANDWIDTH
WhatsApp requires less bandwidth as compared to the Facebook messenger. It can connect to even the weaker wifi signals. Facebook requires a good speed internet connection to work. WhatsApp is quicker than the messenger. Data usage is low in WhatsApp than the Facebook messenger app.
8. CONTACTS ADDED BY DEFAULT
Facebook messenger requires the user to add people to whom to would like to connect but this is not so in WhatsApp app. WhatsApp by default add the people in your contact list to your WhatsApp list if they are using WhatsApp.
9. COMMUNICATION OVER THE FRIENDS ON PHONE AND NOT ON WEB
WhatsApp has replaced the SMS and MMS and you can WhatsApp to the people of which you have the contact number. Hence it is much more private and secure. If anyone wants to send any message, knowing the name is not enough in WhatsApp. They must know your contact number too.
But this is not the case in Facebook messenger app. Any person, they know your contact number or not, can message you by searching your name. Facebook is more like communicating over web and WhatsApp is more like communication over the mobile phone.
WhatsApp feels more like your own personal space where you have only the close one in your touch while Facebook messenger is not as anyone can message you there.
10. TWO WAY VIDEO CHAT
In WhatsApp, you can have two-way video chat. You can have a voice call as well in WhatsApp and it works like an ordinary phone call.
So overall, I personally like WhatsApp and you can decide your favorite from both of the points mentioned above.