In this tech-savvy world, it is imperative to have devices to keep up with it. From the latest smartphone to the smart Tv, everything is part of that process. They are of better quality and bring convenience at a lesser cost. People are loving these new age gadgets and one such thing is the laptop. For most teenagers, it is the ideal device to have.
Laptops which are often called notebooks are small, portable personal computers with a thin computer screen and an alphanumeric keyboard on the other lid. The idea followed after personal computers became popular. But people wanted something that could be carried anywhere and that was not possible with CPU and all the wiring required. Soon, companies started working on it and they made portable computers available to the customers. Then they worked on the screen and brought the LCD screen which made it sleek and fashionable. It also came with a rechargeable battery, a huge leap at that point in time. But it was only after years that such things were made easily available to people at an affordable cost.
The traditional laptop usually had a screen on one lid and keyboard on the other. It can be easily folded and size varied from 11 to 17 inches. They featured operating systems like Windows, IoS, Linux etc. They were the most common laptops as they fulfilled the requirement of most people. As technology kept advancing at a rapid rate, there was a newer version of the traditional laptop every now and then. Then came subnotebooks which were highlighting on extra portability. They were small sized laptops thus light weighted and had good battery life exceeding 10 hours. One example is Apple MacBook Air. Netbooks are energy efficient laptops suitable for wireless communication and internet connectivity. There are rugged laptops which can be used for harsh conditions and provide extra durability whereas there are business laptops which are specifically designed for workplace conditions. Student laptops are also becoming popular which are aligned with the needs of students and often record high sales.
The latest trend came with convertible laptops also known as 2-in-1 laptops. These are crossover devices which feature traits of both tablets and laptops. They have a detachment mechanism through which keyboard can either be removed, rotated, slid behind etc. They often a bit expensive but usually ffulfillall the requirements of a prospective buyer.
When it comes to buying a laptop, there are several aspects you must consider before taking the decision. Only if the device aligns to your requirements, then you may go for it. Thus, let us discuss what are the 7 things you must know before buying a laptop: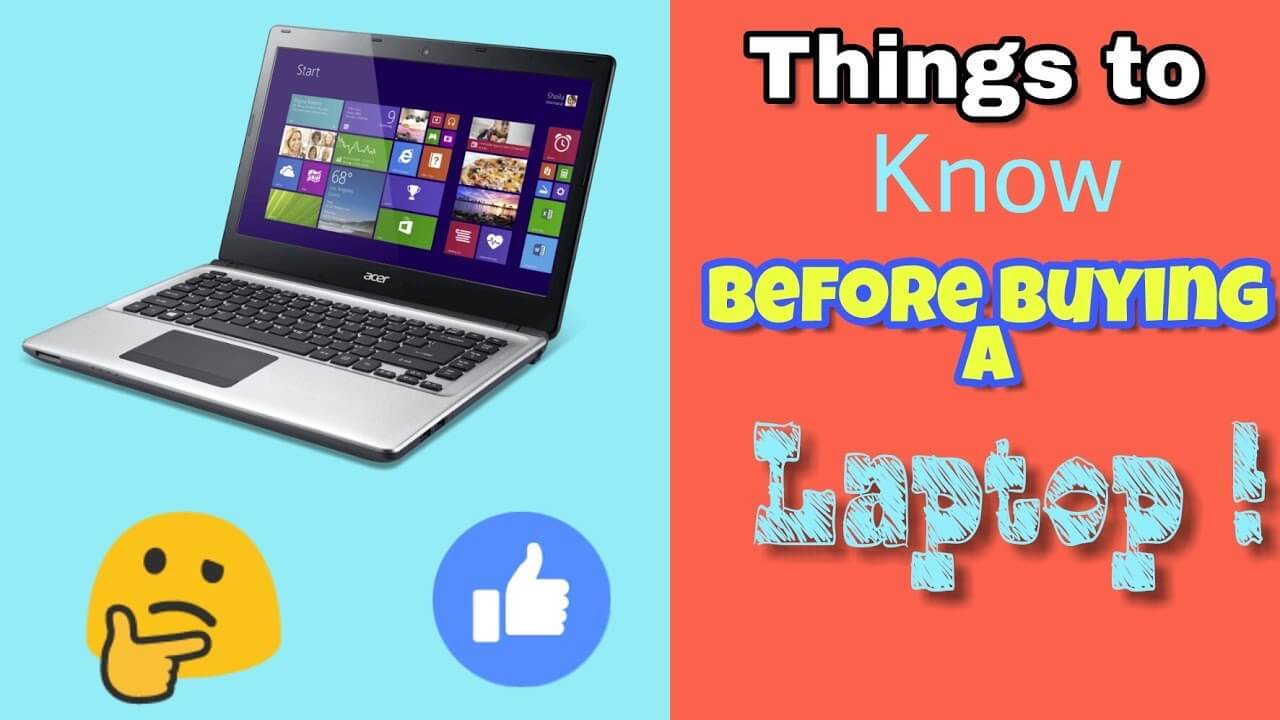 Size
The first thing that you look in a device is the size. You make an opinion on whether it is too big or too small. Thus, it is very important that you pick a laptop of the right size. Size was earlier in direct relation to its weight. But now even big laptop can weigh around 1.5 kg and thus you have to make an informed decision regarding this. It is important for you to decide what screen size you want, either a 11 inch or a 15-inch screen. It is always preferable to buy a light weight laptop for its easy portability.
Screen
With so much time spent on these laptops, it is only imperative to lock down on a good quality screen. You should be comfortable looking at your screen and there should be no strain in your eyes. One must go for a higher resolution screen for better quality. You can look for touchscreen and glossy ones as well, but make sure they work for outdoors as well.
Keyboard
Keyboards are also as important as we might be typing continuously for hours. A keyboard of bad quality can result in tired fingers and a distasteful experience. It is good to have a responsive touch pad. Also, prefer a backlit keyboard as they help you work even in dim lighting.
RAM
Random Access Memory or RAM that stores the data code that is currently being used. It is vital for the system as more RAM helps in accessing more applications simultaneously. But obviously, more RAM leads to a higher price as well and thus a balance has to be maintained. In some laptops, there are additional slots available where a user can get the RAM increased even after years of purchase.
CPU
Processors to a laptop is like a brain to a body. Without them, laptops will be nothing and that is the reason so much significance is given to them. It is generally said that buy the fastest processor you can afford as they help you use the laptop for a long period of time. You have to look out which processor will suit and go accordingly. Like Intel i7 is generally used for laptops which are meant for high tech applications and thus require the fastest chips. Budget laptops carry i3 while moderate users use i5 which is reasonably good if paired with an integrated graphic card.
Graphics
Talking of graphics, now laptops are enabled with the graphics card as well. Intel introduced HD Graphics card with its processor which helped users to play media, net surfing and mild gaming as well. As there are gamers out there, graphics card become as important as any of the feature. They use cards of Nvidia and Radeon to experience high end gaming which is only possible with a dedicated GPU (Graphics Processing Unit) at the place.
Battery
If there is one thing that you will find constant with all the devices, it is the battery. Its life is a concern for everybody especially with portable devices. One must always look for mAh rating of the battery. Higher it is, longer it will last. It also depends on the usage of the person. Basic user will find the battery okay whereas another user running multiple applications with gaming will find the battery draining at a faster rate. Also, check if the battery is removable or not, then only take the decision.
After you have considered all these factors, you can start looking for the right models. With various websites having exciting deals, you can get it at the best price possible.Look online and avail the tata cliq offers. Finding the right laptop for oneself is a task, but once done it is all good from there. I wish you good luck.