In a scenario where you need to install the same app on multiple Windows Phone device, Corporate or for Family Members, downloading every time is a waste of bandwidth, for this you can use a single downloaded file and install it in various Windows Phone Devices by placing it in their SD Cards.
Today i'm going to show you an easiest guide fro installing Apps (.xap) in and Windows Phone 8 device.
Download Windows Phone Apps Manually :-
Step 1 :- Firstly Go to WindowsPhone.com > Apps + Game > Search, and then search or Select the app that you want to download.
Step 2 :- Next Scroll down a bit, and look for a link which says "Download and install manually", click on it.
Step 3 :- This will start downloading the xap file.
Step 4 :- Now copy downloaded XAP file to your SD Card.
Installing from SD Card :-
Step 5 :- Now after copying it in SD Card insert your SD Card in your phone.
Step 6 :- Next Click on the Windows Phone Store Tile.
Step 7 :- Select SD Card from the option.
(If you don't see SD Card option in your Windows Store then reboot your phone)
Step 8 :- This will list down all the .XAP files or the apps available in your SD Card.
Step 9 :- Tap on it to install and it will appear in its respective place.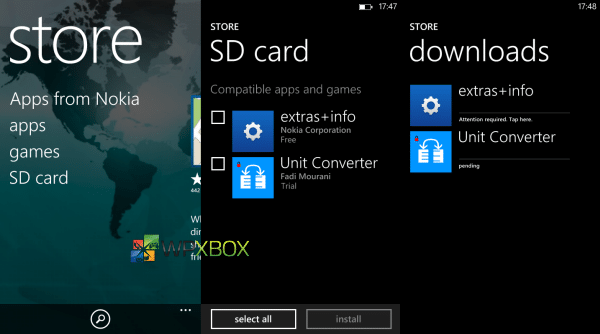 If you face any problem while installing from SD Card then please comment.