Everyone wants to have his PC running at peak. And this is the reason that at the time of purchase we always look out for the PC that is equipped with the latest hardware, processor, memory, motherboard and obviously the latest operating system. Also, as compared to its predecessors Windows 10 operating system is one of the most optimized and fastest OS delivered by Microsoft.
But the bitter truth is that the PC prepared with latest hardware and OS also starts slowing down with the time. And once the performance starts degrading than the first thought that strikes to everyone's mind is to purchase a new PC. But not only a new PC will burn a hole in your pocket but also it will too start lagging and slowing down after some time. Therefore, in this article, we have summed up 5 tips that will surely be going to help you in speeding up your Windows 10 PC.
Remove All the Unnecessary Programs from Startup:
Most of the modern-day applications are designed in a way that they automatically launch at startup of the system. Although the idea behind the automatic launching of the apps is that they will be available to use as soon as the Windows boot. But on the other side, it also adds an extra bit of time to the boot process of the computer. Now, just imagine if you have tons of applications installed and all of them are trying to load at system startup, then cumulatively it may easily increase the startup time of PC by 2-5 minutes. Therefore, the very first step that will help you in speeding your Windows 10 PC is to disable all the unnecessary programs from startup. Moreover, disabling the programs from a startup is always a good idea as you can manually open those applications whenever needed.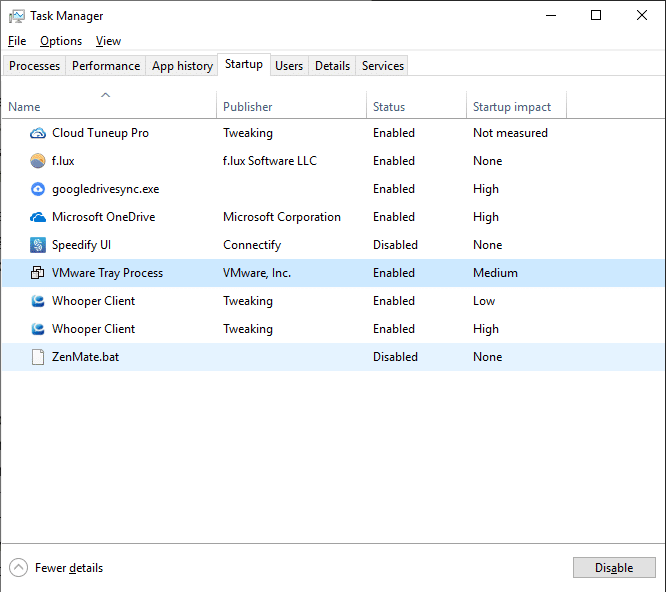 In Windows 10 you can easily manage the startup programs. To do so open task manager by pressing Ctrl+Shift+Esc. Now click on the startup tab, select the app you wish to disable at startup and then press the Disable button. From, now onwards that application will never automatically launch with the startup of Windows.
Create Free Space on Your Hard-Drive:
No matter how much the size of the hard drive has increased, still many people find it challenging to free up space on it. And the most possible reason for it is redundant data, duplicates files and photos, unneeded programs and their data. Now once your hard drive is running low on space, there is a noticeable degrade in the performance of your PC. You will find that the applications will take more time to load. Many of the apps will start misbehaving or will start crashing. Due, to all this you find your PC lagging and slowing down.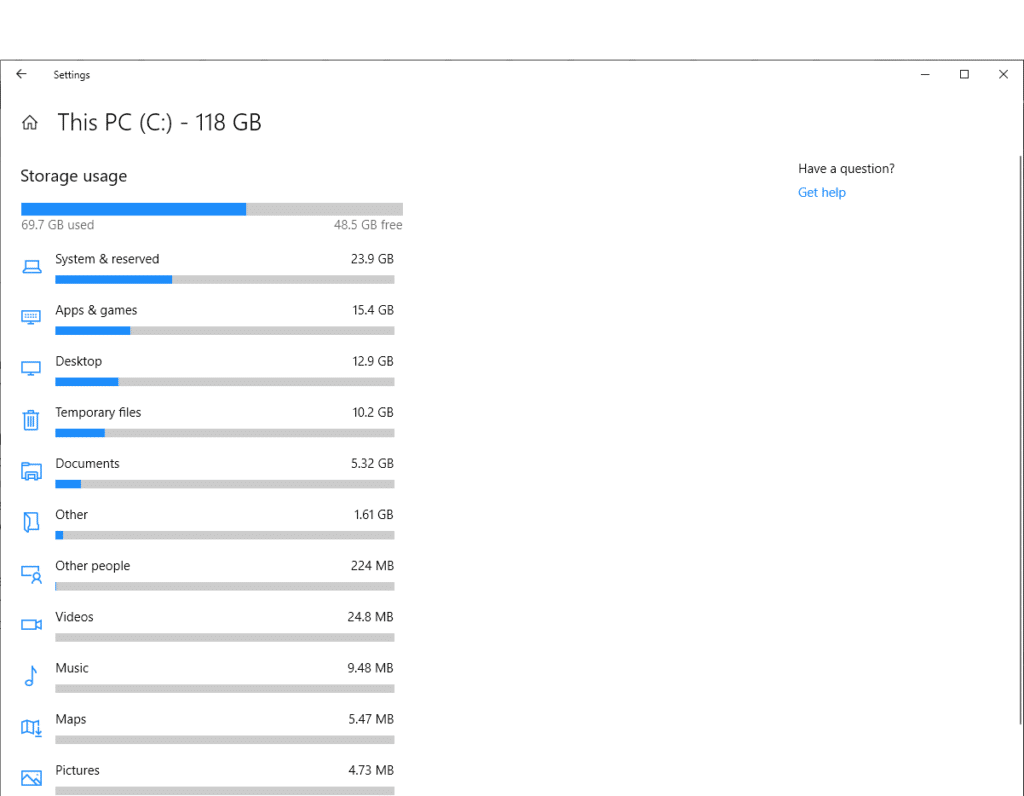 So, to overcome this problem it is strongly recommended that you look out for the old and unneeded files and delete them to make some free space on your disk. Also, Windows 10 has inbuilt disk analyzer that can provide you with the complete breakup of your used space. To do so click on Start menu > Settings > System > Storage. Now select any of the partition to see the complete breakup of the data. This will help you to find and remove the unneeded data and files. If you find that the major portion of the hard disk is filled with photos and that too with duplicate photos, then you have to use tool to find the duplicate photos. You can look around the web and pick a duplicate photo remover software based on its ratings and review.
Uninstall Unneeded Programs and Software:
When we have a brand-new PC, delivering peak performance, we start installing a lot many programs. Also, the new device also comes with a lot of pre-installed applications, out of which are majorly unrequired and unneeded. With the passage of time these unnecessary apps that are either installed by us or come pre-installed not only occupy a lot of storage in the hard drive but also unnecessarily consumes the system resources making the system sluggish. Therefore, to optimize the performance for your PC it is advisable to uninstall all the applications that you do not need.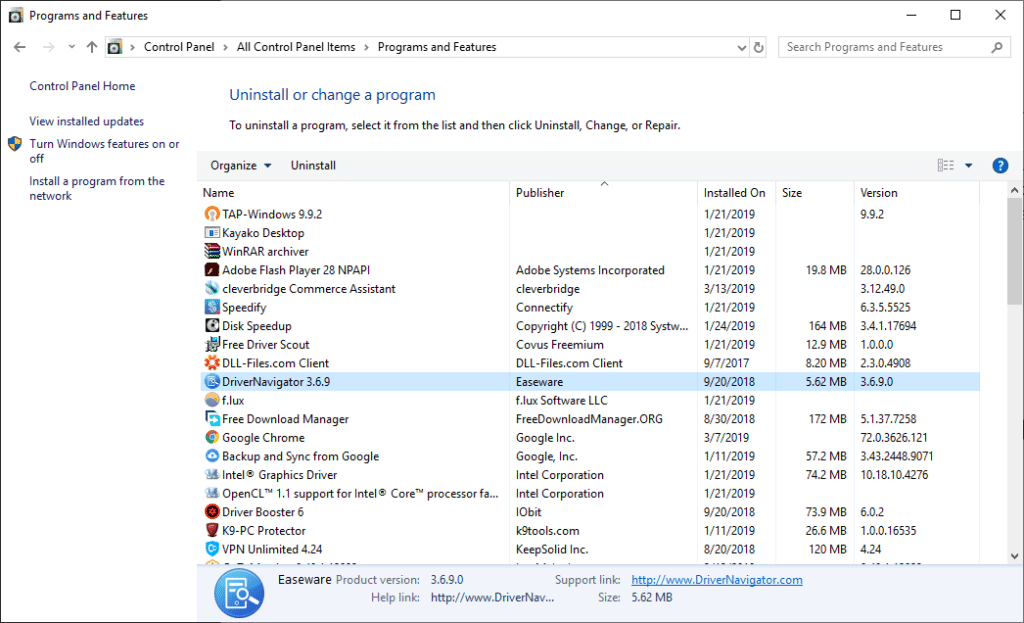 To do so, head to control panel > Programs and Features. Now carefully go through all the installed programs and remove/uninstall all those that are currently not required.
Disable Special Effects:
When compared to the previous versions, Windows 10 is enriched with a lot of visual effects, graphics and animations. No doubt that these animations look cool but on the contrary, they also degrade the performance. So, disabling these special effects will also help to speed up Windows PC.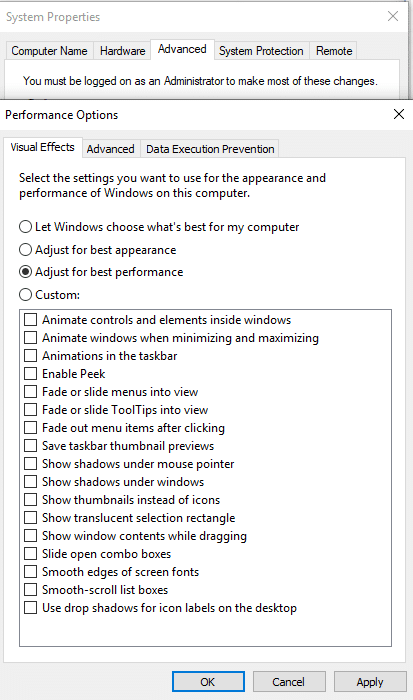 To do so press Windows+R, In the run box type the command sysdm.cpl and press enter. In the System Properties Window click on Advanced tab, now in the Performance section click on Settings and in the new window that open select Adjust for best performance. Click on Apply and OK to save the changes.
Keep your Windows 10 Updated:
Microsoft keeps on pushing Window updates from time to time. These updates not only include the latest security patches and updates to protect the PC from threats but also comes with tweaks to optimize the performance of your system.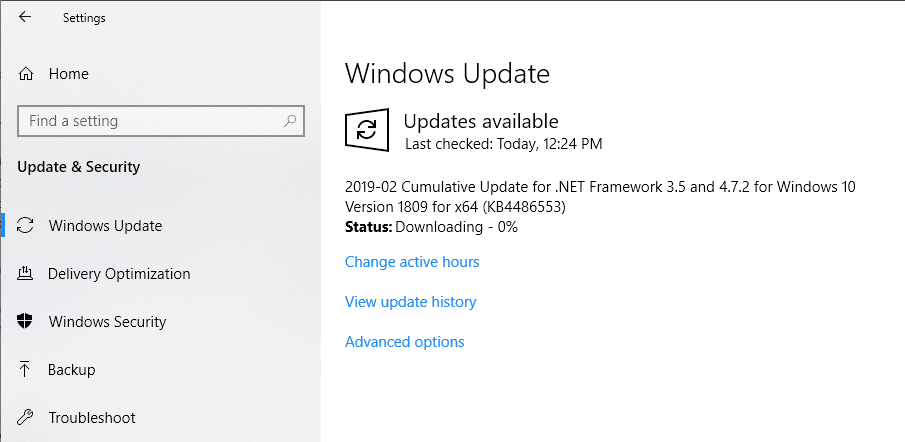 To download the latest updates for your Windows open Settings > Update & Security > Windows Update. Now update your Windows in case you are not running the latest version.
So, guys, if you too feeling that the performance of your PC is degrading, then the above-listed tweaks will surely help you to speed up your Windows PC.