Upgrade Micromax A120 with Official Android 4.42 Kitkat Firmware.
Canvas 2 Colours A120 is another decent smartphone launched by Micromax at a decent price, Micromax also guarantees Android 4.4.2 Kitkat update over FOTA but they didn't launched it over OTA till now, however MyPhone (a brand of Philippines who sells Micromax Smartphones as rebranded) has provided kitkat update on their same smartphone and is working all fine for Micromax Canvas 2 Colours A120.
This Update is also being provided by Micromax only if you visit one of their service center.
In this tutorial i will post about how to install this KitKat update in your Micromax A120 without going to any service center.
How to upgrade Micromax A120 to Android 4.4.2 Kitkat (Official) :
Before proceeding further please make a backup of your device with CWM Recovery or MTKDroid Tools.
Step 1 :- Firstly Download Required PC Drivers for A120 from the below link.
Step 2 :- Now Download Official Android 4.4.2 Kitkat firmware from the below link.
Download Android 4.4.2 Firmware for A120
Step 3 :- After downloading the Zip of KitKat Firmware & Drivers From The Above Links, Extract Them Into A Separate Folder into your PC. [Please Turn off Your Anti-Virus During The Process For Some Time.]
Step 4 :- Now Install The Extracted Tinno Driver From The Folder. (If A Type of Security Pop-Up Comes Then Simply Click install This Driver Software Anyway.)
Step 5 :- Now Switch-Off You Canvas 2 Colors, Remove Battery & Re-Insert It to Ensure that its Properly Switched Off.
Step 6 :- Next Open SP-Flash Tools From The Same Extracted Folder.
Step 7 :- Now click Click Scatter Loading & Select The 'MTTK6582_Scatter.txt' From The Directory Where KitKat Firware and also change the Download Only into Firmware Upgrade (See the below image)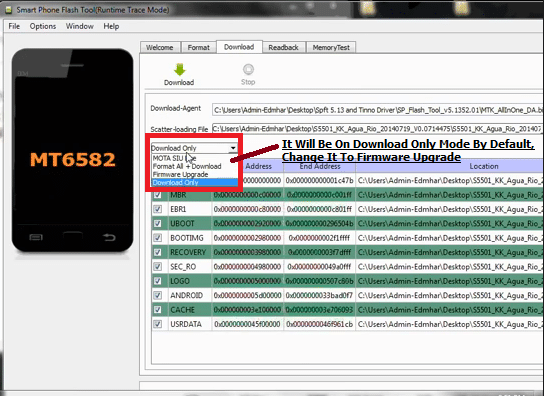 Step 8 :- Hit the Download button and SP Flash Tools will start searching for your device.
Step 9 :- Now connect your device with a USB Cable in the switch off mode.
Step 10 :- Your device will be detected by SP Flash Tools and Upgrade Process will start.
Step 11 :- The process will complete in 3-4 minutes and then a success popup will appear, now disconnect your phone reinsert its battery and power it on.
That's it, FIrst boot will take about 4-5 minutes wait for it and enjoy official kitkat.
Video Tutorial :-
See the below video for detailed tutorial, its for MyPhone Agua Rio but its the same as A120(Its the same A120 rebranded as MyPhone Agua Rio) :-
Screenshots of A120 after Kitkat upgrade :-
If you face any problem during installation then please feel free to comment below.