Are you thinking of doing a digital marketing course to boost your marketing skills which are also free of charge? I want to help you!
https://giphy.com/gifs/3otO6zntMrmhpvaYX6
Everyone who is related to the marketing wants to be a T-shaped marketer. Is that a new term for you? Allow me to explain. 'T-Shaped' this terminology comes from hiring world. It is used to represent someone's abilities. The vertical stem of the letter T represents someone's in-depth knowledge about a particular discipline and the horizontal bar on the top of it represents the breadth of knowledge about the field, in other words, cross-discipline competence.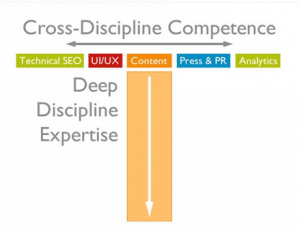 Source: Smartinsights.com
Of course, we cannot be experts in everything but while we specialize in a discipline it is also essential to get well acquitted with what others disciplines do. And that's why we have come up with a list of free online digital marketing courses that you can go for.
You can learn pay-per-click marketing for free with WordStream. At PPC University you can learn everything for free and it is also possible to access webinars, white papers and certain tips for social ads for free.
Course fee: Free
Media Quickstarter avails step-by-step instructions to help you start building your social media presence on all the different social networks. Right from getting started, adding connections to growing business using them will be taught to you. If you are a beginner, this is the course you should go for.
Course fee: Free
Hubspot offers many free marketing courses and in this course by HubSpot Academy, you will learn how to attract website traffic and convert them into leads with inbound marketing. You will learn how social media, blogging, content strategy, conversion optimization, and sales come together to form a modern inbound marketing strategy.
Course fee: Free
This business course is meant for business owners so that they can gain knowledge about online marketing and understand how they can build an online marketing plan, improve landing page, promote business online.
Course fee: Free
This is a 45-minute Skillshare class by Brian Peters which help you build a solid foundation for your brand on social media. This will cover getting started with social media, finding your voice, creating & curating content, using right marketing tools, and paid advertising strategy.
Course Fee: Free
This is follow up session of Brian Peters class mentioned above and covers the things you should know about successfully running social media ads. This session covers demystifying key terms and vocabulary, setting campaign goals, targeting audience segments, developing compelling copy and visuals, and iterating and optimizing campaigns for long-term success.
Course Fee: Free
This course is for business officials, Marketing Professionals, executives for them to improve their abilities. In addition, this will also help you to network with thought leaders. Though this is a free course, to receive additional content you have to be paid learners.
Course Fee: Free
This course will help you to form a smart social media strategy by helping you know where your customers are. This will help you learn social media tools to conduct content curation & find online influencers.
Course Fee: Free
This course will help you make social media marketing as an integral part of your company's marketing efforts rather than it being an untracked investment. You will be helped with performance metrics, legal considerations, and management tactics.
Course Fee: Free
If you have no prior knowledge of social media ethics, this course is for you which help you to know how social media ethics policy applies and what is the way to have ethical conversations on the social networks.
Course Fee: Free
If you have Facebook, Reddit, and YouTube accounts, then this course will help you pick up clients within 48 hours. This one hour video will help you understand how to achieve your targets on already crowded social media platforms by doing something that other marketers don't do.
Course Fee: Free
This course with Blueprint helps you use Facebook marketing tools. Facebook terminology, know-how, how to optimize Facebook and Instagram advertising will be discussed here.
Course Fee: Free
This is just 25 min class by MailChimp's Director Ariana Hargrave where she shares 3 key concepts to increase your sales through email – Personalization, Automation, and Optimization.
Course Fee: Free
In this course, you will study how the balance of power is being shifted from firms to consumers with the advent of digital tools, such as the Internet, smartphones, and 3D printing
Course Fee: Free
These are set of classes by Neil Patel focusing on generating traffic using Facebook Ads, Building an email list with Facebook, using Adsense on your website, how to find & evaluate CPA offers, and so on. He covers SEO, Link building, paid advertising, content marketing and much more.
Course Fee: Free
This has 11 lessons covering topics like inbound marketing fundamentals, long-term content strategy, lead nurturing, sales & marketing alignment, social media promotion, etc. After you finish all the different modules form this course you will be HubSpot certified. Make sure you do not get confused between Inbound Marketing and Demand Generation.
Course Fee: Free
This is a free online course by Jonah Berger where he will give tips on how to increase your influence, how to generate more word of mouth, and how to use the social network for the same.
Course Fee: Free
Buffer's Week-of-Webinars covers content curation, social media analytics, Instagram marketing to boost your business, branding and PR outreach, etc. In order to view these videos, you don't have to sign up. They are available at an ease on YouTube.
Course Fee: Free
If you can crunch some number then you would be able to drive more traffic on your website. In this course by Analytics Academy, you will learn about Google's measurement tools. In the beginner's course, you can learn basic features of Google Analytics such as creating an account, implementing tracking code, analyzing basic reports, and setting up goals and tracking campaign.
Course Fee: Free
This course is on consumer neuroscience and neuromarketing and will help you understand what makes consumers make the decisions, how do initial responses affect final choices. This course teaches you basic brain mechanisms in consumer choices.
Course Fee: Free
This is a step by step guide on how to use Excel PivotTables with examples. This will discuss the importance of data analytics in today's business. You will learn how to use Excel PivotTables to easily and effectively work on your reports and make your data visually more appealing.
Course Fee: Free
This free marketing course discusses Digital analytics which focuses specifically on marketing. This course talks about the theory and foundations of marketing analytics. This will help you understand how to properly approach data analytics in marketing.
Course Fee: Free
If you want to learn the best approaches and practices for marketing measurement, this is the course for you. You will learn how to use metrics to measure success & how to execute market sizing, identify market trends, and predict future conditions.
Course Fee: Free
This is the first course of the quintly Academy and it covers basic principles of social media analytics both for beginners and for marketers who want to refresh their knowledge.
Course Fee: Free
This Udemy course from top-rated social media training provider gives you training on Google SEO for mobile and computer. In this, you will learn SEO vocabulary, keyword search, selection and validation, Press release SEO and so many other SEO related things.
Course Fee: Free
We saw many marketing courses on Social Media. Now let's have a look at this course for content marketing. Through this course brings to light how to accommodate the needs of online readers through web design, writing style, and structure and SEO. You will able to explore the above-mentioned things can grab the attention of online readers.
Course Fee: Free
This is a 30 minutes Skillshare class which will discuss content marketing. It will cover the basics of writing and working with brands. This course will help you craft the perfect pitch.
Course Fee: Free
Google Adwords provides several marketing courses on Google ads which consist of Google Ads Fundamental also. This course by Google will cover basic & intermediate concepts about Google Ads which will also cover benefits of online advertising and Google Ads and you will come to know the best methods for managing and optimizing Google Ads campaigns.
Course Fee: Free
This course covers the basic & advanced concepts which include best practices for creating, managing, measuring, and optimizing search ad campaigns across the Search Network. This certification remains valid until the product area assessment which is the same even with the above course mentioned. If you have passed the Search Advertising assessment in May, you will have to retake and pass both Google Ads Fundamentals and Search Advertising Assessment in May of the following year.
Course Fee: Free
This course will help you build inbound email marketing strategy which will help in the growth of your business. You will understand how to make contact management and segmentation strategy, how to develop relationships with lead nurturing and for that how to send the right emails.
Course Fee: Free
If you want to grow your bottom line and satisfy your customers online, you need to build a solid inbound social media strategy. If you are nodding then this course is for you. It will help you with increasing your presence on social media, understand the basics of digital advertising. Also, you will learn how to measure your social ROI.
Course Fee: Free
In the digital inbound world, your writing gives the first impression and that has to be perfect. This course will focus on that along with understanding the basics of content marketing, knowing how to promote content and how to repurpose it.
Course Fee: Free
If you have felt building and optimizing a website is frustrating, then you should go for Growth-Driven design methodology. For that, you need to join this free course by HubSpot which help you understand the fundamental of the methodology. You will know about how to create Growth-Driven design tool stack.
Course Fee: Free
---
With 10+ years of B2B Lead Generation, Vikas Bhatt now runs OnlyB2B, a reputed B2B Demand and Lead Generation company from India that serves most European nations, the US, Mexico, and Canada. Vikas is a renowned Demand Generation expert, motivational speaker, and a B2B entrepreneur. You can connect with Vikas over email:

[email protected]