Viber has launched an online Internship Program for college students providing Free certificates to them from Viber and a chance to win a World Tour. Go through the below article to know more about this program and how to participate in it.
About the Program :-
The program is basically for promoting the viber and its features across the web by inviting your friends on Facebook and Twitter.
It is doing what you love and sharing it with the world as part of Viber's College Brand Ambassador Program.
As a #GoodVibes college ambassador you would lead the #GoodVibes campaign in your own way. Share any content – status, pics, music, links, selfies, sports activity, and just hash tag #GoodVibes, across social media platforms of your choice. Your role would be to encourage more people around you to share #GoodVibes. There will be a few more simple tasks to take up on our #GoodVibes messenger Viber. We aim to take this campaign viral and your role would be to make it happen with the rest of us.
You just have to register your self with your facebook ID and perform some basic tasks like liking thier page, following viber on twitter, install app, sharing conversation screenshots and answering some basic questions about viber.
Each task that you will complete on viber will give you points, higher the points higher the ranking and more the chances of winning the world tour.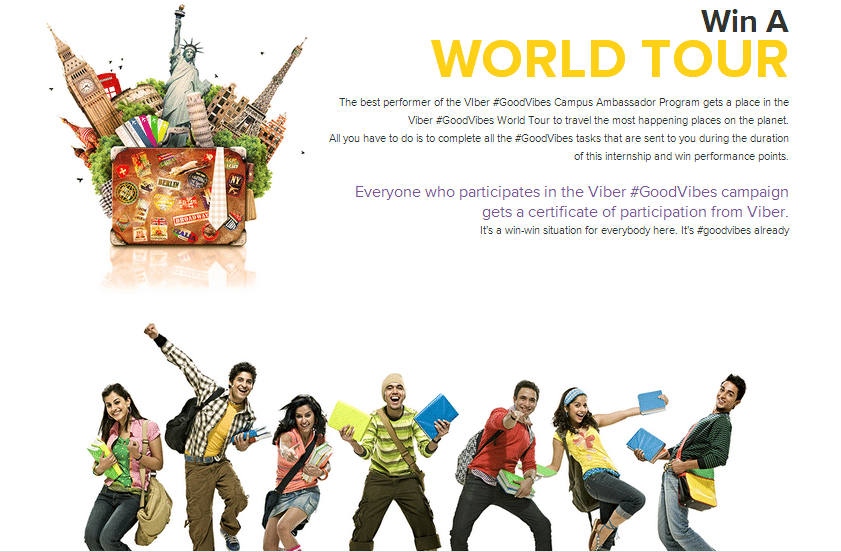 At the end of this program you will be provided with a Certificate which you will receive on your Email.
How to participate?
Visit www.thegoodvibes.in and register yourself with your facebook account.
Now in the next step fill up your details including your city, gender and College name.
After that you will get levels on your screen, you just have to successfully complete these levels by performing their tasks, each task that you complete will give you points and these points will help you grow your ranking, higher the ranking more the chances off winning the World Tour plus lucky winner will also get a chance to win various goodies like iPad Mini, Pendrives, Headphones, T-Shirts and many more.
The levels basically consists of few easy tasks like the Level 1 includes linkin Viber's page on Facebook and following it on Twitter.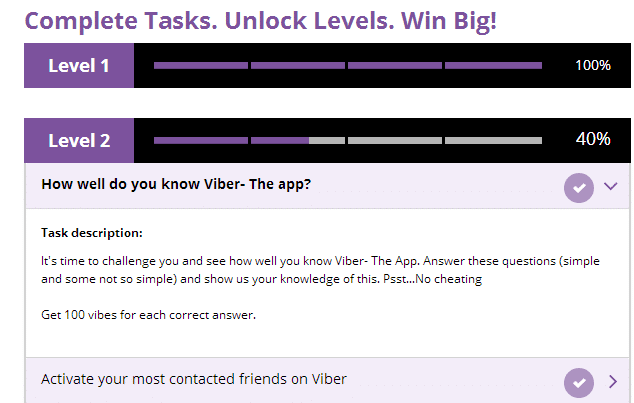 The next level will ask you for a screenshot of your conversation with anyone on viber.
Complete all the levels and earn points and you will also get points for inviting you facebook friends.
So, what are you wating for now, go and get you certificate from Viber.