The latest security feature of device protection in Android Lollipop 5.1 or above requires you to enter Google account after factory data reset. Core moto of this feature is to protect user's data and provide next level security. So, in case your Android smartphone gets stolen or any other unauthorized person try to access your smartphone then he gets stuck at this google account lock. But sometimes, we reset our device and forget Google account credentials. In this case, you can not get access back to your Android smartphone. But you don't have to worry because, in this guide, we have explained how you can bypass google account lock in easy steps.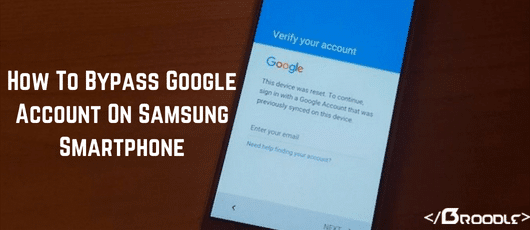 How to Bypass Google Factory Reset Protection On Android Lollipop 5.1 or above?
Factory Reset Protection is already enabled in your Android smartphone if two following criteria are met:
At least one Google account is on the device.
Lock screen security of Android device must be none or swipe.
You can not disable Factory Reset Protection by yourself because there is no option available to do so.
However, if you are stuck at FRP lock then you need to follow below steps in order to bypass google account lock.
At first, download Samsung Bypass Google Verify Apk from the link.
Now download Realterm app. Once the download is completed then install it on your PC.
After the installation process, connect your Android smartphone to PC via USB cable.
Now find the device port number. [This step is one of the most important steps of this guide.]
To find device port number follow this path: My Computer > Manage > Device Manager > Modems > Samsung Mobile USB Modem
Now double click and check properties and here you can see port no as shown in the below image.
Note down this port number somewhere because you will need this number in upcoming steps.
Open the realterm app on your PC.
Now, enter the port number here and change the display settings as highlighted in the below image.
In these images, we have shown right settings to bypass FRP lock by Realterm.
Realterm has done its part. Now you will need to enter some commands. These commands will act as if you are trying to make a call using your smartphone which will help you to open your Android smartphone settings.
Now, click on send tab and enter the following command: at+creg?\r\n
After this, enter the following command into the same screen and click on Send ASCII: atd1234;\r\n
Keep sending this command until you see dialer screen on your Android smartphone.
Now, search ES File Explorer on the Samsung app store and install it.
Now, move the bypass app file to your Samsung phone using a memory card or pen drive via OTG cable.
Next, you need to open ES File Explorer app and find bypass app which you just moved. It will pop up a message that you need to enable unknown sources. You need to check on it in order to install apps from third-party source.
Once the installation process is finished, open the app and you will see that it will ask you to enter Google account password. Don't worry, the tricky part comes here.
Click on the three dotes menu options and select browser sign in.
Now you can add a new Google account.
Voila, you have successfully bypassed google account lock on your Samsung Android smartphone.
Conclusion
So, this is our ultimate guide to bypass google account in your Samsung smartphone. You can follow all these steps and bypass google account lock easily. But as we all know that Google is releasing security updates to fix loopholes. In case, if your device is pathed in these updates then We suggest you downgrade your Android version to one version below to your current Android version. After downgrading you can try this bypassing guide.