Do you know how to track someone via their cellphone?
Cellphone tracking doesn't necessarily translate as stalking. There are some legit cases where you have to keep track of someone you care. We are giving you two proven solutions including a built-in solution and Cocospy. We are going to discuss the solution in brief details and deduce which one is the better one amongst them.
Cocospy
If you want to track phone number free, you better use Cocospy. Following, we are going to introduce you to this premium app, its features and how you can use it to keep tabs on someone.
Introduction to Cocospy
Cocospy is a tracker app. It has been reviewed by top publications today with the likes of iGeeksBlog, Top 10 Reviews, Life Hacker, Android Authority and, PC Mag. Moreover, it has been reviewed by millions of its users around the world. So, don't worry, you are in good hands.
Features
We are going to mention the premium features of Cocospy below:
Read someone's instant message
Obtain remote control of access to their smartphone
View their address book and calendar
See their Browsing history and contact list
Tap into their live GPS Location
Tap into their Social Media Activity
Tack their emails and SMS
Track and Record their live calls
The thing that makes Cocospy unique as compared to their tracking tools is that you don't have to jailbreak or root your device. You can easily install it on your device despite its Android or iOS.
Instructions to Use
You can use this app to track anyone's activity. It saves both your time and effort for doing so. Fortunately, you no longer have to go through any complex process to set this app.
Make sure you download the app from its official website. Once you have installed it on your device, you will need to install it on the target's device. For this purpose, you will have to access the target device for a few minutes. Just grab the device and install this app; it will only take a few minutes to install. Just make sure you hide the app once you are done.
This app will suffice your needs if you want to track the phone. But if you want to tap into it or control it remotely, then we are afraid you will need to buy the premium version. It will incur some cot, but it's worth it.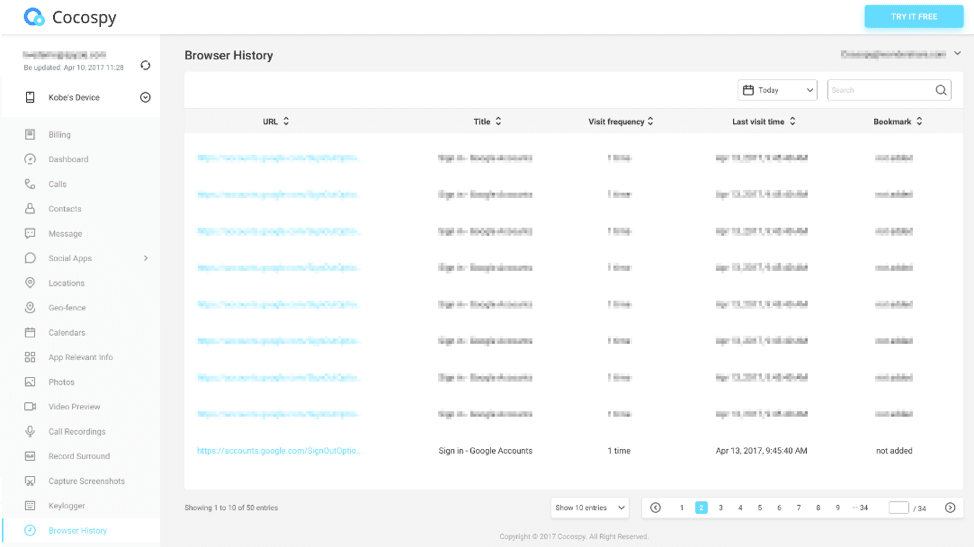 Here is a screenshot of the browser history tap. You can click on this tab if you want to see internet history to your target.
The interface is designed for general usage, so you won't have any issue using it. In case you have one, you can find the solution in the provided guide.
In-Built Solution
This solution is different for both OS. If you are using an iPhone, then you have to go to "Find My Friend." If you are using Android, then you have to find" The Android Device Manager." It gives you remote access at your current location.
As long as the Smartphone has GPS functionality switched on, you will track the device from your device. Apple will offer to "Find My iPhone" and "Find My Friend" Apps. This lets you trace an iPhone via an iOS device. For any of these methods to be successful, make sure the pone you want to trace has GPS enabled.
There are many reasons to locate and track a person through their cellphone. Most of these reasons are security issues. In the past, only government agencies were able to do so. But the world has come a long way since and you can easily do it yourself.
There are several apps available online via the use of apps. Using these, you can easily hack and track the location of the mobile phone of anyone in a very easy way. There are many circumstances in which this is legal and useful to keep track of a cell phone. You may want to keep track of your elderly parents, kids, and spouse. Some companies do that to keep track of their employees.
Verdict
We discussed two proven solutions to help you keep track of someone's phone. The in-built solution takes some time to set up, and you can't rely on GPS coordinate accurate. This is where Cocospy comes in, you have to set tweak the settings only one time, and it will offer accurately tracking for a long time.