Passion is a major factor that determines the success of people who venture in the fashion industry. They use their technical and creative skills to make varieties of clothes and accessories. On top of being competitive, it is characterized by dynamism where one needs to constantly study the industry too stay informed of the current trends and to be able to predict future styles.
Job Description
A designer can be self-employed or choose to work for a company. Their job descriptions are almost equivalent though it may vary according to the requirements of a given company. Below are the major tasks that a designer in any field should be exposed to.
They should discuss the requirements of the given work with their clients and workmates. This is to help create a clear picture of the exact expectations.
After stating all the necessary requirements, the designer should provide the costs needed for the whole production process. This calls for one to be conversant with the nature of the market for the fabrics and know exactly where to get them.
They are responsible for choosing the most suitable material and style. This is usually an agreement with the client where the client is advised on a wide range of available options then they choose the best according to their preference.
The designer should provide samples for the client. It is always constructive to have a portfolio for their work.
To add value to their work, they should always create new designs.
Producing final output which has the exact specifications is the ultimate goal for designing.
A professional designer should be able to work with budgets and deadlines.
Qualities of a qualified professional designer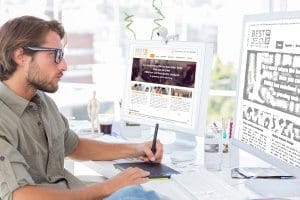 They should have the necessary educational requirements. In most cases, they are required to hold an undergraduate degree in fashion design or in any other specialized field of designing. If one intends to have their own enterprise, it is better than they possess additional skills in business-related courses like marketing or any other subject. Being in a school that is recognized and accredited for offering design courses places one on an upper hand.
Knowledge accompanied with skill is defines the best designers there is. They should be equipped with the most important technical skills such as sewing, tailoring and the basic fashion theories. Due to advancement in technology, their coursework should cover artistic and conceptual instruction, 3-D design, color theory, fashion drawing, portfolio presentation, fashion business, computer-aided design, and textiles.
A designer who has undergone internship is sharpened in their skill. They are exposed to hands-on training which makes them gain much experience through such a program. Normally, they are in positions of internship in design firms or retail businesses where they are under the guidance of experienced designers. They are allowed to apply their fashion skills and knowledge but under the guidance of the experienced workers.
In current times, any enterprise is vulnerable to disaster. Financial reporting is important in the highly competitive business world. It not only helps keep track of the performance of the business but it also provides significant data that helps in financial decision making.
Weaccountax has expert accountants who are very committed to ensuring the success of a business. They ensure that the company receives accurate, well-timed financial information about the business thus helping them take their business to a higher level in market innovations thus prospering. Their online accounting services are expert and they offer quality services in manual accounting services, manual bookkeeping, online accounting services and Xero online bookkeeping.
Along with the formal training, a qualified designer should always be open to learning so as to be updated on the best technologies and user preferences. They should be thoroughly aware of the business waves and the best services like the online accounting for effective working.