There is a broad range of marketing tools that can make the lives of marketing managers easier. Many of them are free. However, testing all of the multiple options available on the web can take up valuable hours of the day that young professionals could better spend working towards their goals.
In this article, we have gathered ten tried-and-true tools loved by marketing professionals in many companies. These tools will help junior marketing managers create and send better emails.
We will cover things like an email template builder, an email signature generator, email list validators, tools for creating visuals, and a few more bonus apps. Let's get started.
Must Read: Five Ways to Improve Your Email List in 2020
Email template builders
This group of tools is aimed to help marketers grow their customer database and market company's products and services via email. Tools such as MailChimp and Sendgrid are great if you need to send professional-looking emails, keep contact lists up-to-date, set-up automated emails, etc.
Mailchimp: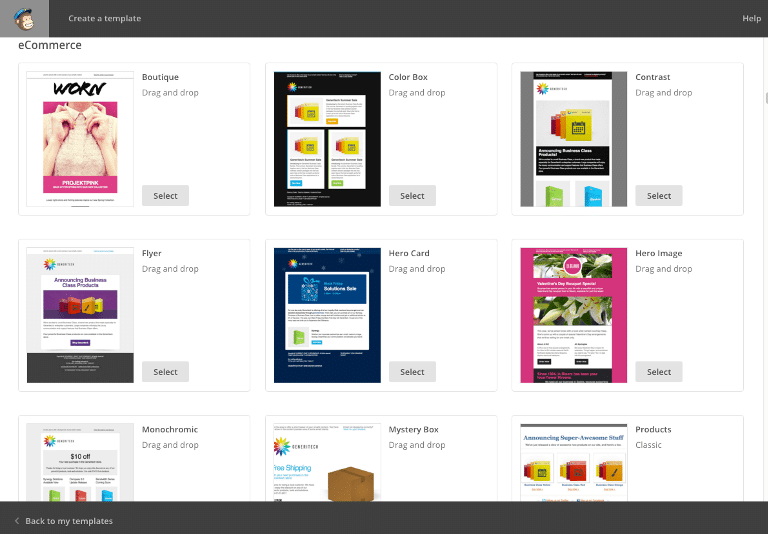 You'll love this tool for its intuitive user interface, convenient drag & drop email builder, and a wide range of templates to choose from. On top of that, Mailchimp offers simple tracking & analytics features, and multiple integrations with such platforms as Shopify, WordPress, Google, WooCommerce, and many more applications and web services. Mailchimp is free for users who didn't reach 2K subscribers. And their paid plans start at $9.99 per month.
Sendgrid:
This email delivery service provides users with a smooth drag & drop email editor, powerful coding features, email marketing automation tools, dozens of responsive email templates, and statistics. Sendgrid can also help you see how your emails will display depending on your subscriber's browser, device, and email service provider. With Sendgrid, you can send 40K messages during the first month and then 100 per day forever.
Email signature generators
Every email can be used as a marketing opportunity, even if this email isn't promotional. Don't waste the empty space below your contact information. Instead, add a professional email signature to enhance your professional image, create more trust, promote special offers, share company updates, and much more (see the example below) Fortunately, you don't have to learn coding and design if you want to create such signatures. Modern email signature generators allow making neat and attractive email footers in minutes.
Newoldstamp:
Newoldstamp is a powerful tool for creating professional email footers. It has an advanced, yet easy to use editor, tons of professionally designed signature templates, and the email signature management solution that allows deploying and controlling all signatures in the entire organization. This makes Newoldstamp a perfect fit for businesses of all sizes.
Newoldstamp signatures are free, but if you want to try their advanced version and get access to multiple extra features, you'll only need to pay a small fee.
MySignature:
MySignature is very similar to Newoldstamp. Users can create and modify their signatures using a broad range of fonts, promotional banners, social media icons, and CTA buttons. The basic version is forever free.
Email list validation
Email verification tools help keep your email lists clean and achieve higher open rates.
NeverBounce:
NeverBounce scans your email list and uses many different checks to remove invalid or dangerous email addresses. It lets you clean up to 10K email addresses in as quick as only three minutes. There are both free and paid versions.
ClearOut:
This email list validator is one of the fastest checkers in terms of turnaround time. You can give it a try by verifying up to 500 email addresses for free. Then you only pay for the number of emails you need to validate.
Visual elements
Complement your texts with images. You don't necessarily need to cooperate with a professional designer if you want to create some images for your email campaigns.
Canva:
Even if you have zero experience in design, you can still benefit from Canva. This editor is extremely user-friendly and well-supported with a broad range of tutorials. Canva's users can choose from lots of templates and easily create various graphics for emails. And it's much easier to learn than Photoshop. Canva has both a free and a premium version ($9.95 per month).
Giphy:
If you want to make your emails more attractive and fun, consider using animated GIFs from Giphy. The service is free.
Additional tools
And of course, we couldn't ignore two very important things: grammar and email subject lines.
Grammarly:
When it comes to polishing your texts, our clear winner is Grammarly. It is a perfect in-depth grammar checker and writing coach. Not only does the tool provide users with helpful suggestions on clarity, correctness, engagement, and delivery, but it also detects plagiarism. And this is the thing you have to pay attention to if you want to rank higher in Google. Grammarly comes in two versions: Grammarly Free and Grammarly Premium.
Email Subject Line Grader:
Email subject line is the first thing a recipient sees once they receive your email. If you don't take it seriously and write whatever comes to your mind first, chances are readers will simply ignore your email. Not creative enough to write perfect subject lines? Fortunately, there are tools such as Email Subject Line Grader that can test your email subject in seconds and provide helpful suggestions.
Conclusion
Most of the tools from our list are free and come with great features, so many users don't even need to upgrade to a paid version. In case you want to upgrade for some reason, that won't stretch you too much financially, because many of the paid plans are affordable and flexible enough to fit even a small budget.
In case you don't need too many tools or have no time to decide what works best for you, you might want to see our list of essentials:
Mailchimp for uniform mailings and setting automated email sequences.
Canva for designing great images.
NeverBounce for keeping email lists clean.
Grammarly for perfect grammar.
Newoldstamp for setting an additional marketing channel and creating attractive email signatures for you and the entire team.