DVDFab YouTube to MP3Indisputably, youtube is the preeminent repository for world's finest videos and music. In order to enjoy famous music videos, Musicophiles visit youtube often. This is because the music videos are easily accessible and also can be saved from it for offline listening.
In fact, there are quite a lot of services and websites that assist in extracting the audio from YouTube videos. Here we are to see the best youtube converters for windows that offer this service.
Free YouTube to MP3 Downloader from DVDFab
DVDFab YouTube to MP3 is one free and handy YouTube to MP3 converter and music downloader. It helps you download and convert online videos from YouTube/Vimeo/Dailymotion/Facebook and more popular sites to MP3 audio format. Just a few clicks, you can easily convert online videos to MP3.
The highlight of DVDFab YouTube to MP3 is that it supports built-in browser, and so that you can play the movie and music while downloading. How convenient it is! Just 3 steps, you can get the music you want using this YouTube MP3 downloader. Now, this free YouTube to MP3 converter from DVDFab can run on Windows and Mac for meeting your different needs
Free Youtube to MP3 converter from DVD Videosoft
Free Youtube to MP3 Converter is a very simple user-friendly tool with a well-designed interface. This tool makes ripping of audio from videos quite easy and the audio can be saved in your PC. The highlight advantage of this converter is it works well on both windows as well as the Mac platform. To kick off with this converter, you will have to make just a couple of clicks.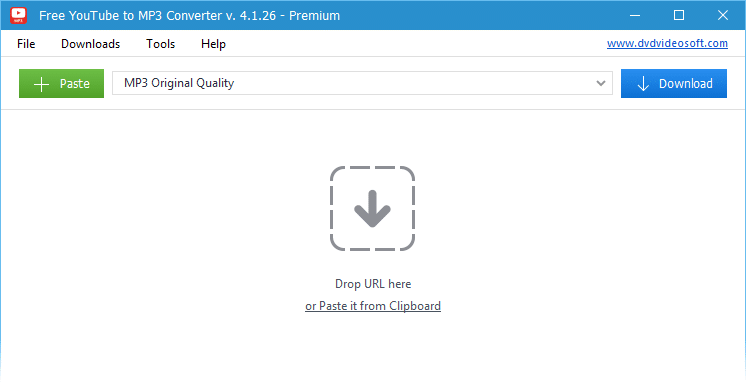 After installation, you do not have to fiddle about with options. You can immediately get on with downloading your favorite music. To download all you have to do is just use the drop-down menu. Choose the format and quality in which you wish to save your audio file, then paste the link and click on the download option. The file will be saved and converted. The conversion rate depends on the size of the file.
4K Video Downloader
4K video downloader provides the facility to download entire youtube playlists. It is a highly customizable powerful tool that can be used for extracting the audio from youtube videos. It also supports downloading of files from various websites like Facebook, Dailymotion, Vimeo, Flickr, etc besides youtube.
In order to download audio just copy paste the link and choose the quality, format, location, and click the extract option. An additional advantage in using this converter is it provides a variety of format options like MP3, 3GP, MP4, MKV, OGG, and M4A. An entire playlist of up to twenty-four videos long can be converted with the assistance of this converter.
aTube Catcher
aTube Catcher is a cent percent free platform that provides users with three MP3 quality options to opt for. It is an amazing tool which lets the user download audio from youtube with various formatting options like WAV, MP3, FLAC, WMA, and OCG. This aTube catcher is definitely one of the fine options to go for in the free youtube to Mp3 converters.
After installation users will be able to see a windows style menu presenting all available options. In the output setting, the default saving location of the converted file, the number of active downloads can be altered. The users can even activate the turbo mode and opt for turning off of the PC on the completion of the task. The option to convert youtube audio is not the only usage of this tool.
Free Video Downloader For Youtube
Free video downloader for youtube is another amazing simple user interface in which you can download both videos as well as audio from youtube. In this tool, you can save the videos in two formats WebM and MP4. And the audio files can be saved in M4A and MP3 formats. The tool lets the user save both MP3 audio files as well as video files at the same time.
The biggest advantage in this tool is that they are ad-free and they do not come with additional applications. It is a simple yet well-developed tool that features the ability to queue up 3 URLs for download. As the free video downloader for youtube has only one focal point it severs the purpose really well.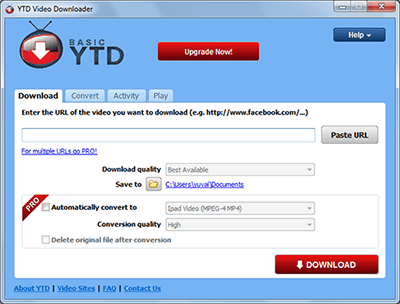 Freemake Youtube To MP3 Boom
Freemake youtube to MP3 boom comes with integrated youtube search, which allows the users to search youtube tracks. It is the most stylish tool and has the features to sever many purposes. It not only lets the users convert the video to MP3 but also lets the users share their favorite tracks via social Media like twitter or facebook.
The greatest advantage in this converting tool is there is no need for the users to copy paste the links as there is a search bar in which the user can simply enter the name of the song or of the artist's. And the results can be seen in the main window. The Freemake youtube to MP3 boom saves the audio file in default MP3 format.