If you're a passionate gamer, you'll no doubt be envious of your friends with rooms dedicated to gaming. The thing is, setting up an ergonomic gaming workspace doesn't have to be an enormous project that drains your pocket.
There are a few budget items you can invest in that'll pay off big time when you're gaming. A gaming chair, desk and gaming mouse and keyboard are available in wonderful styles and designs, and the desk specifically will provide you with extra space so you stay organized with all your necessary stuff close by. Looking to build an amazing PC gaming room? This guide will get you on the right path to that ultimate PC game room you've always wanted.
Today's gaming demands to play with stamina and these budget gaming workspace items all help to give you a dexterous twist or two of the hand for a cunning play that puts you ahead.
Walker Edison Soreno Desk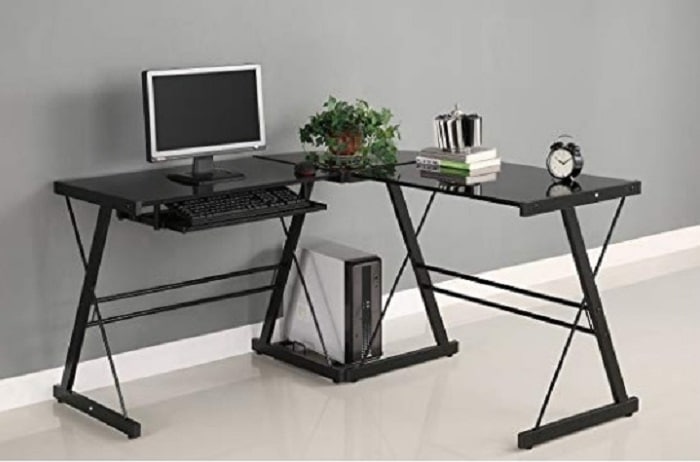 Cost: Less than $90
Sleek, while being solid and sturdy, is what you want with a good gaming desk, and that describes the Walker Edison Desk perfectly. This 3-piece corner desk is worth a look-see as it is attractively uncluttered while having the means to keep your PC, monitor, and gaming accessories organized. Dimensionally the desk is 51W x 20 D x 29 H in inches. It is made from beveled tempered safety glass. The Sereno Desk with powder coated steel legs has two 21-inch deep rectangular desktops. There is also a ¼-circle shaped desktop and these desktops combine together to ensure you have plenty of surface space.
The desk comes with a CPU stand as well as a sliding keyboard tray, and the flexible configuration means you can mount the tray on either side of the desk. The desk is capable of being separated into two desks too, and once delivered, it will require assembly. Instructions for assembly are provided by the manufacturer who has made sure that all parts have sticker labels with directions, making assembly easy.
The L-shape provides a corner wedge which gives even more space and the design creates a look that is both attractive and simple.
Devoko Ergonomic Gaming Chair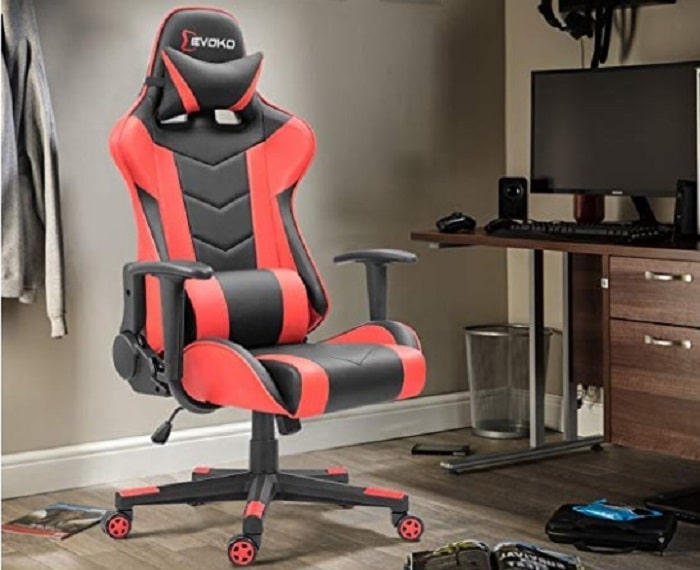 Cost: Less than $100
If you've always admired F1 drivers like Vettel and Hamilton, and how they power their Ferrari and Mercedes to win after win, you can say it's the comfort factor of their seats. Devoko's racy-red racing style gaming chair will keep you cool as you also achieve gaming wins.
The chair is a high-back adjustable height PC chair, taking the chair height from 16- to 20 inches. It comes with external headrest and lumbar support. The seating area dimension is 19.8 x 20.5 (W X D) inches and it can take weights of up to 300 pounds. It is made from premium PU leather and it also has a 360゚swivel rotation on the wheels which are coated with quality PU mute rolling material. This means no scratching of your wooden floors.
You can adjust this chair too and put it into a reclining position and lock it like that. The chair will need to be assembled, but you'll find your instructions within the packaging as well as an assembly-tool.
There is a special limited warranty for 30 days. Within 30 days, if for whatever reason you aren't satisfied with your Devoko chair, they offer a replacement or refund. For all its amazing features, I'd say that for this premium quality gaming chair, you're going to be able to up your game while remaining comfortable and 'supported' throughout gameplay.
Devoko is just one of many high-quality gaming chairs that can be had for less on a shoestring budget. Check Ergonomic Trends for a great list of other quality budget gaming chairs to compliment your gaming workspace on the cheap.
HAVIT Gaming Keyboard Mouse Combo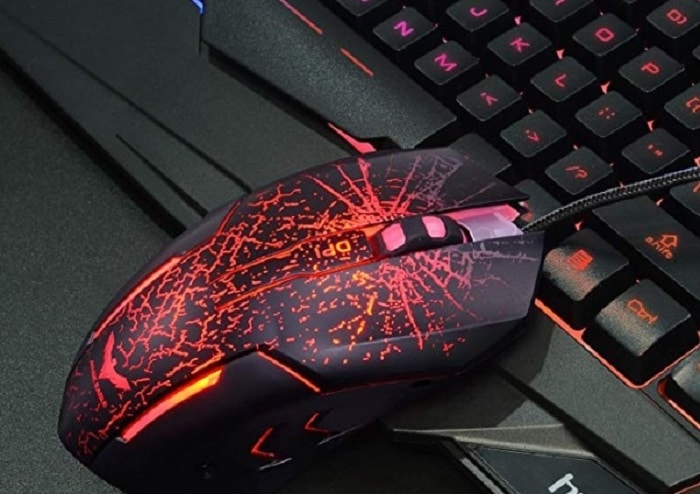 Cost: Less than $40
Glitzy and phenomenal is how you'd describe this 'every-color-of-the-rainbow' keyboard with its dazzling mouse, delighting players all over the world. Simply plug it into your PC and everything will light up ready to spring into action. It means gaming can continue unhindered into the night.
No other keyboard and mouse looks like the Havit Gaming Keyboard and Mouse combo – they're the perfect match, working hand in hand to take your gaming to an entirely different level. The highest Dot Per Inch or DPI of the mouse is 3200, but you can adjust it to move at a slower speed.
There are a host of other cool features found in the HAVIT Rainbow Mouse and Keyboard Combo such as being compatible with all operating systems just for starters. There are also two rubberized holders underneath the keyboard so you won't find it sliding around on your desk when the action builds up. The big attraction is the customizable LED backlights – bright, trendy colors such as purple, green, red, blue, yellow and pink. Choose how bright you want the backlights. For the daytime use, you can switch the lights off.
The keyboard features anti-ghosting technology so you can perform a host of functions simultaneously, meaning you can press all 19 keys together and have them all work. You're able to disable some keys such as the WASD- and WIN keys.
HAVIT has sure given us a winning gaming set at less than $30 and you can safely say that gamers who invest in this have got themselves onto a winner!
---
Conclusion
As you can see, for less than $250, you can set up an ergonomic gaming workspace that can dramatically improve your performance and health as you fight off bogies coming in from your six, all without breaking the bank. It just takes some shopping around to make it all happen.