Billions of people stay glued to their laptop and phone screens on this particular day of the year. Mornings begin earlier and we all sit impatiently by the clock for the hour to arrive. And when it is finally here, we get to our mad scramble.
No, it is not the day Sacred Games launches it is the new season but the day Flipkart launches the Big Billion Sale!!
What is the Big Billion Day sale?
Big Billion Day is like the Indian online version of the Black Friday Sale. Flipkart puts all its products on massive, discounted prices. They are the prices that you have never been seen before. Be it a new arrival or an old product; if it is on Flipkart, it will be on sale. 16GB pen drives at 1 buck only, can you imagine?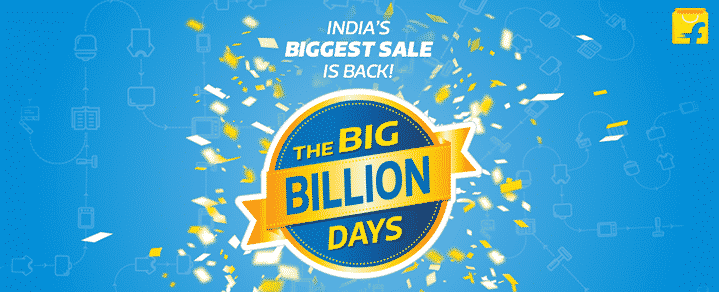 So naturally, it goes without saying that if the prices are so abnormally low, the sales will be rapid as well. Products get sold out within minutes of the sale. You might have missed out on a few on your list, as well. Nonetheless, here you will find 5 amazing hacks that will help you bag all your favorite products.
Top 5 Tips For Big Billion Day (BBD)
1. Make a List:
This is as simple as it gets. Start to write your list of all your essentials and needs from way before the Big Billion Day sale.
Jot down everything you need and add them to the wishlist so that you don't need to look up every product and choose all over. Adding to wishlist is time-saving and so this step will help you get more products.
2. Steady Internet:
This might seem to be an unimportant trick, but in reality, this is the one that actually matters. A fast and stable internet would mean less buffering and more products.
It has been seen that the app often slows down or crashes due to the insane rush and on top of that if your internet is running on low speed, then you will just leave the sale empty-handed. So make sure your phones and computers are well connected.
Also, remember to keep your device fully charged. These are two simple and basic steps that you must keep in mind. Having your device switch off right at the moment of checkout almost equals a betrayal.
3. Payment:
The Big Billion Day sale gives you a chance of buying whatever you had once put off as a "next month purchase". On top of that, it is literally a "buy now, pay later" scenario, with the many EMI options that Flipkart has.
If you have an EMI card, then you can use it to pay off small sums every month, over a stipulated period, to the respective bank. At Flipkart debit card EMI options are also available for you to benefit from.
Flipkart has some more offers for you, even if you are debit or credit card user. HDFC bank account holders enjoy a lot of offers all year round as it is. So, have a plan for your payment option ready. Be it on EMI pr card or cash on delivery and shop likewise.
4. Feed your Billing Address:
Have your billing and shipping addresses saved to the system already before the Big Billion Day sale arrives. This will save you the tedious process of putting in the long street names and numbers. Instead, you can utilize that time to check out some more things from your wishlist.
You can have multiple addresses saved in case, you want to deliver the things to your friends, family, colleagues et cetera. Only make sure that the street names and PIN codes are correct. Big Billion Day Sale products take a considerable amount of time to be delivered and the last thing you want is a further delayed, wrongly delivered package.
5. Learn What is to Know:
Having complete knowledge of the requirements vis-a-vis size, power voltage, measurements et cetera is a very crucial step. Even though all e-commerce sites offer a return or exchange policy, logistical support tends to weaken in times of big sales.
In terms of clothing, you must know what sizes of what brands you wear. About electronics, know how many watts will be suitable for your sockets and inverters. Home products and furniture also require measurements.
Keeping yourselves equipped with all these information results in a smoother shopping experience. Do not forget to check the "related items." The section comes below the page.
This section shows a collection of items based on your search history and liked pieces. So a lot of popular products are found here.
These are the 5 most important and simple tips that you can follow to have a spree on the Big Billion Day sale. Keep a slightly big-budget and shop big, but responsibly.