Get 1 Year TrueCaller Premium Account Subscription for Free.
A few days back i posted a Give Away of TreuCaller with Free 2 Months of Premium subscription and now this time i am back with a Free Premium Account Subscription for a whole year.
Now before proceeding further let us have a quick view on Waht TrueCaller is?
TrueCaller is basically a mobile application which finds contact details globally given name or telephone number, and has an integrated caller ID service to achieve call-blocking functionality and social media integration to keep the phonebook up-to-date with pictures and birthdays. The name TrueCaller comes from the app being able to show the True name of the Caller. The client is available for Android, BlackBerry OS, iOS, Series 40, Symbian s60, BlackBerry, and Windows Phone.
TrueCaller Premium Account Features :-
Premium version of truecaller helps you in doing more with their service, well below are some of the awesome premium features.
See who saw your Profile – Being a validated Truecaller Premium user enables you to see who is seeing your individual profile. You can see the number of minutes ago somebody saw your profile!
No more Advertisement – Take pleasure in checking out People You May Know, determining numbers, and getting one of the most from your Truecaller experience totally advertisement complimentary.
Month-to-month Contact Demands – At the start of each month while you are a Truecaller Premium user, you will certainly get 30 contact demands. These contact demands can be utilized to get in touch with somebody with Truecaller? s call search. An SMS message will certainly be sent out to them for their consent for you to see their contact information.
How to Get TrueCaller Premium Account for 2 Months for Absolutely Free :-
Normally the TrueCaller premium account for android users cost like Rs.55/month but TrueCaller is officially offering One Year of Premium account to any android or iOS user just to promote their premium feature and also to let you know what Premium account can do.
Step 1 :- Open Trucaller App in your Android Device or if you don't have it installed then install it from play store from below link.
Download TrueCaller from Play Store
Step 2 :- Now under the search type #ILOVETC and click on it, now your PROMO CODE will be accepted your account will be upgraded to the premium version for 1 Year.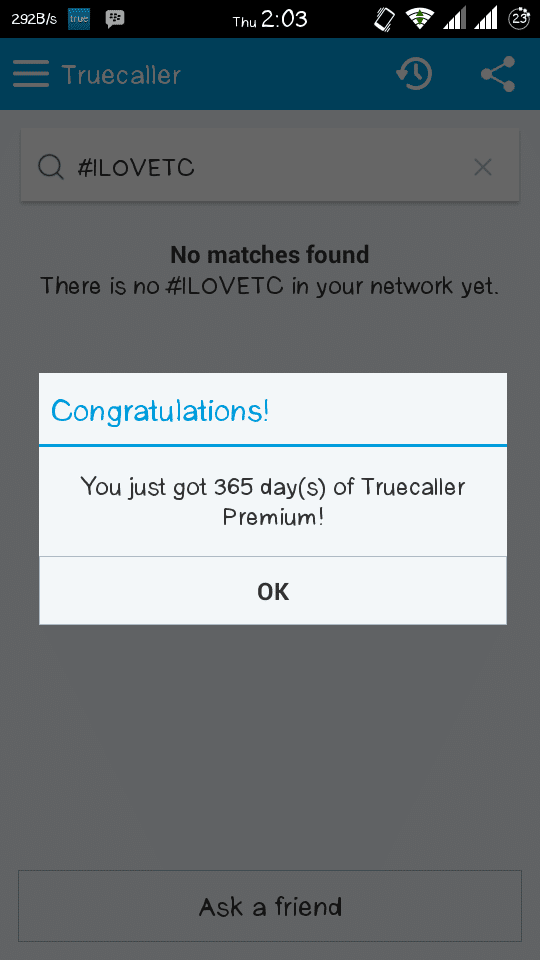 That's it, now you can enjoy premium version of truecaller for free without any interruptions, enjoy using app without any advertisements, search for the one who searched for you and you can even contacts directly, so have fun and do share this post with your friends.