The foremost aim of any marketing campaign is to convert as much as possible.
But do conversions come that easy?
As you look forward to leveraging your web channels to the drive-in a spate of sales, you need to make sure your conversion funnel is optimized.
Aiding to that, here's a list of some lesser used but really impactful lead generation techniques that can boost your conversions like crazy.
1. Rethink your Images
The state of visual marketing in 2019 makes clear the fact that when ROI is concerned, visuals can move mountains.
Many companies have adopted this strategy and many have ignored. Speaking of how well it can turn out, here's an example.
A German house selling firm was using a simple picture of a lady asking 'Need Help?" for a long time.
Although their conversion rates were coming out fine with this, they were curious if they could better it.
So, they replaced it with an image of a man placing a board saying 'Sold' over another one saying 'For Sale'.
Now, this one change worked. It boosted their conversion rates by 89%.
Do you see how it works? The same way it can work for your brand as well. Just choose your images wisely.
2. Boost website speed
Website speed is one of the most important yet most neglected factors that greatly affect conversion rates.
In fact, boosting page speed can increase the number of page views by 11%, user satisfaction by 16%, and conversions by 7%.
Apparently, slow and steady doesn't always win the race. So, stall no more. Take a website speed test using a tool like GTMetrix. This test will tell you about the problems making your site load slow. By eradicating those issues, you can considerably boost your website speeds.
Tip: Solutions to most of these issues are just one Google search away.
For example, to leverage browser caching, you just need to paste a code in your site's .htaccess. To find the code, you can search the web with phrases like "how to leverage browser caching in WordPress website" or "how to fix defer parsing of javascript".
Note: If and when you have to get into the website's cPanel, either make sure you have experience using it or consult somebody with experience.
3. Level Up your Search Bar
While normal search bars play a vital role in enhancing a website's UX, they at the same time can act as conversion killers for your landing pages.
Don't get it?
The aim of a landing page is to convert. Which can't be accomplished with a normal usual search bar on your landing page. It can take your visitors away from your offer by distracting them resulting in low conversion rates.
Your best bet?
Level up!
While a normal search bar can kill your conversions, an advanced search option can drive your visitors in the direction of your choice.
Websites like Amazon and eBay do it too.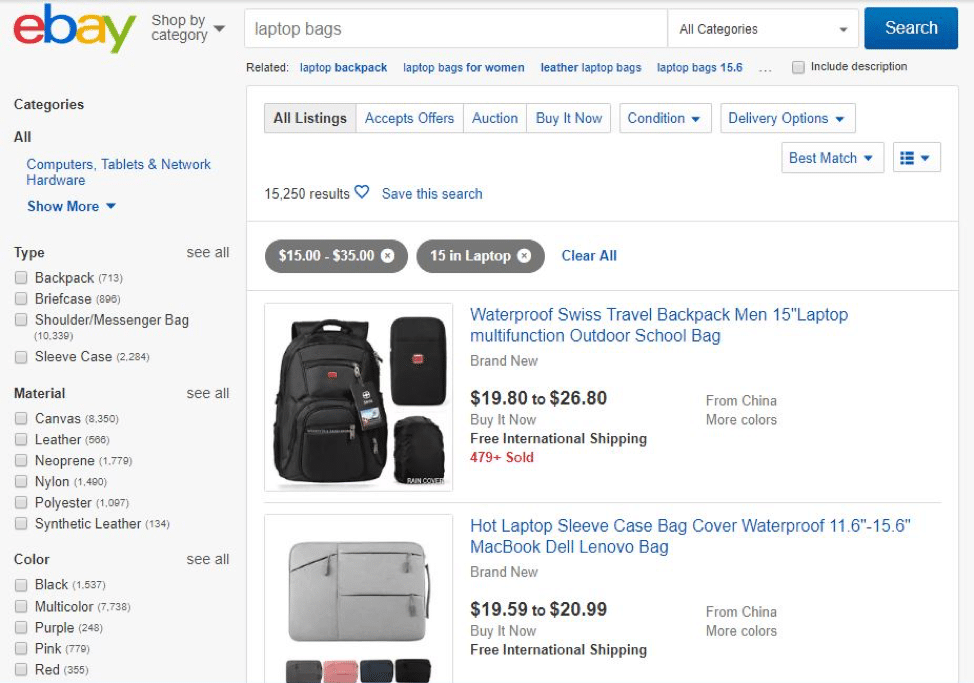 Like the screenshot above displays an eBay search results page against keyword 'laptop bags'. Now, along with 15,250 results on the page, there are options to set filters. Using these filters you can choose the material, brand, price, bag size based on the laptop's size, colour, etc.
This makes sorting of products way easier for prospects. Plus, it can boost your conversion rates by leading prospects to the products that they are most prone to buying.
Final words
Every amazing product is just an amazing idea until it's sold. Undoubtedly, lead generation and conversion optimization is the real deal.
But then, at times it can get marketers in a sweat.
In this post, you read about 3 least used and most rewarding techniques that can boost both B2C and B2B lead generation rates.
Hopefully, this helped you.