Generating high quality content isn't as easy as many people think. This is the kind of content that entice people to click, read, share and leave lots of comments. Brainstorming for these ideas is in itself a difficult task, but more difficult is to gather the information from social media platforms and organize it into your blog. I mean, anyone can write, but exceptionally good writers know how to make use of writing tools to create high quality content which is currently being sought for by major companies to market them out there in this competitive market space. Since content creation has not yet been automated like most areas such as business and marketing, there is a need for content creation tools to help in generating high quality content for writers. Here I present you with some of the best tools used out there to create user-friendly high quality content.
1. Site: search
Google is an incredible search engine which displays your content fast and with a lot of traffic. It is incredible how you can twist it to do searches that are limited to one website. This tactic is especially handy when you want to refer to expert ideas or read the specific posts in certain blogs. You easily type site: URL and the keyword you're searching for. For example, if your key words are digital marketing, then you input site: thebroodle.com digital marketing. It displays all the posts in this site. This is the output;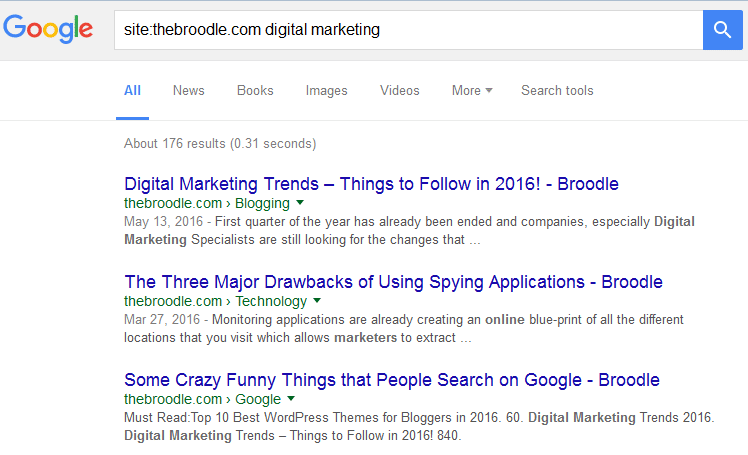 2. Quora
Yes! Quora is a platform where people interact by asking questions and having them answered. The good thing about it is that real experienced professionals get to answer your queries and share ideas on where you could gather more insight in the area of your interest. This site is full of people of all characters and can be a really helpful source for brainstorming blogging ideas. All you have to do is create a free account, paste your questions, then sit back to see what real people get to reply. It's a pretty simple and basic tool for sourcing information.
3. Twitter posts
Twitter by itself sis a very resourceful tool when it comes to new trendy topics. If you're looking for content inspiration around you or around the globe, this tool comes in very handy. The good thing about it is that you can customize your account to receive tweets from cities around you or just receive tailor feeds from your followers and those around you. Twitter lists provide insightful information about influential people who bloggers and content creators can follow. Keeping track of their conversations, their followings or followers may brainstorm you to come up with high quality content.
4. Evernote
This tool is pretty amazing when it comes to saving or editing any written content. You no longer have to worry about losing your content every time your device goes off. Basically, Evernote is like a journal which allows you to do all your content creation. People might ask: what is so unique about the tool? Having used the tool on several occasions myself, I would say it's how Evernote is sync to several devices and its capability of automatically saving all work done. For content creation, it has a text editor which allows you to compose the text you want. It is ideal for saving audio recordings, picture, web pages, texts, snippets, reminders and a bunch of other stuff. The tagging system is very handy in that it allows you to check your tagged items later on.
5. Hemmingway app
This simple editor allows you to check your text for weak writing mistakes. Once you paste your text in this editor, it identifies different mistakes, classifies them and gives you a readability score. Passive voice and hard-to-read sentences are some of the mistakes it identifies. Remember your aim is to reach as many people as possible. Low grade readability should be your aim. Check out a seventh grade reading level.
6. Grammarly
This tool allows you to create punctuation, spelling, style, sentence structure and other mistakes free content. You need to create an account then paste or upload your large document into Grammarly then have it checked. For those writers whose English is pretty broken like mine, this tool can be very handy. It also identifies grammatical errors and allows has a correction option which unfortunately comes at a price. You can always upgrade to the paid version to see advanced mistakes and for automatic corrections. Correctica and Essay Republic may be used in place of Grammarly.
7. Word2cleanHTML
This tool was meant for bloggers who use MS word, notepad, Google drive or Evernote to draft their posts. It becomes problematic when you paste your text into WordPress or whatever your content management system you're using. Formatting errors arise and dealing with these is a cumbersome task. This tool allows you to fix all these errors so you can transfer the clean copy into your CMS. Pretty amazing, right?
8. Infogr.am
Info-graphics are continually gaining popularity as they attract more readers to visit a blog and read whatever content is posted. Neil Patel explains the significance of info-graphic in marketing. With infogr.am, you can now create high quality info-graphics without bothering to visit a professional designer. You can use the templates then add your personalized text.
9. Google webmaster tools
If you're conducting keyword and SEO research, then this is an impeccable tool. You can get your site indexed by Google, thanks to Google Webmaster. Additionally, you can get your search crawled and do away with bad links. It simply helps you analyze your site against another using generated analytics.
10. Emotional Marketing Headline Analyzer
After having created high quality content, you need an attractive headline so as to pull the masses to your blog. How do you know that your headline is attractive or not? This tool will help you answer this question. Just visit Emotional Marketing Headline Analyzer , submit the headline of your choice, choose a category from the drop box menu, then click on submit. It displays an Emotional Marketing Value in percentage to show how good your headline is. Never underestimate the importance of a good headline.