Just because you're somewhat underfunded, doesn't mean you have to be undermanned.
With the booming gig economy, it's easy to get reasonable rates for freelance writers who can drive up your content marketing efforts. It's also more than plausible to find pros who have experience working with businesses in your niche.
Unfortunately, outsourcing anything in the digital marketing landscape comes with a few disadvantages. For one, the lack of face-to-face communication can make it tricky to brainstorm ideas, discuss project details, and get updates on the progress of content writing tasks. Check out the paper plagiarism checker.
The quality you can expect from outsourced work can also vary from polished gem down to utter garbage. Sure enough, there's also the possibility of a "no-show" freelancer who'd pull off a disappearing act — never to be heard from again and leaving you contentless.
That's why hiring freelancers is something you should never take lightly. Also, you can try plagiarism checker for free.
That's also the reason why I decided to sit down today and write this post.
Here, we'll discuss # can't-miss strategies that make sure you find the right people for your remote content writing team.
Interested? Then, let's jump into it.
1. Never Hire Without Proof of Work
This one may seem like a no-brainer, but it bears repeating.
Any self-respecting freelance writer will make it a priority to put together a digital portfolio. How else can they hope to lure in higher-paying clients without building their own brand?
The good news is, most marketplaces like Upwork make it easy for freelancers to build their own digital portfolio. You should be able to see the total number of portfolio items a freelancer has from the search results.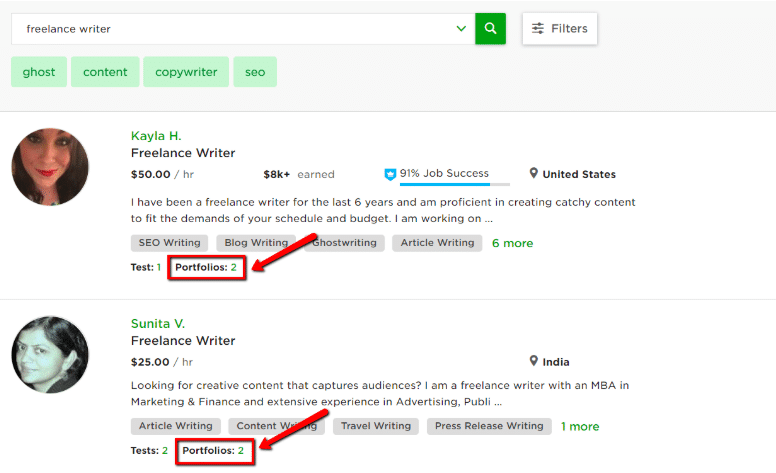 Here's another tip: look for freelance writers with self-hosted digital portfolios.
Remember, marketing savvy is a trait you want in a freelance writer. Pay close attention to those who are knowledgeable of the marketing trends since they are freelancers who often take the time to read marketing blogs to stay updated.
As an added bonus, Upwork also allows freelancers to showcase reviews from past clients. This will help you gauge what to really expect when hiring them.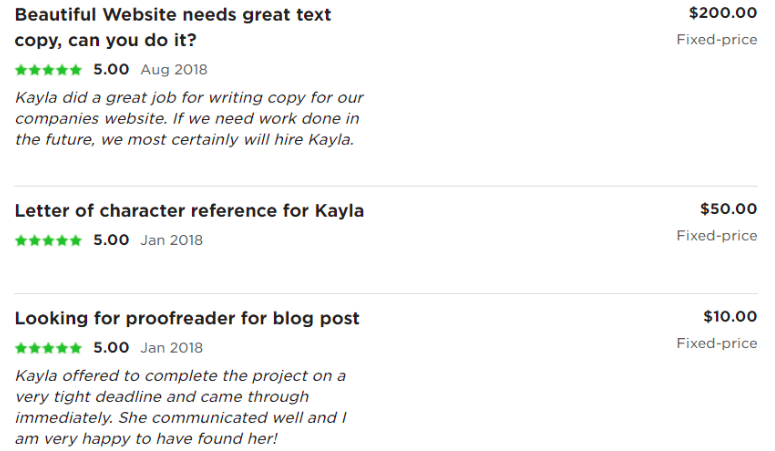 2. Clarify Your Content Goals
After the previous point, there's a chance that you went ahead and checked out Upwork for yourself.
If not, another element you may notice when searching for freelancers is their skillset. This looks like a line of tags that may contain things like "copywriting," "sports writing," "SEO writing," and so on.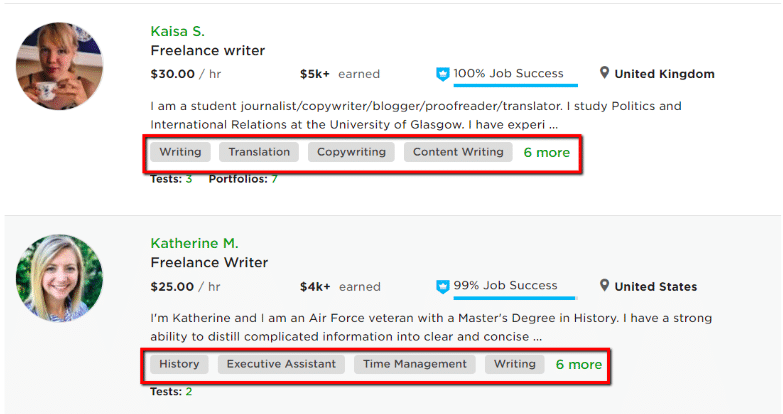 Keep in mind that content writing is not one-dimensional. There are many quirks when it comes to what freelance writers are capable of and what they're expected to do.
For example, if you're trying to build an e-commerce website, you should put heavy emphasis on the "copywriting" and "SEO writing" skills when selecting freelancers. But if you're looking for an eBook ghostwriter, then these skills don't matter as much.
It shouldn't be hard to identify your content goals before you hire freelance writers. In addition to the content type you need to be done, you should also pay attention to a couple of soft skills that could qualify freelancers.
Native English speakers, for example, are highly sought-after in the field of content marketing. Not only are they easier to communicate with, but they also help make sure your content flows naturally when read by a native English audience.
There are also freelancers who are more adept in writing with specific journalism styles. On the other hand, there are those who are better when writing pieces with a conversational and approachable tone.
3. Find freelancers in Q&A sites.
If you're still not confident in the selection of freelancers in marketplaces, you can turn to Q&A websites like Quora and online communities in your niche for referrals.
For the sake of this post, let's say you're in the travel business.
On Quora, you can utilize the built-in search function to find the freelancers you need. You simply need to enter keywords like "find freelance travel writers" and see if the site can pull up suggestions right off the bat.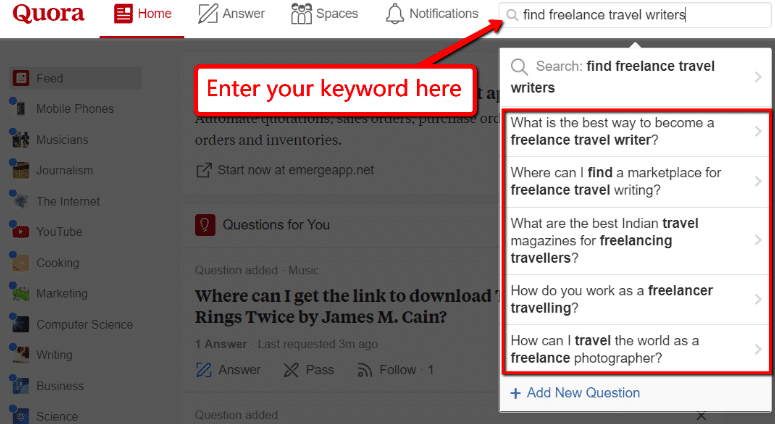 Quora posts are great for soaking up knowledge from the crowd. Suppose you checked out the post for "Where can I find a marketplace for freelance travel writing?"
In most cases, Quora users will provide a ton of insights in addition to links that will lead you to useful resources.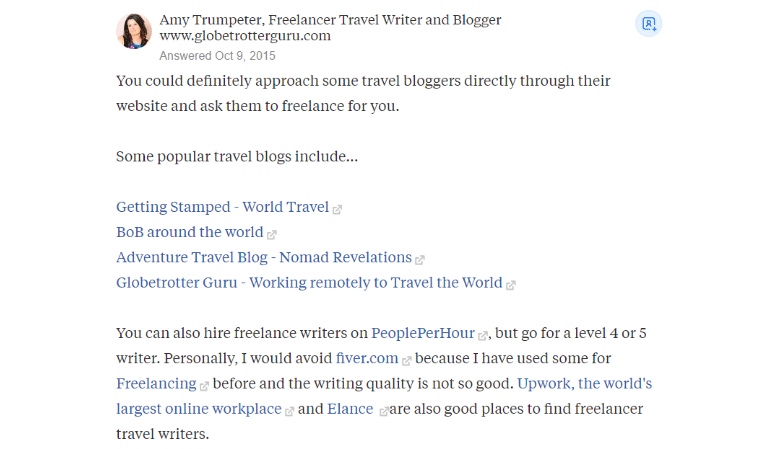 Just be careful with users who blatantly promote their own products or services. What you want to look for our comprehensive answers packed with actionable advice while referring to multiple resources.
Aside from Q&A sites, you can also turn to message boards and online communities in your niche.
A quick Google search should help you spot websites you can start with. All you need to do is enter a relevant keyword and plug in a keyword like "forums" or "message boards."
More often than not, you will end up with millions of sites to comb through.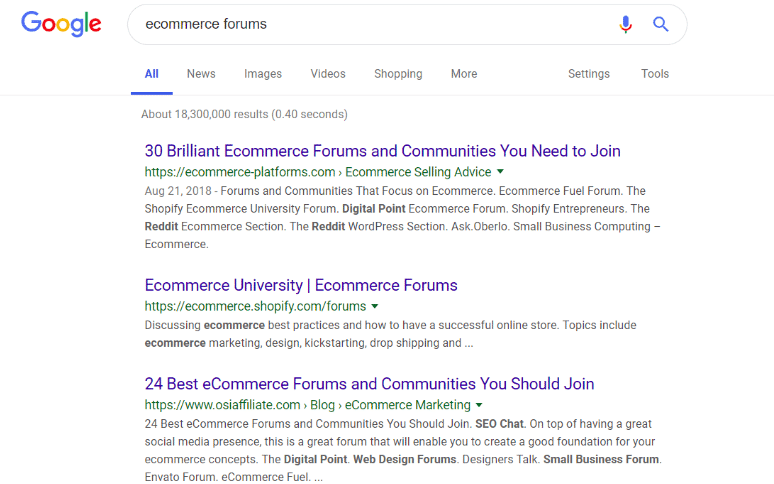 4. Discuss the Rates
The phrase "you get what you pay for" rings true in the freelancing sphere.
If you come across freelancers who offer their writing services at abysmal rates, you might want to put your guards up and be extra careful with screening the freelancer — pricing too low is a common mistake made by newbie freelancers.
If you want to avoid having to do several revisions, then you might want to consider hiring someone that's more experienced.
It's worth pointing out, however, that writers who charge bigger fees don't always produce exceptional content.
That being said, be sure to screen your writer properly, all while considering the fee they're charging.
Inasmuch as I'd like to give you a silver bullet of pricing to look into when hiring writers, the figure pretty much varies.
Someone who charge $50 – $100 per article (800 – 1.000 words) often have ample industry knowledge. But then, as mentioned above, you need to be careful with screening.
To find freelancers based on their rates, you can refine your search in the marketplace platform you use.
If we have Upwork again as an example, you can go to the Freelancers tab at the top and click on Filters.
This page will appear: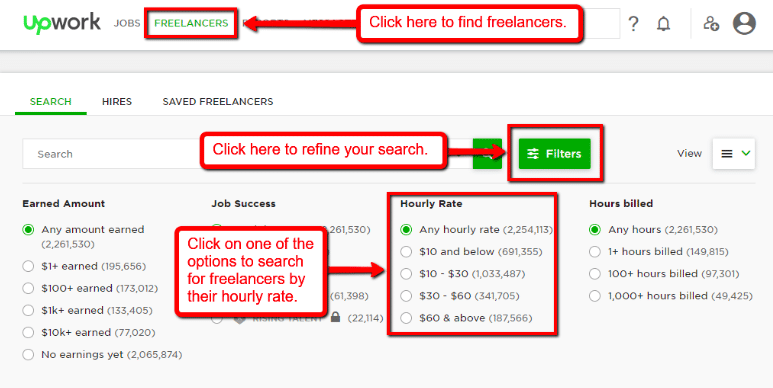 You will see various categories. For the Hourly Rate, you can simply click on your preferred range to narrow down your search.
Of course, you're free to haggle away if you're on a tight budget. If the freelancer is willing, try to request a reduced rate for the first project only as a way to gauge your compatibility.
The important thing is you establish the base rate in a clear and honest manner. Other than that, you should also settle the schedule and modes of payment.
5. Use Better Communication Tools
Great — you now have all the information you need to find reliable freelance writers.
The next step is to implement a remote collaborative system that will ensure effective communication and task management.
Let's start with a suitable replacement for emails as your primary communication.
As you may know, relying on emails is far from the best way to handle business-related communications. Apart from the clutter of messages you get from social media, newsletter subscriptions, and spam, there's also the unavoidable delay between email services when sending and receiving messages.
You can fix all of these issues with a robust and secure messenger tool like Brosix. Once you've boarded your freelancer to his/her designated Team Network, you can improve your collaboration via video calls, share files, have an interactive whiteboard session, and use co-browsing to brainstorm ideas.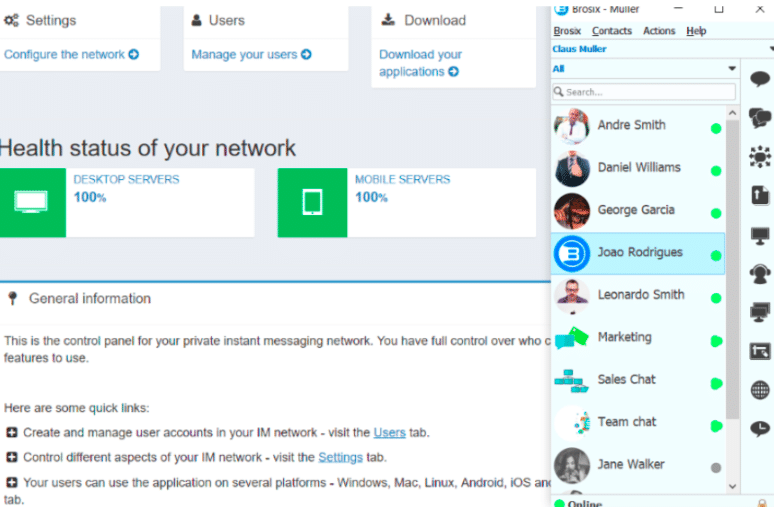 Of course, since Brosix is a messenger platform, you can get instant replies from your freelancers, helping you avoid the nuisance of having to wait for their replies — just like how it would be if you're sending them a message via email.
You can also take advantage of Brosix's "Welcome Module" feature to create custom notifications whenever users login to your Team Network. This is an opportunity for you to develop an onboarding process where freelancers can learn your content guidelines. That's why hiring freelancers is something you should never take lightly. Also, don't forget to ask them to check my paper for plagiarism free.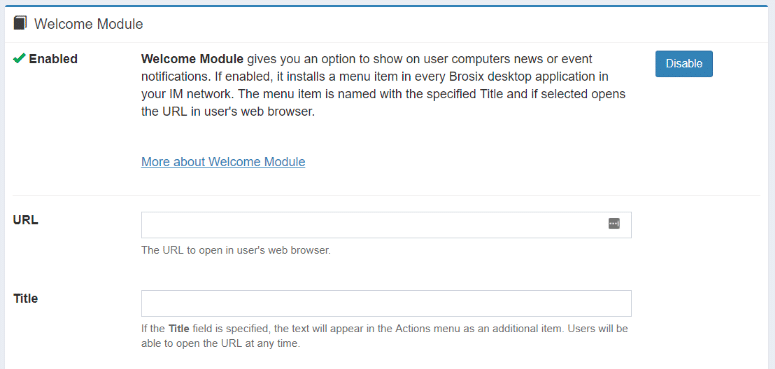 As an added perk, Brosix utilizes end-to-end encryption to keep your communications secure. Remember, freelancers — not just content writers — are accustomed to working in coffee shops, libraries, and other public places with unsecured WiFi networks.
6. Proactively Manage Their Writing Tasks
Hiring freelancers for the long-term can be a double-edged sword.
Most freelancers work more efficiently and reliably when working with new clients. But over time, they will definitely have slow days especially if you aren't hands-on with their workload.
For example, conducting content research and coming up with topic ideas of their own are both tedious tasks. Asking them to do these each time they start a new project would quickly drain their creative juices.
That's why you need to be involved as much as possible if you want them to stay motivated in the long-run. Try to lend your assistance when it comes to the target keywords, content outline, internal links, and so on — doing so will also help you avoid the need for revisions.
Project management tools like Trello will also help you stay on the same page before, during, and after writing tasks. It allows you to turn tasks into cards, which can then be sorted into lists and boards.
A great way to capitalize this feature is to create different lists for "to-do," "in-progress," and "for review" tasks.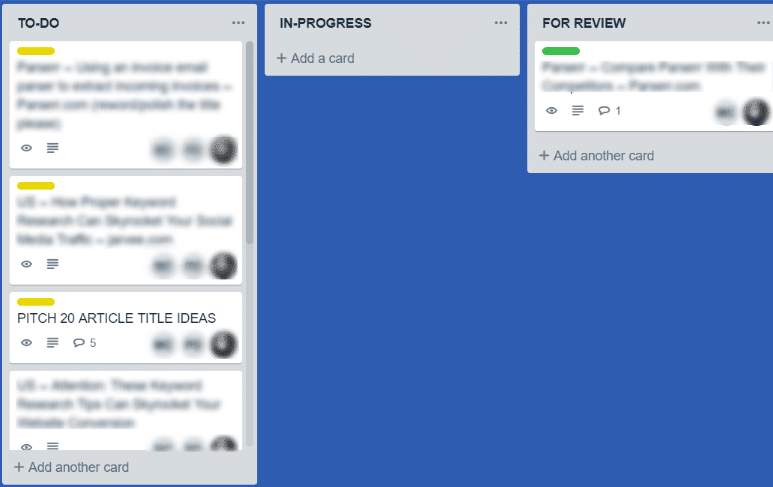 Trello also allows you to set deadlines as well as use labels to organize tasks. Most importantly, all of these features are free to use, even if you have multiple freelancers on the same board.
Conclusion
Thanks to freelancer writers, countless aspiring online entrepreneurs were able to carve a path for their brand. You just need to know how to find them, negotiate their rates, communicate with them, and manage their tasks.
The strategies above should be more than enough to help you accomplish all these and more. Good luck!