Having a blog is somewhat of a fashion trend these days, which has both its good and its bad sides. On the one hand, the internet is so much richer with bloggers from all spheres sharing their knowledge, influence and outlook with thousands of followers. On the other hand, everybody believes they can run a successful blog which is unfortunately, not the case. In order to have a blog that gets attention and significance, some writing talent is required and more importantly, you need to know what to write about. In the world where creativity seems all but gone, it is increasingly more difficult to find fresh ideas that many people can benefit from.
If however, you've got a great idea what you want to write about and you're eager to start your blog today, we're here to help. There are some more technical steps you can take to make your blog more successful and we'll talk about them today.

#1 – Find Your Sweet Spot and Stick to It
Finding the main topic of your blog, the one around which all other will revolve isn't an easy task. However, it is necessary to decide what you write about and stick to it and later you can naturally expand your interests and subjects, but when you're starting, go with one attractive topic. This will make it easier on you to determine your targeted audience, after which you're opening the doors to thinking about what kind of tone you want your blog to have and what kind of relationship you want to establish with your readers. It all starts with finding something you're passionate and know a lot about, because your view and your knowledge provide you with a unique perspective of the matter. Besides, if you're not writing about something you feel strongly about, why write at all?
#2 – Don't Forget about Your SEO
Search engine optimization is something that should very much preoccupy you if you want to see your blog gaining more and more readers every day. You need to be SEO-savvy when it comes to incorporating keywords into your blog post, both when it comes to the title and the body of the text. One other crucial thing is link building, because if you produce high-quality content that proves to be useful, more top-ranking sites will be interested in sharing your blog posts and your links with their vast community. If you want to get a clear picture of how good your blog's ranking is, just use a VPN or incognito browsing mode to see objectively where your blog stands in the scheme of things.
#3 – Mingle with Other Bloggers
While running a blog will require much less live social interaction with people (good news for all the introverts out there), you will still need to nurture relations between you and other bloggers in your niche. It all starts on a healthy mentality of sharing, so for starters get in contact indirectly – by posting comments on other people's blog posts and getting genuinely interested in furthering the communication. Don't be the spammer who's simply looking to promote his/her blog by cramming the blog links into every comment, but try to really contribute with what you have to say. Other bloggers will notice that you're actually trying and will likely check out your blog and the same goes for their readers. If things go well, you can exchange links or even write guest posts for each other. Speaking of which…
#4 – Spend Some Time Writing Guest Posts
As we mentioned, if things go well with you making good connections with fellow bloggers, you can invite them to write a guest post for your blog and more often than not, they will invite you to do the same. This is an excellent opportunity for promotion and one you shouldn't take lightly, because you have some new readers to razzle-dazzle. The more you write guest posts concerning certain topics, the more will your reputation grow on the grounds of you being a very good source of information in your niche. Then organically, more and more people will turn to your blog and to your opinions and voila, your blog will become more successful every day.
#5 – Make Your Content Easy to Share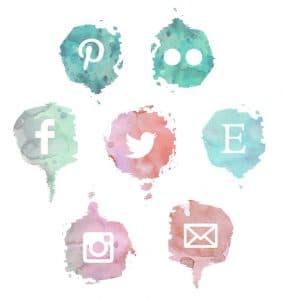 You need social media buttons on your blog and you need them now. Social networks have become essential in promoting anything and everything, so you want to give your readers every opportunity to share your writing with the world. Incorporate buttons for sharing on Twitter or Facebook, and if your blog is more visual, then add that Instagram icon there too, it can't hurt. You should use any tool that can positively promote your work and these buttons are a basic you need to have covered.
Building your blog's reputation will require time and diligence, but it can be done and done well. Find your voice, always keep exploring what's new and interesting in your area of expertise, produce high-quality content and keep improving yourself every day and the results will show quickly.
– By Michael Conley