The following small series gives you a detailed introduction to the most useful new features of iOS 13.
1. Access Wi-Fi and Bluetooth in the control center
In previous versions of iOS, in order to connect to other Wi-Fi or Bluetooth connections, you must go to Settings and access the Wi-Fi or Bluetooth settings. In iOS 13, when you press and hold the Wi-Fi or Bluetooth icon, you can now access this feature list through the Control Center.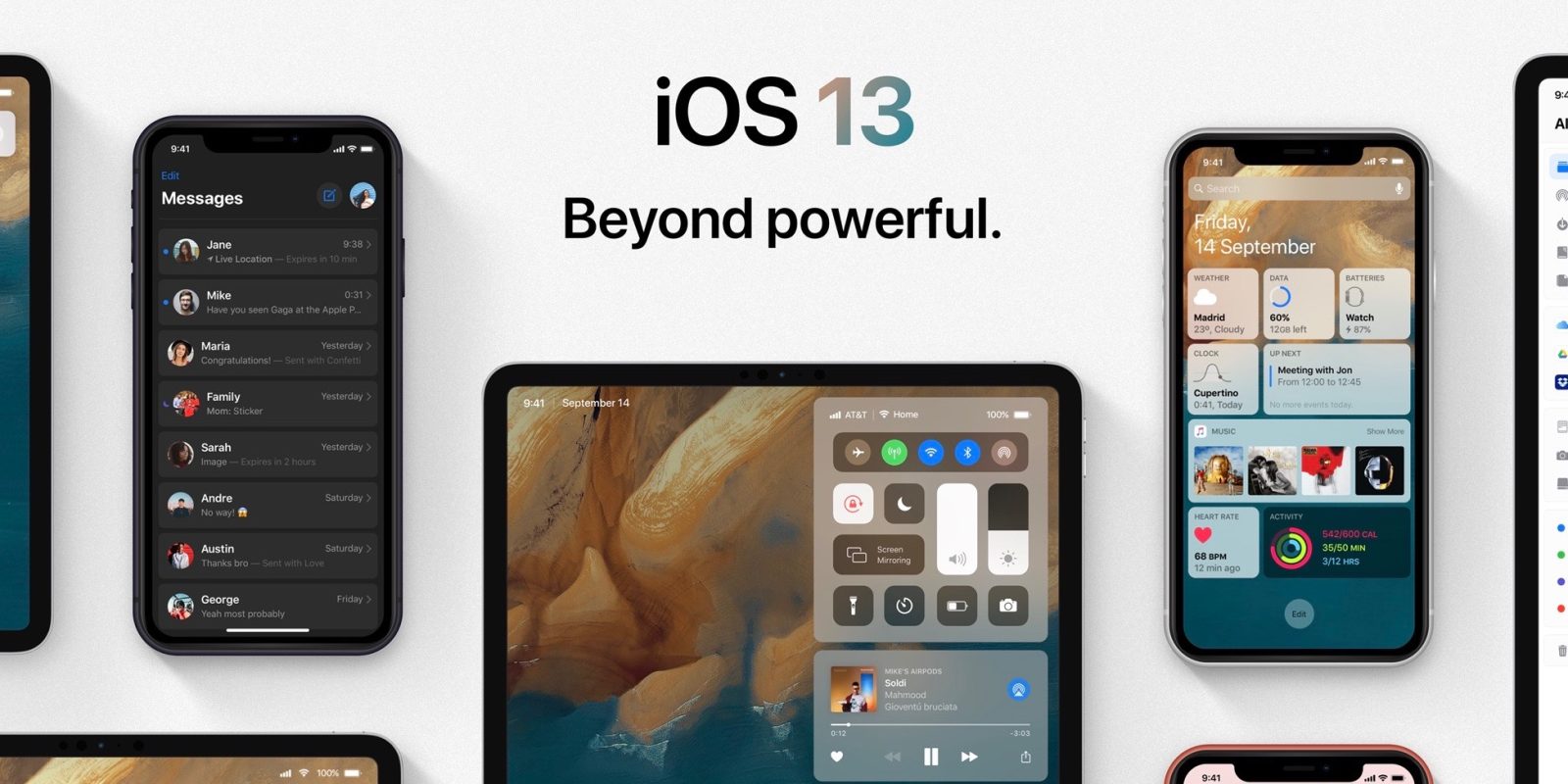 2. New extended reply menus and formats in the mail
In the Stock Mail app, when you reply to an email, you now have a new extended response menu. You can choose to reply and forward, as well as delete. In addition to new emails from this particular contact, you can mute or notify you. Another new feature is formatting text. You can change the font and make the text larger, adjust the alignment and change the color, and add bullets. All of these new features make the mail application even more powerful.
3. Screenshot

of the full page in

Safari
In iOS 13, you can now take a full screenshot of a web page, you can annotate it and save it directly to a file as a PDF, or share it with your contacts using a new shared worksheet window. If you have a keyboard connected, Command + S will also save the entire page as a PDF.
4.

Silent unknown caller
The new feature in iOS 13 is the ability to mute unknown calls, so when a stranger calls, your phone will automatically mute these calls and send them to voicemail.
5.

Compress and decompress in the file application
With the new file application, you can also compress and unzip files directly from iOS devices without having to use macOS. Once you are done, you can return these files to your iOS device. For those who use the iPad as productivity and don't want to download third-party applications for this task, this new feature is very convenient.
6.

New search in the information application
Inside the message, you have a new way to search within the app. This will give you contact suggestions and links that others have shared with you, as well as the photos they send you.
7.

Pinch and zoom the voice memo
If you are a user who frequently uses voice memos, you can pinch the Enlarge Voice Memo app, which lets you zoom in on the waveform to help edit your recordings more easily.
8.

Download Manager in

Safari
In iOS 13, when you download files from Safari, you can access the download manager or display a list of the files you downloaded, similar to the ones you got from Safari on macOS. This will sync to the new file application where you can view all downloaded files.
9.

Optimize battery charging
Optimized battery charging Use machine learning algorithms to learn your daily charging program so that your iPhone can wait for up to 80% to complete charging until you need to use it. If you usually get up at 6 am on weekdays, your iPhone will only charge up to 80% at night, and then it will charge to 100% about 30 minutes before you wake up. This helps protect the battery life because it does not continue to charge to 100%.
10.

Mouse support
With the accessibility of assisted touch, you can now choose to add a wireless mouse or trackpad to your iOS. You can use it to scroll through documents or web pages and interact with the entire operating system.
11.

Low data mode
In the Cellular setup, you now have the option to switch between low data modes, which can help the application use fewer data. Apple doesn't know how you use it, but it pauses background activity when you're not connected to Wi-Fi.
12.

3D touch function can also use shortcut operation
iOS 13 provides us with a clearer picture of Apple's iPhone support plan for non-three-dimensional touch. In the past, only Peek and Pop were available for iPhone 6s and above. You can now hold down for a short time and access Peek and Pop.
13.

Tactile feedback of face

ID
When you unlock the iPhone, the new feature you can enable under Accessibility in the Face ID is tactile feedback. When the phone verifies your face, a subtle click and touch lets you know that you can swipe your card and unlock it.