FRP lock can be of a great help if you have lost your Android device and want your data to be protected. But if you forget your Google account login credentials, this security method can cause a lot of trouble as well. Your phone will remain locked upon resetting if you don't remember your username and password.
However, you can Bypass FRP lock on android phone by installing the FRP bypass apk. This article will guide you through the bypass method.
What exactly is the FRP Lock?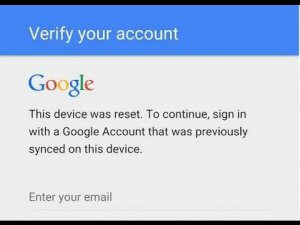 FRP or Factory Reset Protection is a security lock that protects your data when your phone is lost or stolen.
The very first thing that a thief does after stealing your phone is reset it. This is where the FRP lock comes into play. When somebody steals and tries to reset your FRP enabled phone, the phone gets locked. The thief now will have to enter your Google account credentials in order to use the phone. If he cannot, the phone remains locked.
This security method cannot get your lost or stolen phone back but can surely protect your data to be misused.
This lock was introduced by Google in Android lollipop and is now available in most phones that are running on Android Marshmallow and Android Nougat. When you setup your Google account for the first time, this lock gets turned on automatically.
Download FRP Bypass APK– Bypass FRP for Android
Before downloading and installing the apk, make sure you have turned on "unknown sources" option. You can do so by going to settings > security > unknown sources and turn it on.
In order to bypass the lock with this method, you'll need to have a PC, an OTG cable, and an android phone. Here's a step by step procedure to download and install FRP bypass APK in an android device:-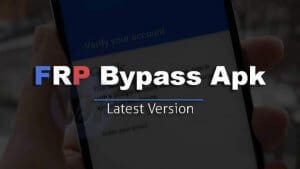 Download the bypass FRP apk in your PC by clicking on the download icon above.
Once the apk has been downloaded, connect the USB drive and copy the downloaded apk to it.
Now, start the device that has been locked.
Once you start up the device, the setup wizard will start. Follow the steps and complete the setup process.
After the setup, Factory reset window will open and will ask you to enter your Google account username and password.
Since you don't remember it, you will need to bypass the step.
Now, this is the last and the most important part of the bypass method. You will now have to connect the usb drive to the OTG cable and the OTG cable to your android device.
Once the OTG is connected, file explorer will open. Open up the folder where the apk has been downloaded and open the apk.
An installation window will open, click on "install" and turn on the "unknown sources" option if you haven't already. If you have already turned it on, the apk will be installed in a few seconds.
At last, launch the app. You'll be taken to the settings menu where you can go to "backup and reset" and tap on "factory data reset" in order to reset the device.
If you follow the above-mentioned steps properly, you will successfully bypass FRP lock on android. Once you have bypassed the lock, restart your device.
Upon restarting, you will be asked to add a Google account. You can either add one or just skip it.
---
Conclusion
FRP lock ensures that even if your phone gets stolen or lost, your data will be protected. But, people very often end up getting their phones locked due to the security lock.
Once the phone gets locked, it cannot be used until you enter the Google account username and password. Hence, at such instances, people look for methods to bypass FRP lock on android.
To solve this problem, we have explained a step by step procedure to download FRP bypass apk and use it to bypass FRP lock. The steps are very easy and can be performed by anyone. If you have any doubts regarding FRP bypass apk download or face any kind of problem with the method, comment below.