Imagine you are capturing a video on your kid's birthday party and suddenly a message pop out that your device is running out of space. This is really an annoying situation. At this point of time it will be difficult for you decide which all photos or memories you should delete. Manually selecting and deleting photos is also a time taking task. You never know when your device storage can ditch you so it is a good habit to clean the junk time to time. To clear unnecessary files there is a quick and smart solution. Which can clear duplicate files from your device in just a few seconds and helps you in making more space. Every smartphone has these duplicate files which are the result of same file saved to multiple locations. Systweak Duplicate Files Fixer scans and removes duplicates quickly. Let us find out how this application works.
Home screen
After you are done with download and installation you will see the home screen, first of all you need to select scan type to find duplicate files on your device. You can choose to scan any specific folder or file type. You can also go for full scan option. Now tap "Scan now" button to initiate the process. You will see that scan is under process and you can also stop the scan at any point.
Scan results
Now you will see results which are in auto-marked format in groups where the last file (s) of the group is marked for deletion. You can select "Mark All except last" option to mark first files to be deleted. You can also use "Unmark All" option to manually select duplicate files to be deleted. You will be able to preview files before deleting them. Application allows you to take a backup of your files before deleting anything. when you will tap on "Back up now" you will be redirected to right back up which is another application from Systweak software to take backup of your data and to keep it safe. Now tap on Delete to delete the duplicates.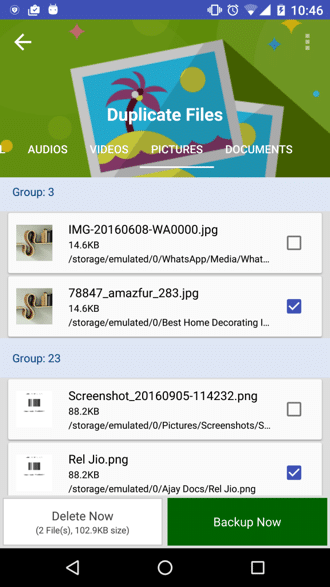 Unmarking File at the shortest Location from deletion
The concept behind giving this option in the application is that duplicate files always stays deep on your disk. So, if you will select this option you will simply exclude the files at root of your device and include all the files which are deep inside for the deletion. You can access this feature by pressing menu (three vertical dots) in the upper-right corner of the screen.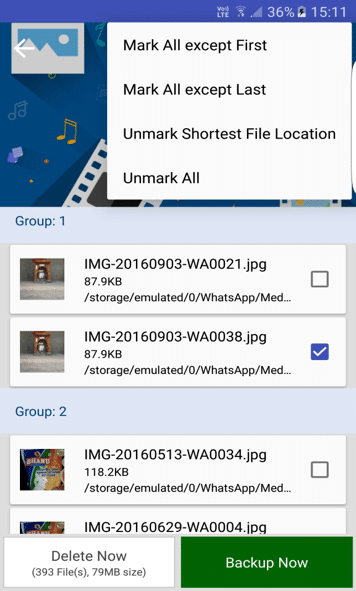 Settings Menu
Settings menu helps you to make the application customized as per your convenience. Every user uses its device in a different way so the application can be customized as per your choices. You will find these options in the settings menu.
Ignore list
If you want some of our folders to remain untouched by any application You can put all such folders in the "Ignore list" to keep them away from the scanning process. This is the perfect way to exclude files or folders from scan.
Scan Filters
In the application, you can filter your scan results It offers filters like same name, same size, and same content. You can also include hidden or 0 bite files and folders in the scanning process. By Using these filters, you can improve the accuracy of the scanning results you get from the app.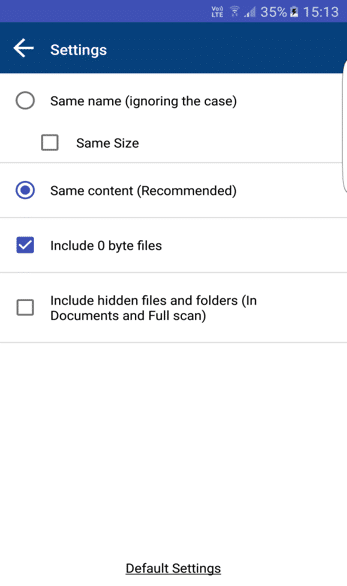 Language settings and Themes
The Application not only limited to one language of the world that is why it is having almost all the popular languages of the world to choose from. You can change the language by tapping on Settings>Languages. Application also comes with two themes you can choose any one as per your convince.
So now with Duplicate Files Fixer you will never run out of memory. So, what are you waiting for go and grab this amazing application from the Playstore now.