Installing a Custom Recovery like ClockWorkMod, TWRP, etc is lengthy task specially for beginners, fot this first of all we have to find supported recovery and then we take backup and then we flash it.
It consumes lots of time and resources, but now today i am going to share an awesome app which makes this task easier and faster.
There is an app available in Play Store named "Rashr – Flash Tool", this app enables a rooted user to flash Custom CWM, TWRP or Philz Recovery images on any device automatically by automatically detecting the device ID, it also tales backup of Stock recovery before installing a custom one.
Rashr – Flash Tool :-
This app requires that you have a rooted device.
Rashr – Flash tool flashes and backups your device recovery and kernel without rebooting it very fast and easy without a PC or any outside influence.
This app have over 1500 build-in recovery IMGs (ClockworkMod/TWRP/PhilZ) of course you can choose other IMGs from internal and external storage.
Over 90% of all devices will be supported by the App.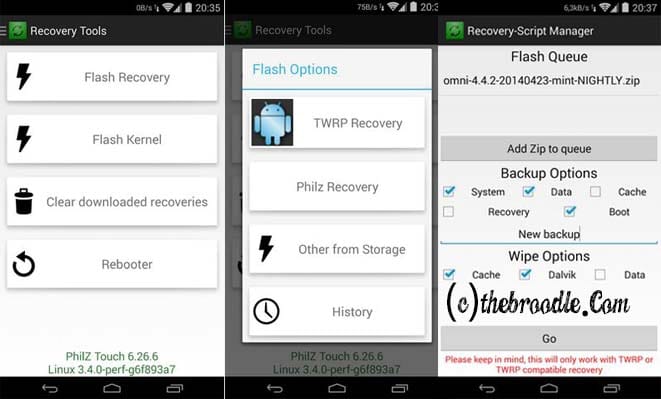 Features :-
Over 1500 Build-in Recoveries (ClockworkMod/Touch, Team Win Recovery Project and PhilZ-Touch)
Flash Kernel and Recoveries without PC
Flash already downloaded IMGs from internal and external storage
Backup Kernel and Recovery IMGs without PC
Full command logging for more control what this App is doing
Ads can be disabled from settings.
Free full app without Ads and any restrictions
Downloads :-
Download Rashr – Flash tool from Google Play Store :-
Download Rashr – Flash Tool from Play Store
That's it folks! Enjoy Flashing Custom Recoveries. If you cannot find recovery for your device that try searching for it on XDA Forums.
Please comment with your suggestions and queries.